Canes Set for Showdown Against No. 9 Clemson
CORAL GABLES, Fla. – Head coach Mario Cristobal has gotten an up-close look at them.
So, too, has defensive coordinator Kevin Steele. And more than a few of the Hurricanes were on the roster in 2020, the last time Miami traveled to Clemson to face the ninth-ranked Tigers.
And all of them – coaches and players alike – know what a challenge and opportunity awaits this weekend when the Hurricanes take the field once again at Memorial Stadium against a team that is widely considered one of the standard-bearers in college football today.
"They've been an elite team for a long time. They've really set the standard in the conference for a good number of years now," said Cristobal of Clemson, which won six straight ACC titles from 2015 to 2020 and national titles in 2016 and 2018.  "Elite talent. Big, explosive, fast powerful guys. Playmakers across the board. Really impressive up front on both sides of the ball. They're just complemented by tremendous playmakers. It's what you want your roster to look like, no doubt."
Added fifth-year redshirt junior defensive lineman Jordan Miller, "They have good players from the quarterback to the running backs to the offensive line, all good players. I'm very excited to be able to put this film out there and go against a really competitive team."
While Clemson (9-1, 7-0) poses a daunting challenge for a Hurricanes team that has endured its share of ups and downs this season, Miami enters the matchup knowing more than once this season they've shown their ability to play well on the road.
The Hurricanes (5-5, 3-3) have won conference road games at Virginia Tech, Virginia and at Georgia Tech. And they were competitive in a hard-fought 17-9 loss at Texas A&M in front of a frenzied crowd of more than 107,000 fans.
Miami will face another tough environment Saturday when it takes the field at "Death Valley," but the Hurricanes' performances on the road – including last week in a wire-to-wire 35-14 win over Georgia Tech – have given them the confidence to know they can play well away from their home field at Hard Rock Stadium.
"I think we've done well on the road this year. We prepare well and we feel really good when we go into these games," said fifth-year senior tight end Will Mallory. "It seems like in hostile environments, we've handled it well. That's a credit to the team, credit to the coaches for preparing us for that. And this is another one of those, another one of those stadiums and crowds that's a big atmosphere against a very, very talented team. It's a huge challenge for us and we're accepting that and we're preparing for it. It's going to be a really cool experience, but we have to be ready for it."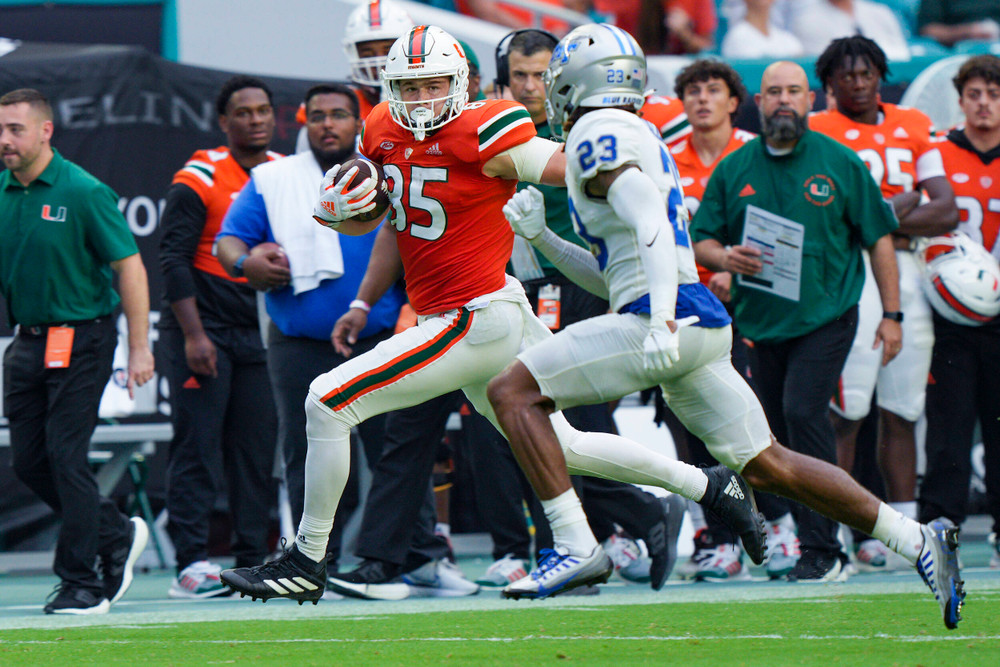 The hostile environment, of course, isn't the only thing the Hurricanes will have to handle.
The Tigers enter Saturday's game having outscored opponents 342-210.
Quarterback DJ Uiagalelei, a junior, has completed 65 percent of his passes and thrown for 2,179 yards and 19 touchdowns with just five interceptions. And sophomore running back Will Shipley has rushed for a 899 yards and 12 touchdowns, numbers that rank second in the ACC behind only Pittsburgh's Israel Abanikanda.
Containing both of those players will be key, with Steele noting the Hurricanes defense will have to keep an especially sharp eye on Shipley, who also has 25 catches for 165 yards.
"Speed, hard to tackle, really good vision. One of the premier running backs in the country," Steele said of Shipley. "He's going to get the ball, there's no doubt. I think there was a show or a book 'Where's Waldo?' You better try to find him. You better know where Waldo is. You better know where Shipley is, because he's going to get the ball…The ball's going to him and it's not just handing it to him. They throw it too him, too. A lot of their offense is designed to get him the football."
Added sixth-year redshirt senior defensive lineman Antonio Moultrie, "He's very explosive, a very shifty guy. It's going to be a big challenge for us to keep him contained and everything, but we've been working for it."
Meanwhile, defensively, Clemson is one of the toughest teams in the league when it comes to stopping the run, holding opponents to an average of just 111.6 rushing yards per game.
Last week against Georgia Tech, the Hurricanes ran the ball well, totaling 217 yards. Third-year sophomore Jaylan Knighton rushed for a game-high 118 yards and a touchdown to pace Miami.
Like many of his teammates, the running back said he is embracing the challenge that comes with lining up against an opponent like Clemson and he hopes last week's performance against Georgia Tech is something all of the Hurricanes can build on this week.
"We always had confidence in ourselves. We've just got to apply it," Knighton said. "We've just go to apply it. We've got to come to play, come to play like we did last week against Georgia Tech. Seeing today's practice, we had a great practice and everybody's working."
Freshman tight end Jaleel Skinner echoed that sentiment.
"This upcoming game, we're just working, every day," he said. "That's what it takes. You want to be the best, you have to work. We're living where our feet are and enjoying every moment we get with this team."