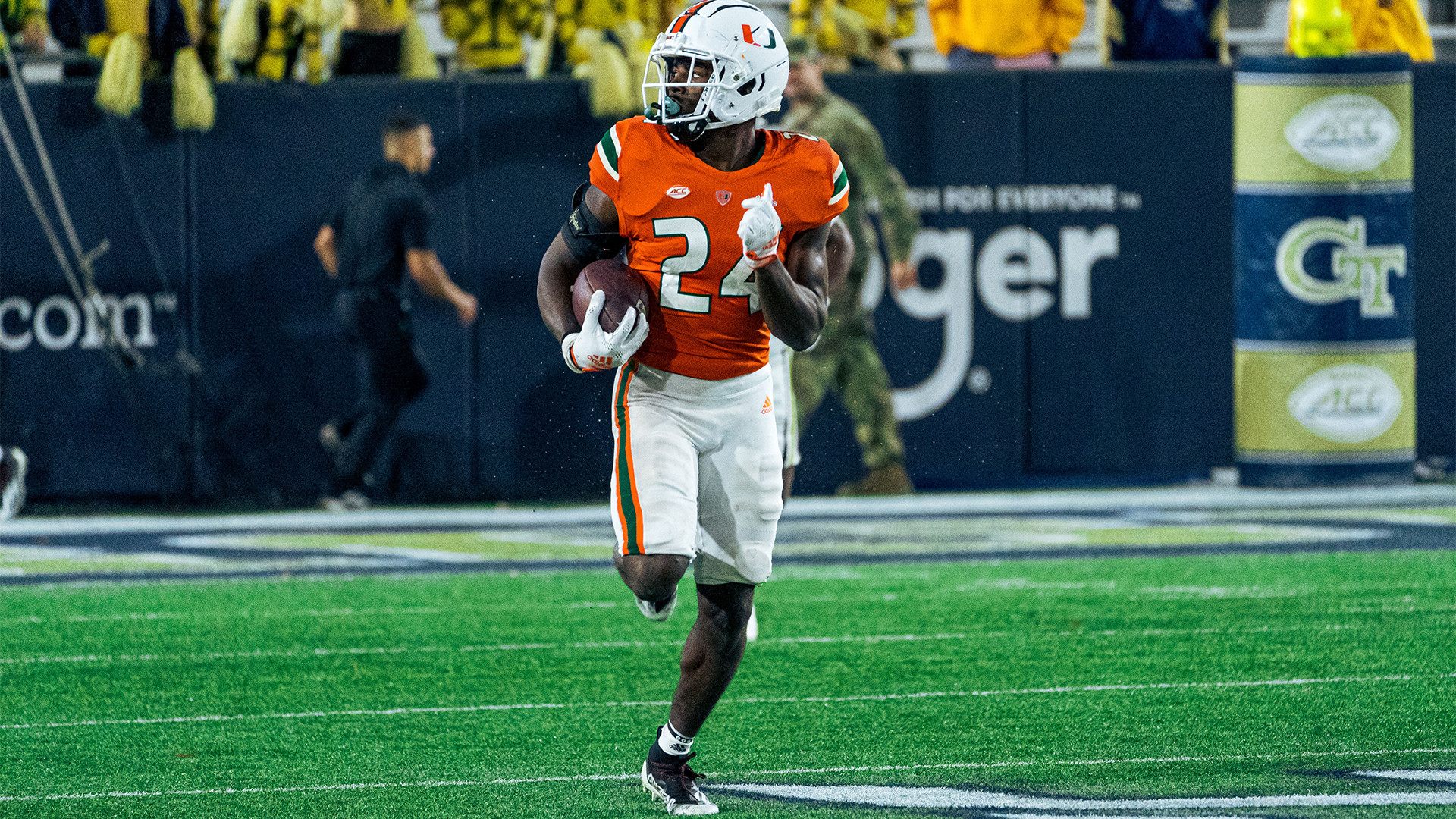 CORAL GABLES, Fla. – Kam Kinchens had just settled onto the team bus after his memorable three-interception performance against Georgia Tech when his phone rang.
He couldn't help but smile as he answered, figuring he knew how the conversation would go.
"Kenny Phillips called me and he was like 'Man, if you'd gotten one more, man, I was going to have to come knock on your door because you've done taken me out of the [Miami record] books," Kinchens recalled with a laugh. "But I was really glad to see him call. We talk all the time. We talk about ball and he was really happy to see me put all that on display."
Kinchens and Phillips – who in 2006 was the last Hurricane to collect three interceptions in a game before Kinchens matched the school-record-tying feat last week – first met when Kinchens was a junior defensive back at Miami Northwestern High School.
Phillips had stopped by the school's practice one day to visit with a cousin on the coaching staff when he noticed Kinchens' ability to both get to the ball and deliver punishing hits.
The two struck up a friendship that has lasted to this day, with Phillips – a former first-round pick of the New York Giants – often providing guidance and sharing techniques with Kinchens.
That it was Kinchens who became the latest Hurricane to tie the school record of three picks in a game seemed almost fitting for both mentor and mentee – though Kinchens has made it clear to Phillips and anyone else who will listen that he's determined to continue building on the success he's had early in his Miami career.
If more records fall in the process, well, it happens.
"I'm not going to lie to you, I probably did," Kinchens chuckled after the Georgia Tech win when asked if he could have imagined tying a record also shared by Miami legend Sean Taylor. "That's the goal. You chase the greats. That's the goal going into every game, chase the greats."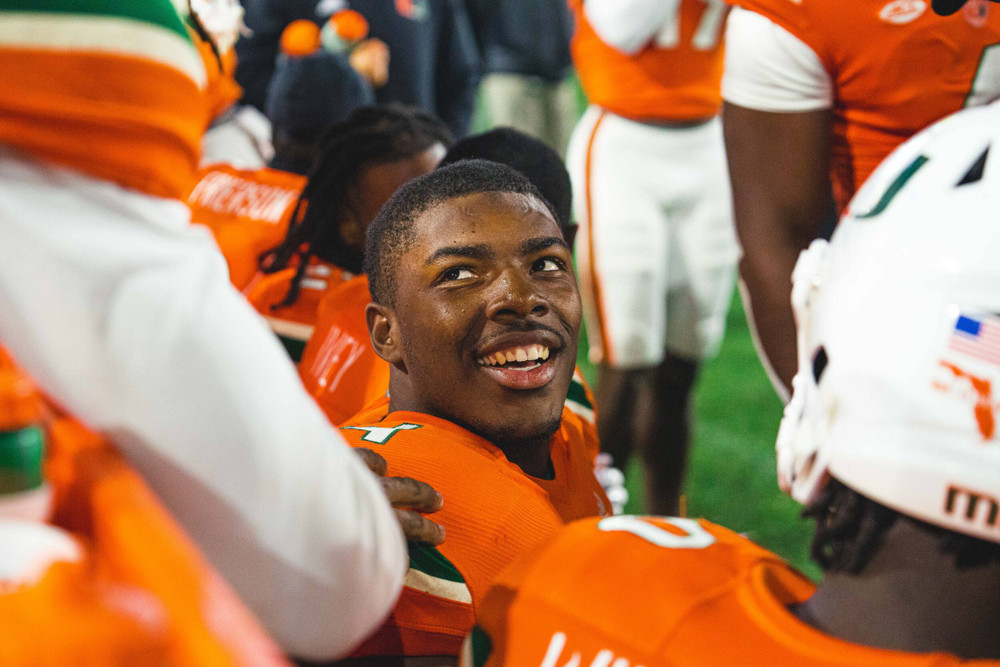 The sophomore safety has plenty of confidence in his abilities, but teammates and coaches know he also has the skill set and work ethic to be both a leader and a playmaker for Miami.
Last year, just seven games into his college career, Kinchens made a late fourth-quarter tackle in a win over then 18th-ranked North Carolina State that helped propel the Hurricanes to the upset.
He later shared that he'd known where to go and what to do after picking up his opponent's tendencies during hours of film study.
Since, Kinchens – who now has a nation-leading six interceptions on the year and was named the ACC Defensive Back of the Week after his performance against Georgia Tech — has worked to become an even bigger student of the game.
He often brings teammates to late-night film sessions and if they're unable to join him, he'll head over to the Carol Soffer Indoor Practice Facility on his own to spend time trying to learn as much about Miami's opponents as he can.
That effort garnered praise from a man who prides himself on his own work ethic.
"I like to think I have the building to myself late at night. When I see someone in there, I get a little uneasy. Feels like someone's trying to outwork me. It makes me upset," quipped Hurricanes head coach Mario Cristobal. "[Kinchens] is that guy. He's always trying to find an edge. You know how it is in ball. If you can find an extra step and you can find a tip that's going to get you a better angle, that's going to allow you to anticipate by a step or two. It's going to allow you to make plays. If you're behind, it's going to allow you to be the victim of a play.
"He understands that. He understands that being a student of the game can result in just some unbelievable improvements in all phases of your game, not to mention the impact it has on other guys. When they see a guy like that do well, they're like 'Oh. Is he all of a sudden running faster?' He's going to run faster. 'He getting bigger and stronger?' Yeah, he's going to do that every year. But he's putting in time and that time has accumulated where he's playing at a really, really high level."
Kinchens' teammates have, of course, taken note.
Hurricanes running back Lucious Stanley joked with Kinchens during the Georgia Tech win he needed to find a way to get another interception after dropping a sure pick midway through the game.
Kinchens responded by snagging his third interception late in the fourth quarter – and returning it 99 yards for a score.
Plays like those, veteran tight end Will Mallory said, just spark players on both sides of the ball.
"We know the kind of person he is and how hard he works, so it's not a surprise when you see the stuff he does. You're like 'Oh, that's Kam. He does that. Kam does that,'" Mallory said. "But it makes you happy because he deserves it and the defense deserves it. They battle. And seeing him be able to do what he did against Georgia Tech was just great. It's a lot of fun and it sparks a lot of energy into the offense. Every player has that confidence in him, like 'You're going to throw the ball? You better be careful. Number 24 is back there."
Kinchens, who also had a team-high eight tackles against the Yellow Jackets, knows he and the rest of the Hurricanes face a tough test this weekend when they head to Clemson to face the ninth-ranked Tigers at Memorial Field, one of college football's toughest atmospheres.
But he's spent the days leading up to the matchup preparing, knowing he'll be ready to do whatever he can to continue making an impact.
"We have to play together and communicate," he said. "And we've got to get the ball again."