DiMare Announces 2023 Canes Baseball Schedule
CORAL GABLES, Fla. — University of Miami head coach Gino DiMare released the Hurricanes' 2023 baseball schedule Tuesday morning.
"Every season, we play one of the toughest schedules in the nation and this year is no different," DiMare said. "The ACC features some of the top players and programs in all of college baseball. With our annual series against Florida and other non-conference games versus schools competing for conference championships, our schedule will challenge us to be at our very best. Our players and staff are looking forward to developing into the best team we can be and putting ourselves in a good position to get to Omaha and win a national championship."
The Hurricanes' 55-game regular season slate includes 33 home contests at Alex Rodriguez Park at Mark Light Field and features 24 games against eight different 2022 NCAA Tournament teams.
Miami starts its 2023 campaign with seven straight at The Light, beginning play on Feb. 17, with the opener of a three-game set versus Penn State (Feb. 17-19). The Hurricanes host in-state foe Stetson for a midweek matchup on Feb. 21 and welcome Dartmouth (Feb. 24-26) to Coral Gables to close out the homestand.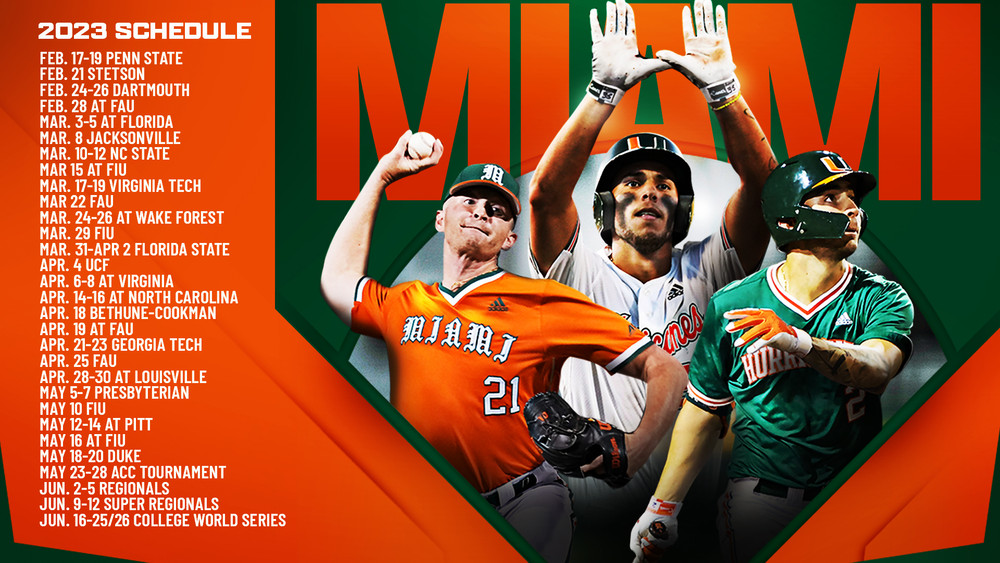 The Canes hit the road for the first time on Feb. 28, squaring off with FAU in Boca Raton, to before heading to Gainesville to battle rival Florida (March 3-5).
In ACC action, Miami's home schedule includes series with NC State (March 10-12), reigning ACC regular season champion Virginia Tech (March 17-19), Florida State (March 31-April 2), Georgia Tech (April 21-23) and Duke (May 18-20), among others. The Hurricanes travel to play at Wake Forest (March 24-26), Virginia (April 6-8), North Carolina (April 14-16), which claimed its eighth ACC Tournament title in 2022, Louisville (April 28-30) and Pitt (May 12-14).
To view the Hurricanes' 2023 schedule, click HERE. All dates and times are subject to change.
Miami tallied a 40-20 overall record a year ago, earning a national seed and hosting a regional for the first time since 2016. The 2022 Hurricanes were ranked as high as No. 2 nationally, notching a 14-game winning streak, which is the program's longest in eight years.
To keep up with the University of Miami baseball team on social media, follow @CanesBaseball on Twitter, Instagram and Facebook.