Canes Head to Virginia for Key ACC Showdown
CORAL GABLES, Fla. – Already once this season, the Hurricanes have gone north and found a much-needed win after facing one of their conference and division foes from Virginia.
They're hoping to do the exact same thing this weekend.
Earlier this month, Miami snapped a three-game losing streak when it put together a solid effort in a 20-14 win over Virginia Tech in Blacksburg.
On Saturday, the venue shifts to Charlottesville, where Miami will look to bounce back after a tough loss to Duke when it takes the field at Scott Stadium to face the Virginia Cavaliers.
Like the Hurricanes, the Cavaliers (3-4, 1-3 ACC) have endured their share of ups and downs through the first part of the season and Miami's players and coaches understand they'll face a challenge from a team that – like them – wants to play well during the final weeks of the year.
That's why for many of the Hurricanes, the goal this week is simple: keep fighting.
"I think that's what's happening now too. Guys are like 'Hey, we've really got nothing else to lose, but let's stay together. Let's finish this strong. Let's go out there and win,'" said fifth-year Hurricanes tight end Will Mallory. "That's what we need to do. That's what we deserve to do. We've been working way too hard not to do that. So that's what we're doing. We want to come together, stay together and finish this as good as we can. And I know we will."
Added receiver Colbie Young, a transfer from Lackawanna College who joined the Hurricanes just before the start of preseason camp, "There's a lot of chemistry that still can be built and I know the outside world expected a lot and we here expected a lot and we're not going to get off that path. We're going to still keep trying to build and build this program back to where it was."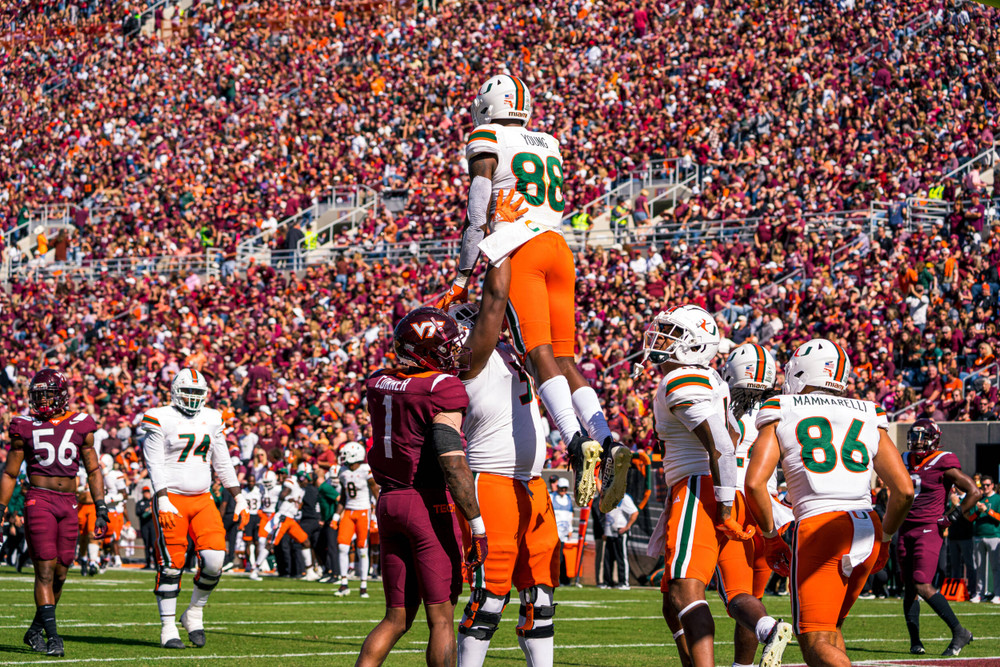 For Miami (3-4, 1-2), another step in that process could come Saturday against the Cavaliers.
Virginia, which is coming off a 16-9 win over Georgia Tech, is led by quarterback Brennan Armstrong, who has virtually rewritten the Cavaliers' record book.
Last week, the senior signal caller became Virginia's all-time leader in career touchdown passes with 57. He also holds the school mark in career passing yards (8,442), career total yards (9,278) and is also the school record holder for single-season passing yards (4,449 in 2021) and single-game passing yards (554 vs. North Carolina in 2021).
Through Virginia's first seven games, Armstrong has completed 55 percent of his passes and thrown for 1,618 yards and six touchdowns, while rushing for another 286 yards, second among all Cavalier ballcarriers.
Needless to say, the Hurricanes know Armstrong poses a challenge.
"He's as talented as it gets," Hurricanes head coach Mario Cristobal said. "All the pieces are coming together for them. They might have had a couple of bumps along the way, but that guy's pocket presence, understanding of an offense and how to dissect a defense, beat them with his arm, with his feet, set plays, he's one of those guys. He is. We've got a lot of good quarterbacks in the conference and he's up there. He's as good as you'll see around the country in any conference. We don't fall into that trap that there's maybe a game or two where he didn't those numbers, those benchmarks he hit last year. I mean, he is an elite quarterback."
Said Miami linebacker Corey Flagg Jr., "He's a talented quarterback…We've got to be where we need to be on any assignments that [defensive coordinator Kevin] Steele calls, or calls that he gives us. Because [Armstrong] can hurt us with his arm. We need to be where we need to be."
Armstrong isn't the only playmaker on the Virginia roster.
Playing at Virginia's bandit position, senior Chico Bennett Jr. has totaled an ACC-high six sacks on the season. That ranks among the top 25 nationally. And cornerback Anthony Johnson has defended 11 passes this season, a number that leads the ACC, and is tied for fourth in the nation when it comes to interceptions and PBUs.
The Cavaliers have a defense that can be disruptive and Cristobal noted Miami's offense will have to find ways to counter that.
"You like to say it starts and ends up front and it does, a lot, for them. But they have tremendous experience on the back end. People don't get behind them," Cristobal said. "They made tremendous plays on the ball, or on deep shots, contested catches. Particularly last game, the amount of pressure they put on the quarterback, the amount of pressure they put up front, the way they disrupted the line of scrimmage in the run game, they shut down their opponent completely. And it's something you could tell game by game, that's been coming on. A tremendous performance. They can run and strike. Their big and physical linebacker carries over to special teams as well. It's all in all, a really good defense."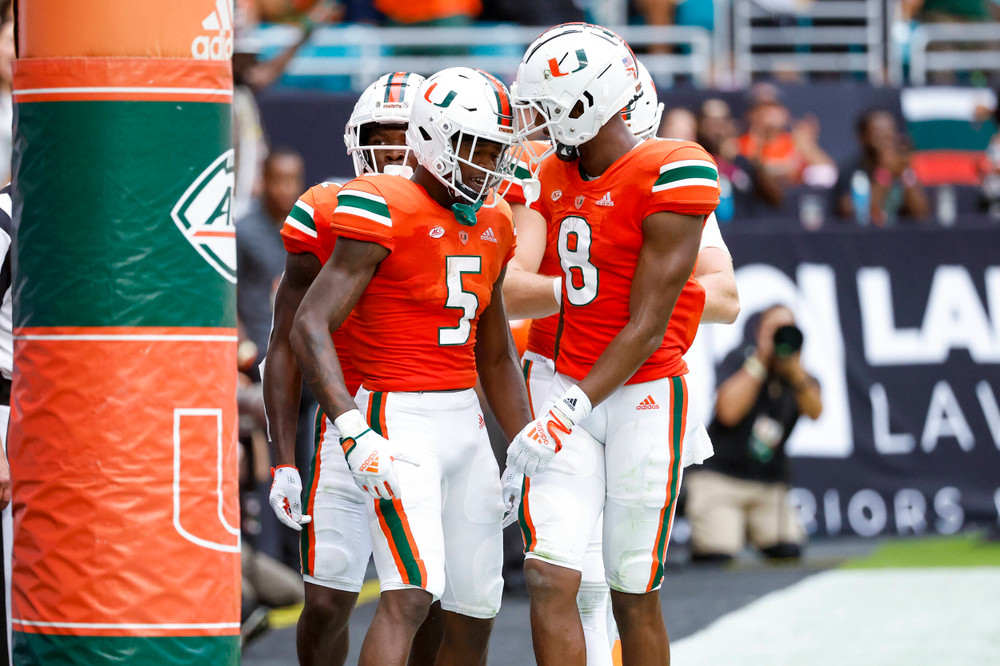 The Hurricanes will have to contend with all of that in Charlottesville.
But they head to Virginia knowing if they can play well and improve on some of the issues that appeared in last week's loss to Duke, they can get the much-needed dose of confidence a road win can provide.
And that would be a positive, given that there are still several road games still left on the schedule.
"When you go into a hostile environment, you know, odds are against you, I guess you want to say. And when you win, it's big," Mallory said. "You win on the road and it feels good getting that win, knowing you overcame a lot of things in those trips and in that environment…I think that's what we need. We need to come together, get a 'w' on the road, in an environment like that. It's good for the confidence, good to start something, and then we've got to keep it rolling, keep that momentum."