Barnes Adds Two to 2022 Recruiting Class
CORAL GABLES, Fla. — University of Miami head soccer coach Sarah Barnes announced Monday the addition of two players to the team's 2022 recruiting class.
After inking five student-athletes on national signing day, the Hurricanes have now rounded out their class with transfers Megan Morgan and Chloe O'Neill.
"We're ecstatic for Megan and Chloe to return home and join our Hurricane family," Barnes said. "We're eager for them to join our returning players, who worked hard this spring on the field, with strength and conditioning and our mental game plan. The combination of our incoming class and returning players will improve the energy and competition we need to become a stronger team where everyone will be pushed to level up."
A 5-foot-4 forward from Weston, Fla., Morgan spent her freshman season at Florida State, which won the 2021 NCAA national championship.
Prior to her first year in Tallahassee, Fla., Morgan was tabbed the 2021 BCAA Female Athlete of the Year and picked up first team All-Broward County honors as a senior at Cypress Bay. Her five goals and two assists helped lead the Lightning to an appearance in the state finals for the second straight season.
During her junior campaign, Morgan scored a jaw-dropping 32 tallies and dished out 13 assists, earning numerous accolades. She was named the 2020 7A-5A Miami Herald Female Athlete of the Year, 2020 Miami Herald Broward County 7A-5A Player of the Year and the 2020 Sun Sentinel 7A-6A High School Player of the Year.
"It's exciting to welcome Megan back to Miami," Barnes said. "Her redshirt year, she competed against some of the best players in the country at FSU and saw firsthand what it takes to win the ACC and NCAA championships. Seeing that preparation has allowed Megan to build a strong foundation and move forward with her career at Miami. She'll add competition and depth to the front line this fall."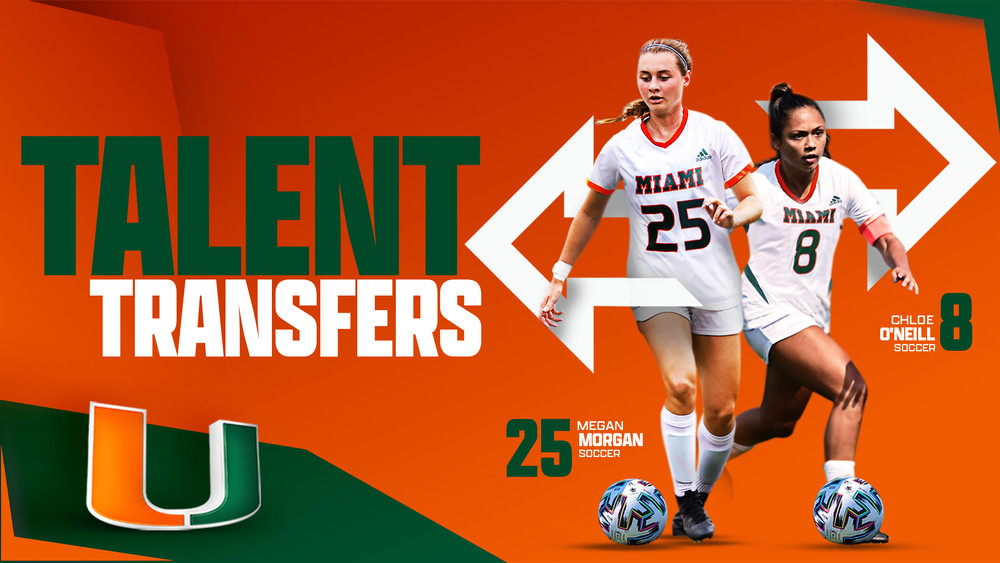 O'Neill comes to Miami after a standout four years at Villanova. The Plantation, Fla., native registered 19 goals and 16 assists, totaling 4,248 minutes on the pitch across 62 matches as a Wildcat.
As a senior, O'Neill led Villanova in seven offensive categories, highlighted by nine goals, five assists and 23 points.
The 5-foot-2 forward garnered BIG EAST Honor Roll distinction three times, while being named to the 2018 BIG EAST All-Freshmen Team, after netting five tallies and handing out three assists.
During her high school career at local St. Thomas Aquinas, O'Neill scored 101 goals and had 60 assists, being selected to the Miami Herald First Team on three occasions and earning Sun Sentinel Player of the Year honors in 2017.
"We're elated for Chloe to come back home to The U," Barnes said. "She's a tough competitor, who gained experience in the BIG EAST, while playing against numerous ACC opponents through her career. Chloe saw time at both the outside back and wide forward positions at Villanova. She'll add experience and depth to a strong returning core and compete in the attacking position this season."
Morgan and O'Neill join Zoey Lee, Jordan Losey, Tusca Mahmoudpour, Emma Pidding and Reese Wheeler in Miami's recruiting class.