Walters Named Stopper of the Year Finalist
CORAL GABLES, Fla. — The University of Miami's Andrew Walters is among the 10 Stopper of the Year Finalists, the NCBWA announced Wednesday afternoon.
The 17th NCBWA Stopper of the Year recipient will be announced via a news conference on Friday, June 17, at Charles Schwab Field Omaha.
The most dominant closer in the ACC and one of the top relievers in America, Walters earned his first All-America honor last week when he garnered second-team distinction from Collegiate Baseball. The right-hander was named the All-ACC first-team relief pitcher after one of the finest seasons by a hurler in the orange and green.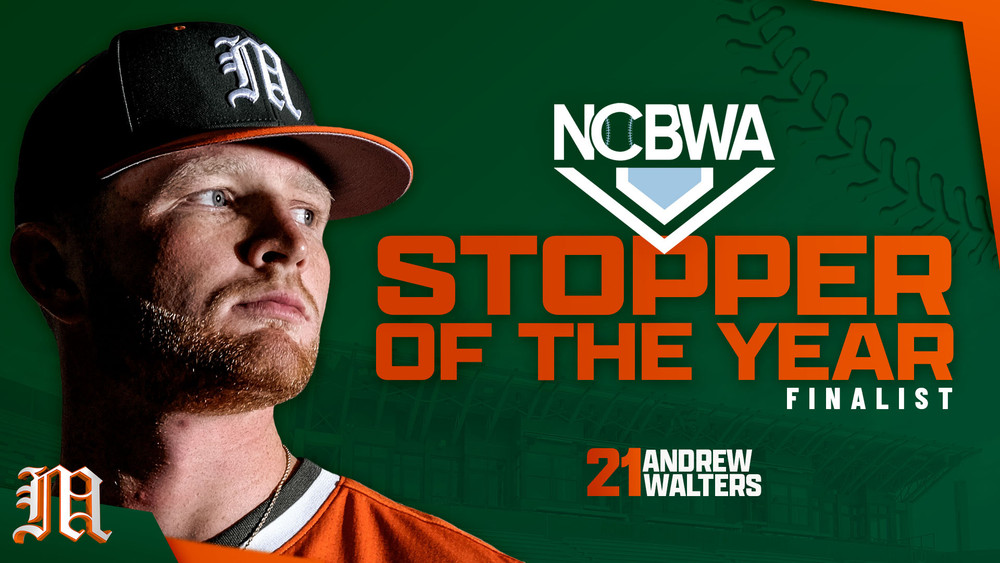 Walters, who was named a semifinalist for the Dick Howser Trophy, is the lone Atlantic Coast Conference player among the 10 finalists for the 2022 NCBWA Stopper of the Year.
The third-year sophomore finished the 2022 season with an ACC-leading 14 saves, which is tied for third nationally. His 14 saves tie him for 10th place in a single season in Miami history, joining teammate Carson Palmquist (2021) and former standouts Robbie Morrison (1996) and George Huguet (2001).
Walters wrapped up the season with a 1.65 ERA, allowing just six earned runs over 24 appearances. The Palm Bay, Fla., native struck out 62 batters, while walking only six and limiting opposing hitters to a .116 batting average.
The complete list of Stopper of the Year finalists is below:
Stopper of the Year Finalists:
Will Brian, R-Jr., Eastern Kentucky (ASUN)
Blake Burkhalter, Jr., Auburn (SEC)
Jack Gowen, Sr., Georgia (SEC)
Tyler Guilfoil, Jr., Kentucky (SEC)
Jackson Kelley, Jr., Mercer (SOCON)
William Privette, So., College of Charleston (CAA)
Carter Spivey, Jr., East Carolina (AAC)
Tristan Stivors, Sr., Texas State (Sun Belt)
Andrew Walters, So., Miami (ACC)
Redmond Walsh, Gr., Tennessee (SEC)