"Chicago is on Charlie's Side"
The moment he saw the bracket, Curtis Moore picked up the phone and made a request.
"I said, 'Charlie, just get me one more game where you can come home,'" Moore asked of his son, Hurricanes guard and Chicago native Charlie Moore. "I want all the people to come out and see him. I want to see him two or three times before he goes to play for a championship."
Done.
After knocking off a pair of ranked opponents in USC and Auburn in the opening rounds of the NCAA Tournament, come Friday night, Charlie Moore and his Miami teammates will take the floor at the United Center in Chicago for a Sweet 16 matchup against Iowa State.
That means the sixth-year redshirt senior will be returning to the arena where as a child he cheered for his hometown Bulls.
This time, though, he'll be the one hearing the cheers.
And there's no doubt his parents and older brothers will be some of the loudest in the building.
"My family is just so excited for me. They've supported me my whole life, allowing me to take steps to follow my dreams," Charlie Moore said. "Just coming home, playing at the United Center, they're very excited, especially my dad. He doesn't get to see me play in person that much anymore. For him to be able to see me, he's excited. So is my mom. We're just a real close-knit family. We talk all the time. It's going to be fun."
For Curtis Moore and Tanya Casey – Charlie's parents – seeing their son have fun again has been the best part of Miami's run through the NCAA Tournament.
That's because his journey thus far, on and off the court, has included more than its share of ups and downs.
He's had college coaches come and go. He's endured cross-country moves. And he's had to make tough decisions, especially after his father suffered a serious stroke in 2015.
Moore, who initially signed with Cal out of high school and played his freshman year on the West Coast, wanted to be closer to home to help provide support as his father recovered. Transfers first to Kansas and later to DePaul helped make that happen.
"One day, he was up and the next day, he was in the hospital…It's a tough feeling for someone to go down like that. You're so used to them walking and doing such-and-such with them, him taking you out, him shooting and working out with you and it was tough," Moore said last summer shortly after arriving at Miami. "But it made me and my family much closer. And it made me a better person."
As his father's condition improved, though, Curtis Moore encouraged his son to embrace a fresh start somewhere new, somewhere his basketball talent was needed and would be appreciated in ways maybe it hadn't been previously.
That somewhere new, it turned out, was Miami.
Though their conversations were limited to video conferences and phone calls because of the COVID-19 pandemic, Moore felt a connection with Hurricanes head coach Jim Larrañaga, who had recruited Moore when he was a four-star prospect at Chicago's Morgan Park High School. And it didn't hurt that Moore was familiar with Miami assistant coach Bill Courtney, who was at DePaul before joining the Hurricanes three years ago.
It seemed a natural fit and with his family's blessing, Moore headed to Coral Gables, where it didn't take long for him to win over his new coaches and teammates.
"He's from Chicago, I'm from New York. We bonded right away," Larrañaga said. "I gave him the ball and said, 'Look, you need to be our quarterback. We have another freshman point guard, but you've got the experience and I have tremendous confidence in you.'…He chose a place that not only needed him, but allowed him to be the best version of Charlie Moore he could be."
Said Moore, "The way [Larrañaga] just took me in, the way we formed a bond, it wasn't anything forced. It was genuine love. I really appreciate him. He's one of the best coaches I've ever played with and he gets the best out of me. I just want to play my best to help him come out with a win…And it means everything to have the trust of my teammates. They've put their trust in me. It's a pretty cool thing to be on a special team like this."
Moore's leadership on the floor, in the huddle and in the locker room is undoubtedly one of the reasons the Hurricanes (25-10) are where they are today.
The 5-foot-11 guard is Miami's third-leading scorer, averaging 12.8 points. He has a team-high 161 assists. He was named an All-ACC honorable mention selection and was voted to the league's All-Defensive Team.
Last week, Moore capped a 16-point effort with a pair of clutch free throws in the game's final seconds that helped lift Miami to a 68-66 win over USC in the tournament's Round of 64.
Now, Moore finds himself back where his basketball journey started.
He honed his skills playing in the alley behind his family's home in the Englewood neighborhood of Chicago. There, his brothers pushed him to his limit and his father often put him through rigorous dribbling drills. Moore eventually spent Sundays testing himself against older players at the local YMCA.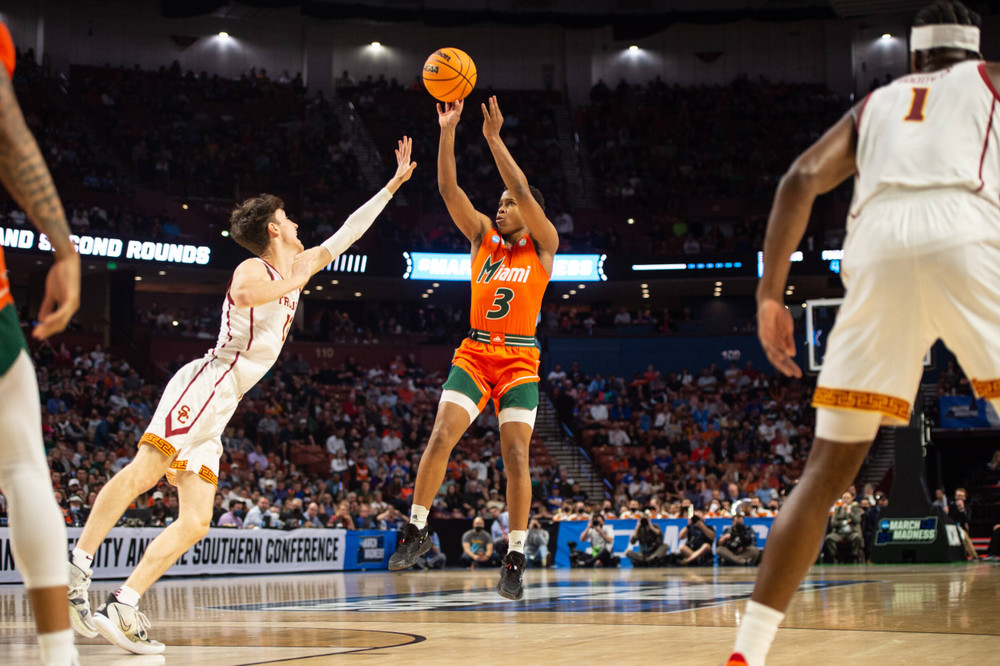 And as a senior at Morgan Park, Moore was named Illinois' Mr. Basketball, the Illinois Gatorade Player of the Year and the Chicago Sun-Times Player of the Year after averaging 28.0 points, 7.0 assists and 4.0 steals per game.
"From 2-years-old, he was always watching his brothers play basketball. His dad took him to every game because his dad was the coach and during halftime, Charlie would get on the floor, he'd bounce the ball, he'd pass the ball and everybody just knew Charlie," Casey said. "It wasn't only us, but all of Chicago watched Charlie grow from this toddler to where he is now…His personality, how he adapts or gets along with people, he's grown to know different people from everywhere in Chicago…And Chicago is on Charlie's side."
Added Curtis Moore, "He's a great young man and a strong young man and he's going to do great things in his life. That's what I've seen from him. He's gotten an education from everywhere he went. He's learned what to do. Now he's a grown man…Now he's coming home. He's coming here. He did all his good work in Chicago."
That kind of support, from both his family and his hometown, have meant the world to Moore as he and the Hurricanes prepare for Friday's game. And though he's quick to point out Miami's work is far from finished, he already knows he won't be forgetting this opportunity, this season, this moment, any time soon.
"The work me and my teammates and the coaching staff have put in throughout the season, it's all paying off," Charlie Moore said. "We're in the Sweet 16. We're one of the 16 final NCAA teams remaining. That's a pretty big accomplishment when you look back on it. I think we're trying to enjoy every moment as a team, take it all in, but continue to stay focused and ready for what's next…To play a Sweet 16 game at home, at the United Center, my home, an NBA court, in front of family and friends, I think it's going to be fun.
"It's a dream come true."