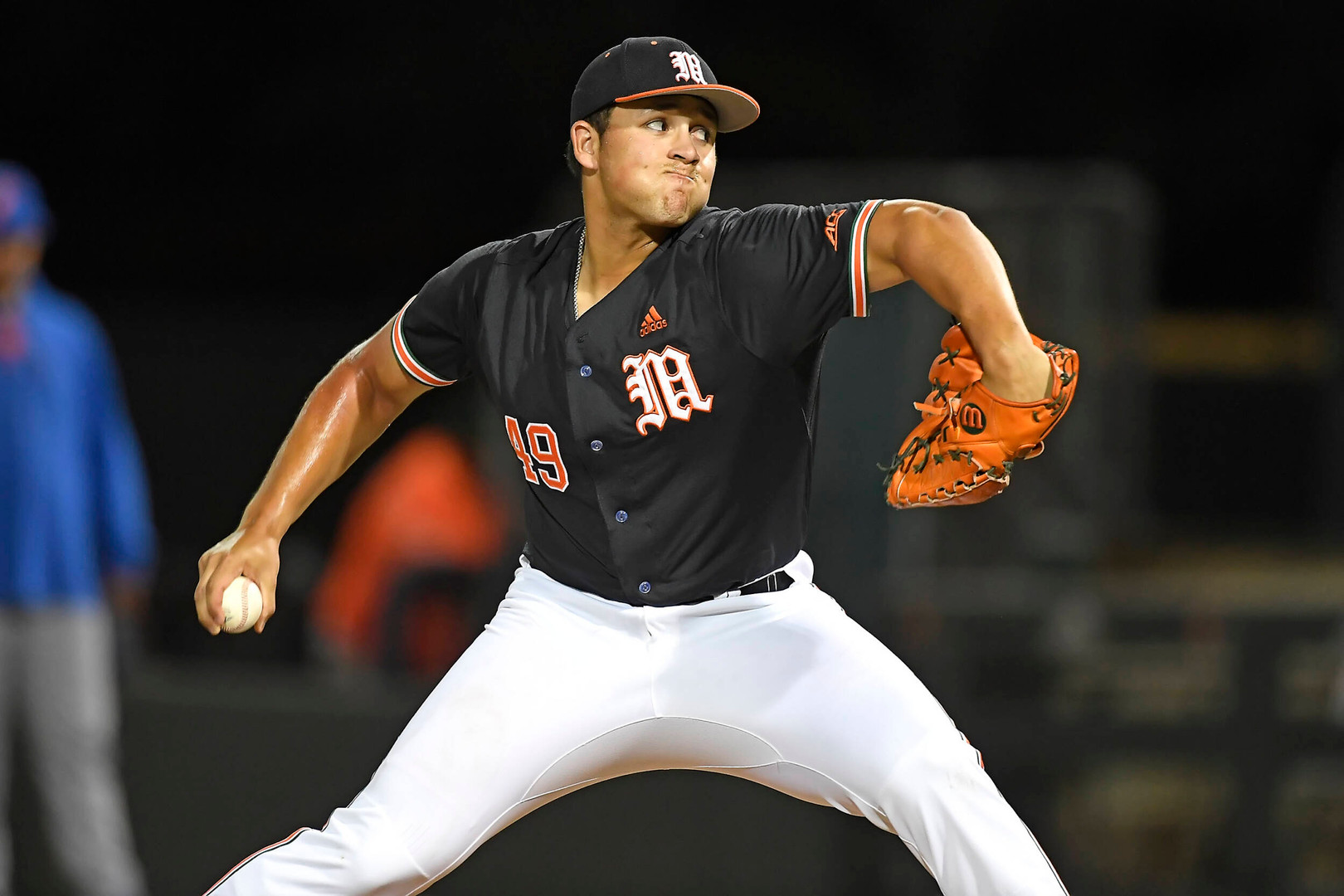 CORAL GABLES, Fla. — The decision was easy.
Alejandro Torres didn't want to go anywhere else. He didn't want to leave home.
"My family is everything to me," Torres said. "I was raised in a very tight-knit Cuban family and there's nothing more important than them. For me, to be able to play at home is a dream come true."
After spending his first two collegiate seasons at FIU, Torres transferred to the University of Miami, living out his lifelong dream.
"If you grow up down here, you want to play here," said Torres, who has appeared in three games as a Hurricane. "To be able to wear that U on your chest and represent more than just a school, but a city, that's a dream come true for any player. This is what I've always wanted to do."
On Tuesday evening, Torres returns to his former home as the Hurricanes take on the Panthers at FIU Baseball Stadium.
And although there will be plenty of familiar faces in the opposing dugout, there's only one thing Torres is focused on.
"I'm trying to beat them," the right-handed reliever added. "It's definitely going to feel a little weird going back. I have nothing but respect for them, but if I'm on the mound, it doesn't matter who I'm facing. They're a batter and I'm a pitcher and I'm trying to beat them."
As a star at local Belen Jesuit, Torres asserted himself as one of the top hurlers in Miami-Dade County.
A two-time 7A-16 Pitcher of the Year selection, Torres posted a 16-7 record with a 2.23 ERA and 240 strikeouts over 160 innings in his high school career.
Torres' top performance for Belen came at Mark Light Field.
In the first annual Be The Light Game, Torres tossed six shutout innings, allowing only one hit and striking out 12 batters.
And while Torres was happy with his effort, it was more than just about baseball.
"That game was three months to the day after my grandfather passed. He was my biggest fan," Torres said. "It was probably the most emotional game I've ever had. That game had a whole lot of meaning to it. We were honoring Ari that day, and personally, I had my grandfather in the back of my mind.
"Every time I get out on that mound, I always say a little prayer. I just hope that everything that I'm doing now and everything that I continue to do is going to continue to make my grandfather proud. I hope it continues to put a smile on his face."
For Torres, family is everything.
While he had made a name for himself in his own right, schools at the next level had already known about him for another reason.
"I can't mention my high school recruitment without mentioning my brother," Torres said. "My brother committed to go to FIU. They told my brother and me to go out there for a camp a couple weeks later."
As kids, Torres and his older brother, Humberto, who are only 16 months apart in age, were inseparable.
They played baseball together. They drove to school together. They lived in the same bedroom until high school together.
"With Ale, there is never a dull moment. He has a very infectious personality and he makes his presence felt wherever he goes," the elder Torres said. "We learned a lot from each other. We were each other's harshest critics."
The Torres family lived less than 10 minutes from FIU, making it an easy choice for Humberto.
For Alejandro, his decision was even easier after he knew his role model would be playing for the Panthers.
"He's set the example for me and my younger sister. He's done everything that any parent could ever ask for," Torres said. "Not many people can say they've lived the experience of not just playing college baseball at home, but being able to play with their brother and that's something I'm never going to forget for the rest of my life. It's something that our whole family will cherish for a long time."
After Humberto redshirted his first year at FIU, the two debuted together.
Alejandro's first collegiate outing came with a familiar face behind the plate. That same day, Humberto tallied his first career hit.
"We're going to remember that until the day we die," Humberto said. "We were able to share such an impactful moment together."
Following the COVID-19 shortened season, the two brothers embarked on their next journey together.
Alejandro and Humberto played with the Tulsa Drillers in the Texas Collegiate League.
For the first two weeks, everything was normal.
But then, the younger brother knew something was wrong.
"I knew something was off right away. After the first two weeks, my arm was stiff around my elbow, that's a red flag," he said. "When I woke up the next day, it was completely stuck. I was freaking out. I was screaming to my brother and woke him up."
Alejandro saw a doctor and received news no baseball player wants to hear in their career.
"I called my dad right after and was in tears," he reflected. "From then on, it's always been what's next?"
Torres had to get Tommy John Surgery to repair his ulnar collateral ligament in his pitching elbow.
After the operation, he wanted to attack his rehab head-on.
"Most guys do rehab three days a week, I did rehab five to six days a week. I was pushing everything to the next level that I could. The doctor had to tell me I had to slow down," Torres said. "I knew it was going to come down to my work ethic, my discipline and my mentality. I was doing everything to the max and looking forward to my next time out. Some people look at it as a setback, for me, it's just another part of the journey."
Torres' injury sidelined him for the entire 2021 campaign. Following the season, Humberto and Alejandro both entered the transfer portal, looking for their next experience.
Humberto committed to play at Gardner-Webb University. Meanwhile, Alejandro, who hadn't pitched in a collegiate game since March 2020, was hoping to realize his childhood dream.
"There were only a few weeks until school started, so I was freaking out," he said. "I went to my dad's office to write down pros and cons for each school. The minute we wrote down the schools, I got the phone call."
Miami associate head coach/pitching coach J.D. Arteaga called Torres and offered him an opportunity to be a Hurricane.
Without hesitation, Torres knew his decision.
After growing up watching games at Mark Light Field, Torres' baseball journey came full circle.
Torres has made four appearances in the orange and green, holding opposing hitters to just a .167 average.
And while Alejandro has always been the younger brother in his own family, with his baseball family, he has served as a role model for some of his teammates.
"He's been like my older brother," said freshman infielder Dorian Gonzalez Jr., who also played alongside Torres at Belen. "He's really easy to talk to and can make you laugh, but once he steps in between the white lines, he has that dog mentality. He goes right after hitters. He's a pitcher you want to play behind."
Torres is home.
With his teammates behind him and his family in the stands, the sophomore is living his lifelong dream.
"What I'm getting the opportunity to do wouldn't be been possible without the sacrifice from my parents and brother," he said. "I'm representing more than just myself. They've done everything they can to put me and my siblings in a position to be able to give us the opportunities that we have. Everything I do is truly for them."