CORAL GABLES, Fla. — The next game is the biggest game of the year.
The Miami Hurricanes baseball team has lived by those words this season.
Now, their next game is against No. 14 Florida.
"It's your state, you want to mark it as your territory," catcher Maxwell Romero Jr. said "Other than that, it's the same game and nothing changes."
The No. 22 Hurricanes (7-1) are off to their best start in nine years, but their next test means a little more.
"They don't like us, we don't like them," said left-handed pitcher Carson Palmquist. "Everyone is playing as hard as they can every single pitch, every single play. They don't want to lose to us, we don't want to lose to them."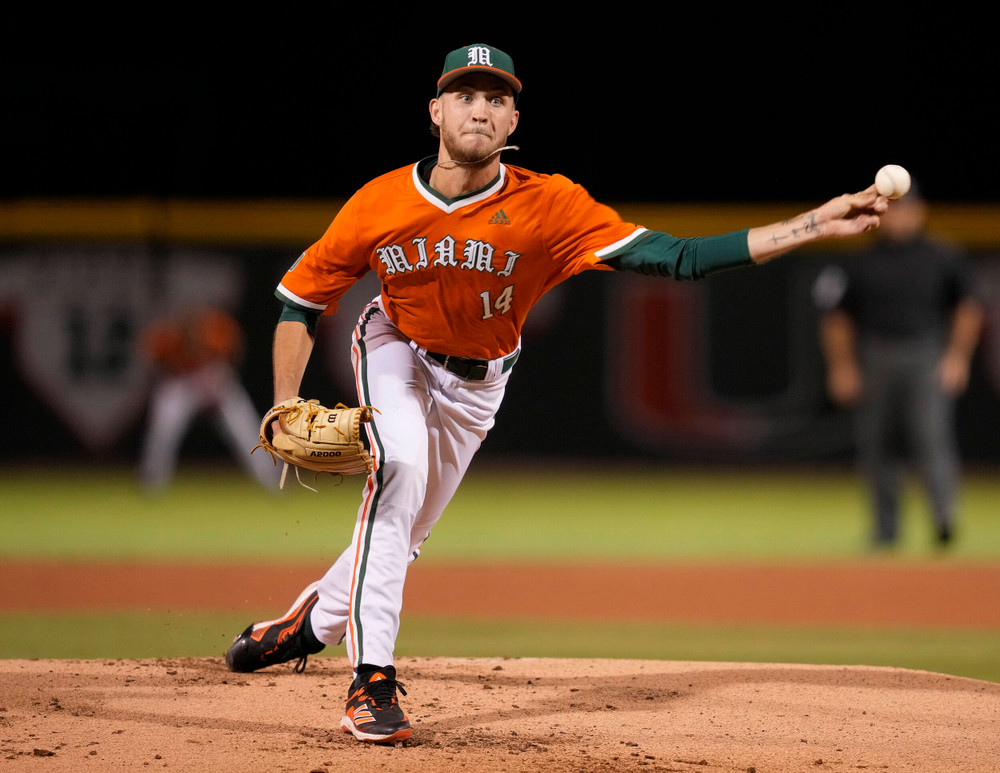 Palmquist (2-0, 1.74 ERA) will oppose fellow highly-touted southpaw Hunter Barco (2-0, 0.75 ERA) in the series opener Friday.
And while veterans like Palmquist know what the rivalry is like, the Hurricanes have 18 newcomers who will experience the intense battle for the first time.
"It's a dream to play in this type of series with such history," outfielder Jacob Burke said. "Playing teams like Florida is one of many reasons why Miami was so attractive to me."
Miami leads the all-time series against the Gators, 132-128-1, including an 81-48 advantage in Coral Gables. In the tightly contested 261-game rivalry, the two sides are separated by only four runs.
The Hurricanes and Gators first squared off in 1940 and will meet for the 43rd consecutive year this weekend.
"These guys have been on our minds all week," Miami head coach Gino DiMare said. "For us to win a game and win the series, we're going to have to pitch well. It starts on the mound. We have to defend and have some balance throughout our lineup and put some pressure on them to score some runs."
After the Hurricanes played in front of a reduced crowd last season due to COVID-19 protocols, the highly-anticipated three-game set is sold-out.
For the first time since March 2020, a postseason-like atmosphere will return to Mark Light Field.
"It's going to be loud," sophomore infielder Yohandy Morales said. "It's going to be something we remember for the rest of our lives."
The Hurricanes enter the weekend ranked 20th in the country with 12 home runs and 21st with a 2.25 ERA.
Miami is hitting .289 as a club, paced by Romero Jr. and CJ Kayfus, who are both batting .375. Burke and heralded freshman outfielder Lorenzo Carrier are tied for the team lead with two homers, while Burke has recorded a team-best 11 RBI.
Meanwhile, Florida, which is coming off a 17-0 rout over Florida A&M, is second nationally with 24 round-trippers and 23rd with a 2.30 ERA.
And although there'll be a palpable buzz in the stands, the Hurricanes are locked in on keeping their next game mentality.
"This team is a team full of warriors. We know how to fight," Romero Jr. said. "If we control our attitude, our emotions and how we play, we'll go a long way."
The sunshine state showdown begins at 7 p.m., Friday and will stream on ACC Network Extra and air on WVUM 90.5 FM.
"You don't get the stadium sold-out every day in college baseball," DiMare said. "When the Gators come into town, there are big crowds. I expect it to be a great atmosphere."