Palmquist Named Preseason First Team All-American
CORAL GABLES, Fla. — Miami Hurricanes left-handed pitcher Carson Palmquist collected his second Preseason All-America honor, earning first-team recognition from Perfect Game, as announced Wednesday.
Palmquist, who was one of two relievers named to the first team, previously garnered second-team accolades from Collegiate Baseball.
The complete list of Perfect Game Preseason All-Americans can be viewed here.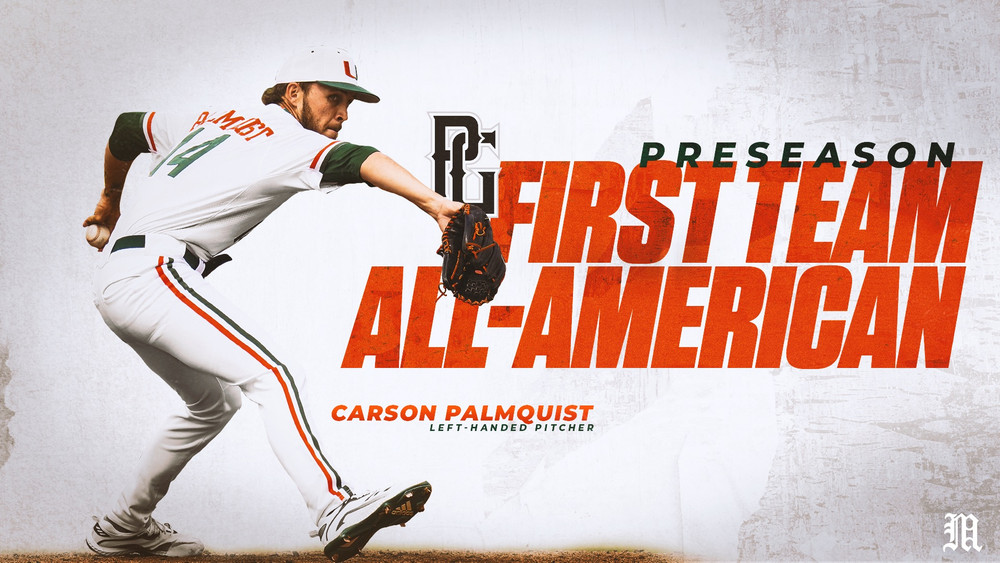 Following the 2021 season, the 6-foot-3, 185-pound southpaw was tabbed a first-team All-American by the NCBWA and Perfect Game. He received second-team distinction from Baseball America and D1Baseball, and a third-team pick by the ABCA/Rawlings.
The Fort Myers, Fla., native paced the ACC with 14 saves, which ranked third nationally. Palmquist posted a 2.22 ERA and tallied 75 strikeouts across 44 2/3 innings pitched.
An NCBWA Stopper of the Year Finalist, Palmquist was also selected to USA Baseball's Collegiate National Team this past summer.
Palmquist and the Hurricanes are scheduled to begin their 2022 campaign against Towson on Feb. 18. First pitch is set for 7 p.m. at Alex Rodriguez Park at Mark Light Field.