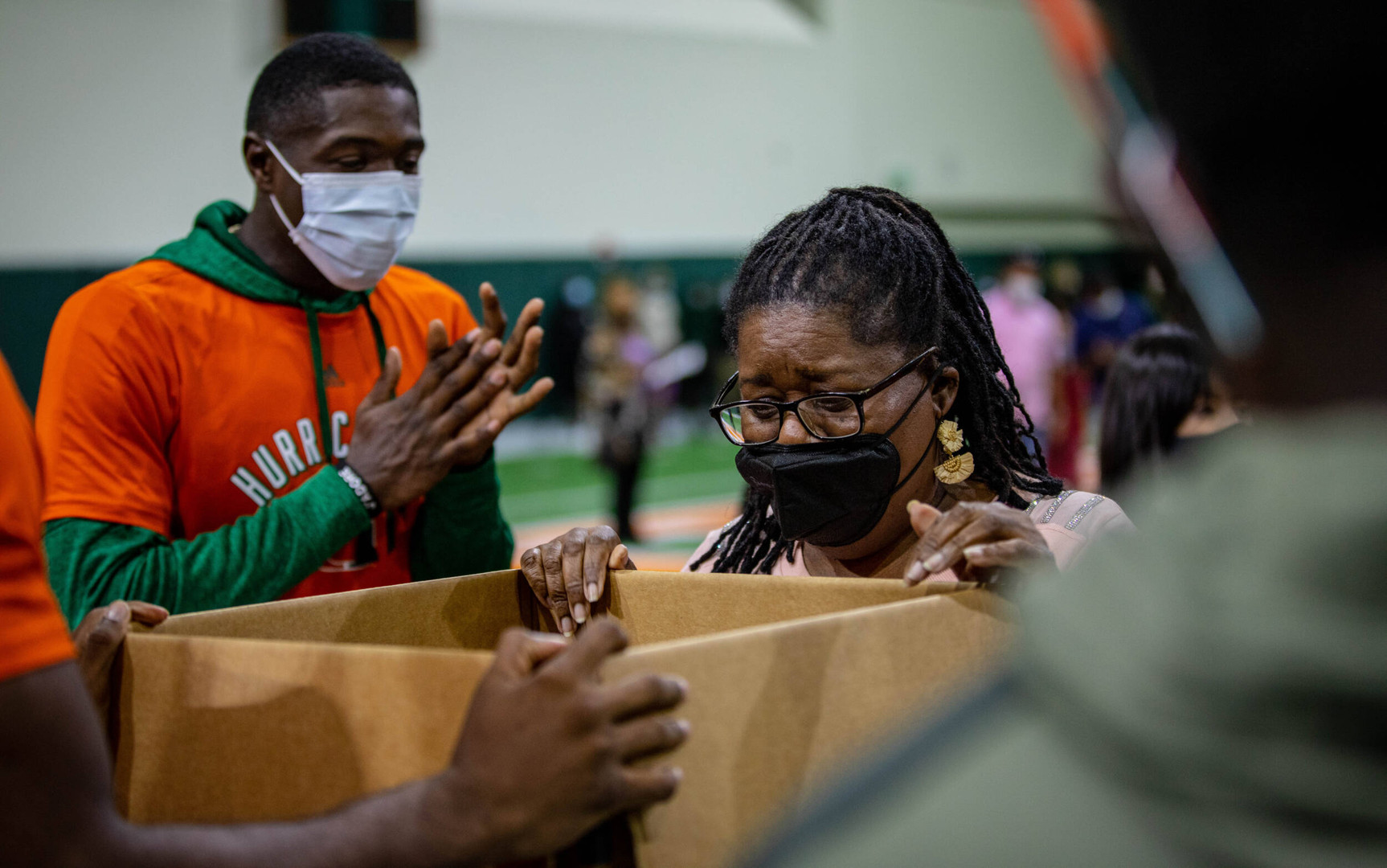 CORAL GABLES, Fla. – Joyce Brown couldn't help but smile as she took in the scene around her.
To her left, the three foster children in her care sat on the turf of the Carol Soffer Indoor Practice Facility playing Connect Four with several members of the Miami football team. Not far, more children tossed a football around with some of the Hurricanes, laughing as they sprinted up and down the field.
And spaced out on tables throughout the facility were boxes filled with all the ingredients to make a full Thanksgiving dinner, from perfectly portioned turkeys to side dishes and pies – ingredients that, earlier in the day, the Hurricanes has selected themselves.
"To me, this is so heartwarming," Brown said. "These young athletes are reaching across different generations, spending time with the foster parents and all these little ones that look up to them…It's amazing. It's beautiful. It's such a good image for the children…I'm delighted."
She wasn't the only one.
On Monday evening, there were smiles aplenty when the Hurricanes hosted a special Thanksgiving event for 10 families that are part of the Miami-Dade County Foster and Adoptive Parent Association, a support group for foster and adoptive families, non-relative caregivers and the children those families serve.
Hurricanes players and coaches – along with members of Miami's swim, cheer and dance teams – spent time with the families, playing games, coloring and, of course, talking a little football.
"I really enjoyed this," Hurricanes linebacker Corey Flagg said. "I got to play football with them, throw the ball with them and it was just so much fun to see the smiles on those kids' faces."
For the Hurricanes, the preparation for Monday's event began hours earlier.
In the morning, representatives from each of the team's position groups made a special trip to a local grocery store where they navigated the aisles in search of all the ingredients to make a memorable meal.
For some of the players, it was their first time shopping for a Thanksgiving dinner. Others had tagged along a time or two when their own families prepared for holidays past.
There were good-natured arguments over whether apple, pumpkin or sweet potato pies should be bought. They debated which kinds of stuffing better suited the meals and many of the savvy shoppers made sure they loaded up on buy-one, get-one deals to give the families they were meeting even more goodies.
"I feel like the community has done a lot to support us, so to give back to them, it's the right thing to do," said quarterback Tyler Van Dyke. "We know this means a lot to these families and some kids that have grown up in tough situations. Giving them all we can give, all the food for Thanksgiving, is something special."
Added striker/safety Amari Carter, "It's a blessing to even be able to do this…We play football, but there's so much more to it. The ability to do this means everything. There are so many families out there that could use some help with meals, with many things and the University of Miami is showing we care about those families. It means the world…There's no amount of help that's too much."
Monday's event was just one of the various community service projects the Hurricanes have undertaken in recent months.
Over the summer, several members of the football team participated in a beach clean-up, while others spent time at local schools and camps. Some of the Hurricanes delivered meals to first responders at the site of the Surfside condominium collapse during the rescue operation in June and yet others attended a peace march to raise awareness about gun violence.
As they've navigated their season, the Hurricanes have also attended leadership classes, written pen pal letters to local elementary school students and more.
All of that, Hurricanes head coach Manny Diaz said, is part of the responsibility that comes with wearing the Miami uniform.
"It's baked into who we are here at the University of Miami," said Diaz, who noted that Director of Player Development Jorge Baez and Senior Associate Athletic Director for Student-Athlete Development Shirelle Jackson have been instrumental in coordinating some of the Hurricanes' outreach efforts. "Our players enjoy this. They enjoy giving back to the community. They get it. They get that everybody sometimes just needs a little extra helping hand and they never turn down the opportunity to help."
On Monday, there's no doubt that help was appreciated by the children and families who attended the Thanksgiving event.
"This is so special," said Shamele Jenkins, the executive director of the Miami-Dade County Foster and Adoptive Parent Association. "For our younger kids, it lets them dream. For the older kids, it's what they've seen on TV that becomes tangible and very real. They see that there are bigger kids like them and it lets them know they can aspire to do this, too. It warms my heart because all the athletes that are here, they care. That's really, really special."
Added Travis Davis, the president of the organization, "I've been fostering for almost 20 years, and if I meet or see any of my old kids, they remember moments like this. It changes their lives. They'll never forget this. And when they see a game going forward, it makes it more of a reality. They can say, 'Hey, I met so-and-so.' That will last forever."