Hurricanes Look to Stay Hot Against Georgia Tech
CORAL GABLES, Fla. – Tyler Van Dyke has noticed a growing number of classmates on campus know exactly who he is these days. And he, along with teammates James Williams and Jaylan Knighton, have earned recognition from the Atlantic Coast Conference for their play of late.
After knocking off back-to-back top-20 opponents, the Hurricanes find themselves in a distinctly different place than they were just two weeks ago when close losses in their first two conference games had them searching for answers and trying to stay positive.
Winning – and all that's come with it since – has been fun, no doubt. But as Miami prepares to host Georgia Tech in another key Coastal Division game on Saturday afternoon at Hard Rock Stadium, the Hurricanes are trying to keep things in perspective.
This is hardly the time to change the mindset that had them striving to be better against North Carolina State and Pittsburgh than they were against Virginia and North Carolina. It's hardly the time to take anything for granted.
And that mentality, they believe, will pay off against a Georgia Tech team that, like Miami, has weathered its share of ups and downs this season.
"What we have done in the last four weeks is we've gotten better. We're a better team that played against Virginia, regardless of how the game ended. I think we're a better team that played against North Carolina and we needed to be because the last two teams we played have been a step up in competition," Hurricanes head coach Manny Diaz said. "If we stop doing that and start thinking 'Oh, because things are nice…,' we'll get ourselves beat.
"I think that's what we've shown over the [last] four games. We can beat anybody. We can be really good. But if we're not ourselves the way we want to be,  we're definitely beatable…Our players didn't like it when they were getting fed negativity and they can't like it when they get fed positivity. They're both unhealthy for you. You hold onto it the praise, you hold on to the criticism, neither are good for you. To me, that's why you talk about what's real, what you have to get better at and how do we find a way to play our best ball in November."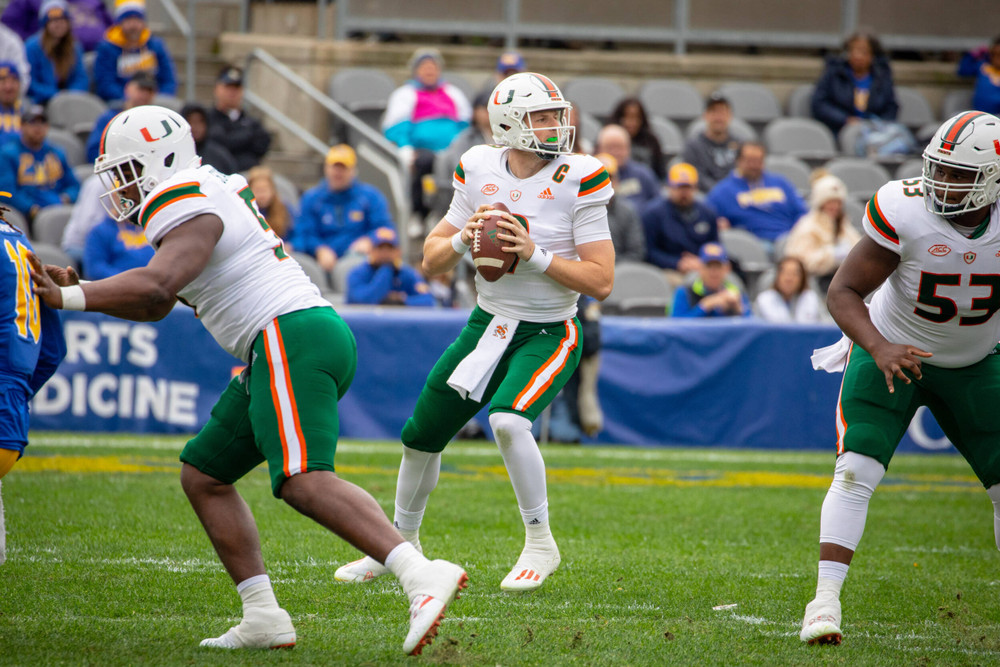 His players, for their part, are trying to take their coach's message to heart.
"We won two games, played well," said Van Dyke, Miami's second-year quarterback who has earned back-to-back ACC Rookie of the Week awards after throwing for a combined 753 yards and seven touchdowns against NC State and Pittsburgh. "But we still have four games left and possibly some more. I still have to keep working, keep going."
Added cornerback Tyrique Stevenson, "We won those two and I'm happy and I'm very excited for this team. We're picking our confidence back up and we understand we can play with any team, but…let's make sure we keep getting even better and as we get better, we can stop teams from scoring as much so we can really enjoy our wins."
They'll have yet another opportunity to test themselves against Georgia Tech (3-5, 2-4 ACC).
The Yellow Jackets enter Saturday's game having lost three of their last four, including a 26-17 loss to Virginia Tech last week.
But Tech has won two straight over the Hurricanes and has more than a few playmakers capable of giving Miami (4-4, 2-2) headaches.
In last week's loss to Virginia Tech, Yellow Jackets' quarterback Jeff Sims became only the 12th player in Georgia Tech history to amass 3,000 career passing yards, while running back Jahmyr Gibbs surpassed 2,000 all-purpose yards. The two freshmen reached those marks in just 16 and 15 games respectively.
Sims has emerged as one of the ACC's top dual-threat quarterbacks, completing 61 percent of his passes for 1,274 yards and 11 touchdowns while rushing for another 442 yards and four scores. Gibbs, meanwhile, is the Yellow Jackets' leading rusher with 524 yards and has proven himself to be a threat to catch passes out of the backfield too, hauling in 25 receptions and totaling another 368 yards.
Defensively, the Yellow Jackets will provide another test for Van Dyke, who is set to make his sixth start on Saturday.
"They're just a unique scheme. Again, no matter what Tyler's done over the last the few weeks, he's still a rookie. It's been a changing picture for him every week and he's got to do a great job in his preparation to be able to handle that because they're going to be in odd," Diaz said. "They've kind of got guys littered around the yard and he's got to do a really good job of understanding where to go with the football. It'll be something a little different than what he's seen in the past."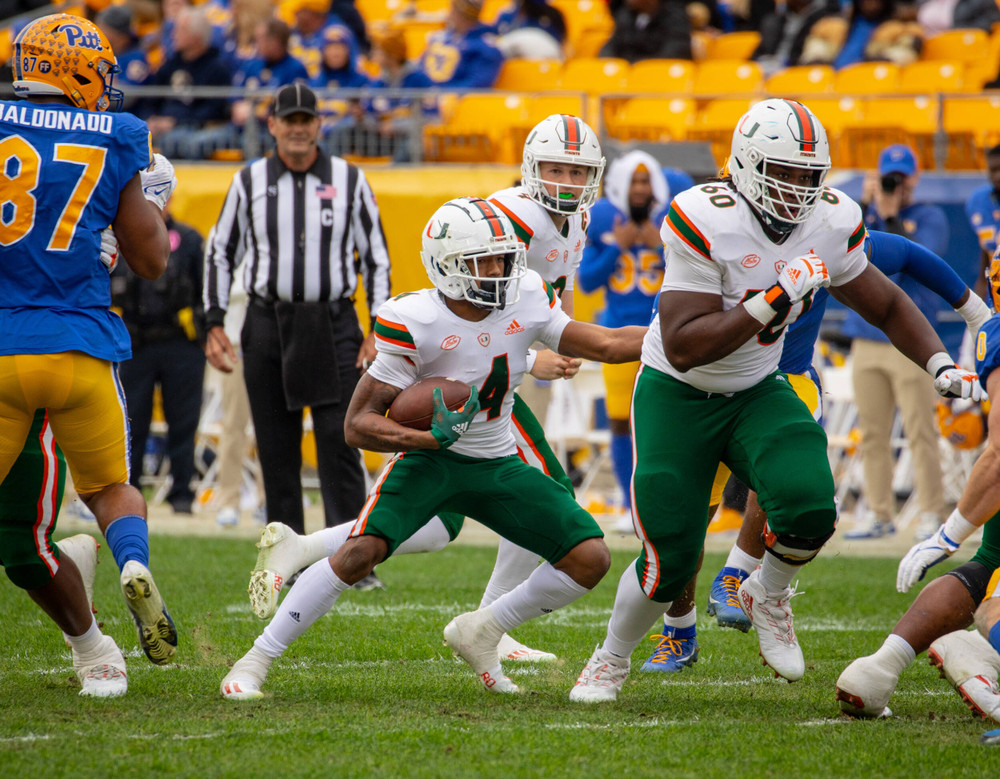 But the Hurricanes are coming off one of their best offensive showings of the season and Van Dyke will have more than a few playmakers helping him keep Miami moving.
Receiver Charleston Rambo leads the Hurricanes with 650 receiving yards and this week, earned himself a spot on the midseason watch list for the Biletnikoff Award, which is given annually to the nation's top receiver.
Tight ends Will Mallory and Elijah Arroyo both scored against Pittsburgh, as did receiver Key'Shawn Smith. And Xavier Restrepo and Mike Harley both had solid showings, too.
Meanwhile, Knighton, who has moved into the role of lead back after Cam Harris' season-ending injury, has totaled 257 all-purpose yards in the Hurricanes' last two games.
All of that, Miami's players and coaches know, is something for the Hurricanes to build on as they host the Yellow Jackets.
And that's what they hope to do Saturday.
"We started 2-4 and yeah, it was some tough times, but we knew we had a tough team that didn't give up in those second halves," Van Dyke said. "We knew this team had lots of potential and we showed that the last two games [but] we still have four more to play."
Said defensive end Deandre Johnson, "You see guys want to come in and get better. We're not satisfied at all. Guys still want more. This team wants more wins. These coaches want more wins…We're coming to work with the same mentality, get better each week and finish the week with a [win]."