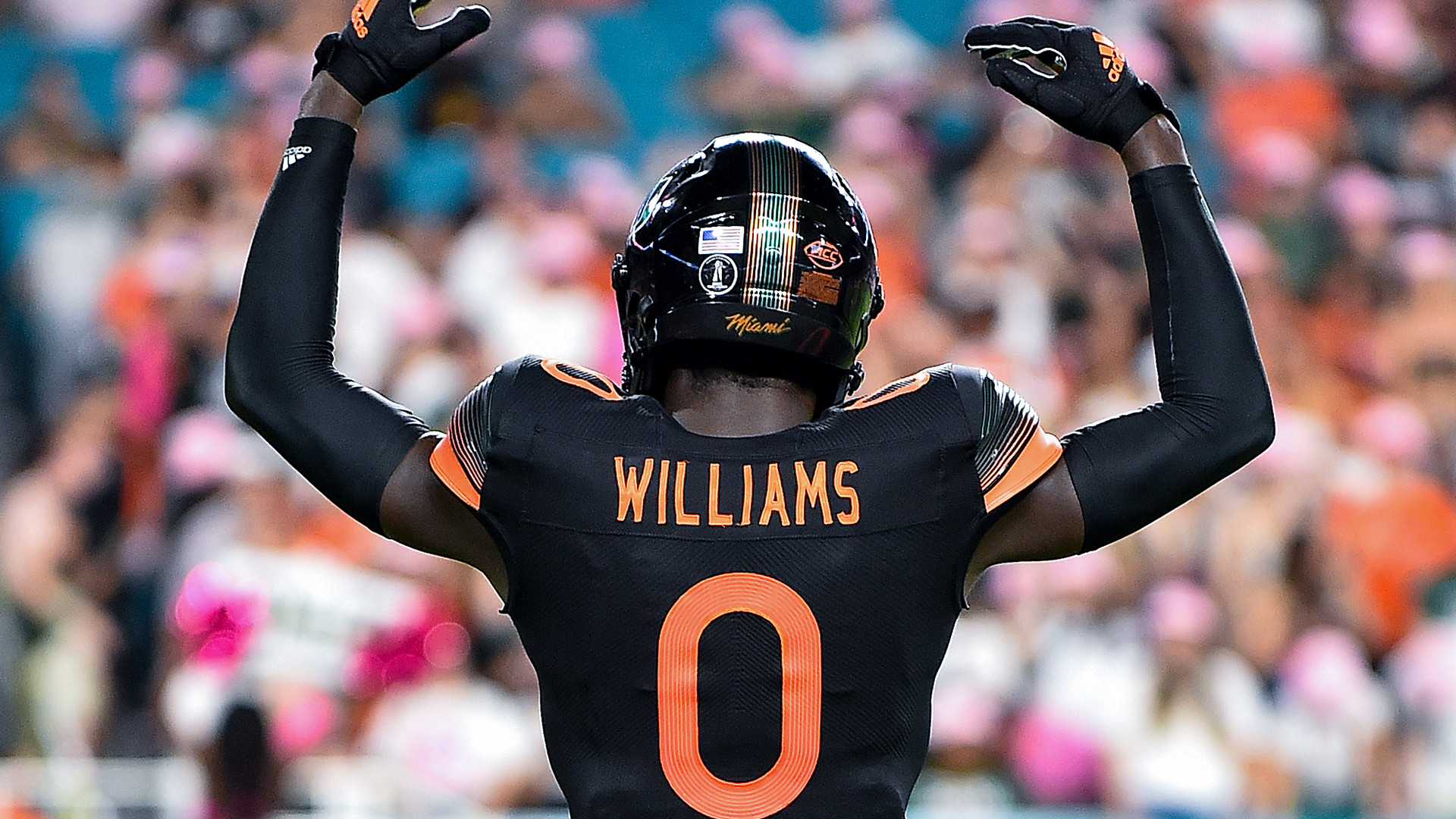 CORAL GABLES, Fla. – It was a challenge James Williams didn't quite expect.
When he arrived at Miami, the highly recruited safety figured it wouldn't take long for him to make an impact, not with the dazzling resume he'd built during high school.
He was a five-star prospect. The nation's top-rated safety. A US Army and Under Armour All-American. The list of big-name college football programs who'd wanted him on their rosters was practically endless: Alabama, Clemson, Georgia, LSU, Ohio State. Oregon, Penn State and more.
All of that, Williams figured, would mean lots of playing time – maybe even a starting job – sooner rather than later.
But it didn't happen quite as quickly as he hoped. Yes, he was getting snaps and he even saw action against defending national champion Alabama in the Hurricanes' opener. But he was a ball player. He wanted more.
A conversation with one of his older teammates changed his perspective.
"Tyrique Stevenson walked up to me one day when he saw me with my head down, my facial expressions and my body language. He saw it all and he said something," Williams said of the sophomore cornerback who joined the Miami roster this year after two seasons at Georgia. "He came up to me and was like 'I know how you're feeling. You have to go through this.'…I had to realize that it's part of the game and I'm not the only one that's been through it. Everybody in the league's been through it, all the first rounders…It was one of my growing pains that I had. I had to overcome it and I feel comfortable now."
Said Stevenson, "He had all this hype around him and then coming into college, it's a high-level aura. But once you step into this building, all of that goes back to zero. You're a freshman all over again. You have to come in here and prove, not only to your coaches, but prove to your peers, that you're here to play and you're not just some rookie…I just told him 'You have to wait your time and show coach [Travaris Robinson] and [head coach Manny] Diaz why they can trust you…If you're one of the best 11 [players], show them."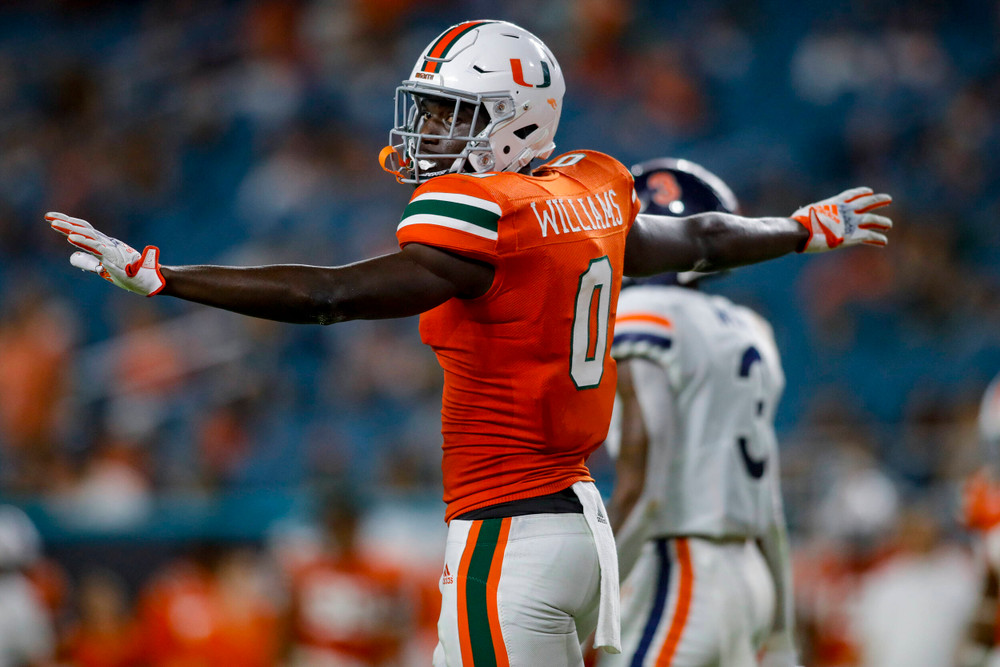 That was exactly what Williams put his head down to do. And his work, on and off the field, led to that breakthrough he so desperately wanted.
Williams eventually made the first start of his college career when the Hurricanes closed out non-conference play against Central Connecticut State on Sept. 25. He's been a starter since.
There have been more growing pains, of course. A passionate player with a knack for getting to the ball and making big hits, Williams has been penalized more than once this season for letting his emotions get the best of him.
And he's learned that in the college game, his size and physical strength – impressive as they may be – can't be his only tools. Merely bumping opponents – like 6-foot-1, 225-pound North Carolina quarterback Sam Howell – won't bring them to the ground. Fundamental tackling will.
But even as he continues to grow, there's no denying Williams' talent, his coaches say.
"God blessed him with a bunch of great attributes. He's big. He's strong. He can run and he's very, very intelligent. He understands what's going on and he sees things happening before they happen," said Robinson, Miami's defensive backs coach. "He's doing a really good job with the opportunities that he's getting. The more he continues to play and trust his technique, the better he'll be…To his credit, he studies. He works at it. And he's getting better every week. If he can continue to do that…his ceiling is through the roof."
A little more than a month after making his first collegiate start, things have changed again for Williams and the Hurricanes.
Veteran safety Bubba Bolden, who'd been dealing with a nagging injury, was ruled out for the remainder of the season when doctors determined he needed surgery to fix his shoulder. Another one of Miami's leaders was suddenly sidelined and now Williams and fellow freshman safety Kam Kinchens were tasked with helping anchor the secondary against one of the best quarterbacks in the ACC.
Williams and Kinchens – who developed a close friendship over the summer as they studied film together and worked to learn the playbook – made their first start together last Saturday when the Hurricanes traveled to Pittsburgh to face the Panthers and quarterback Kenny Pickett.
Pickett, who is generating plenty of buzz as both a Heisman candidate and potential first-round NFL draft pick, was every bit as good as the Hurricanes expected. He threw for 519 yards and three touchdowns, but made two big mistakes.
The first came in the second quarter when he was intercepted by Stevenson and the second came in the fourth when he overthrew a pass and Williams snagged a pick of his own.
Entering the game, Pickett had thrown just one interception. Miami forced him into two and it was one of the Hurricanes' freshman safeties who made one of the game's biggest plays.
"I was expecting him to throw it cross-field, but he overthrew it and I just reacted. That was more like reacting and I came out with it," Williams said. "It was big because that was one of the last drives of the game. That was a game-sealing pick. It changed the whole momentum of the game, even the crowd. It changed everything. It was dead silent. You felt the energy taken from Pittsburgh."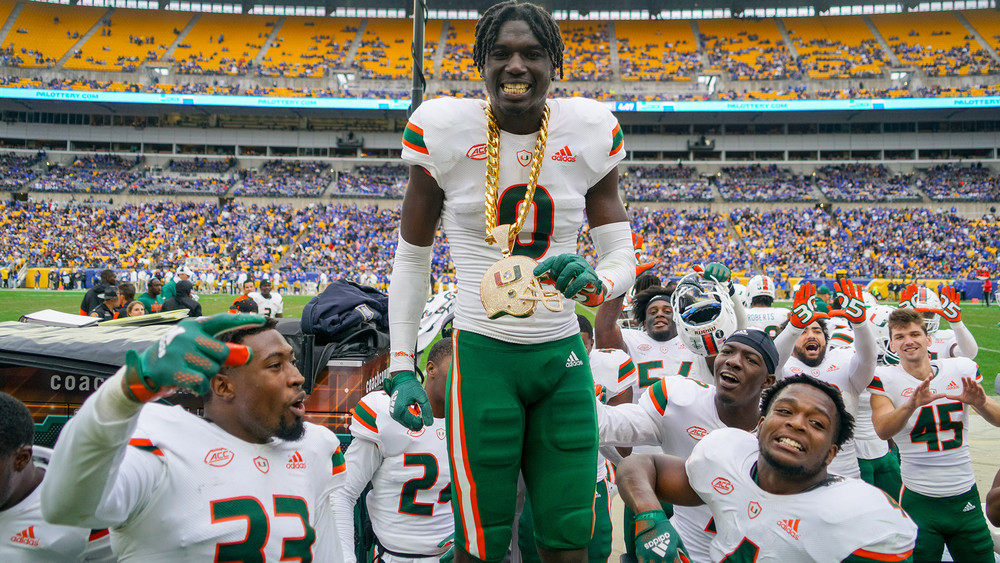 It proved another learning experience, though, for Williams who celebrated the play with his teammates before getting on the Miami sideline. Another penalty put the Hurricanes offense in a tough spot deep inside Pittsburgh territory and prompted a conversation later with Robinson.
"He's a very passionate guy and sometimes, it gets the best of him. He's got to understand, especially now, they've got a target on him. Is it worth it? It is it worth 15 yards?…Those are valuable yards and valuable field position," Robinson said. "The ball went from the 4-yard line to the 2-[yard line]…Those are the kinds of learning experiences that I share with James…Come to the sideline and celebrate with your teammates. That's very important. And he understands that. He's very, very cerebral and he's a smart guy. He understood that. He just has to continue to do it when he gets in those situations again."
Ultimately, Williams finished the Pittsburgh game with a team-high nine tackles and the interception, a performance that earned him ACC Defensive Back of the Week honors.
But the freshman knows his journey at Miami is really just beginning. Along with continuing to learn how to channel his passion on the field, Williams is working to become one of the defense's more vocal leaders.
It's a role he knows he and Kinchens need to take on, especially with Bolden out. But he concedes it hasn't been easy, especially because he's one of the youngest players in the locker room.
But he's determined to continue working on every aspect of his game, including that one. And he says he is committed to making sure he's the player the Hurricanes need him to be, especially with four crucial conference games still on the schedule.
"At first, I would say I was nervous because I was a freshman. I didn't know if I had any say or nor. But as I started talking more, I saw that the team collaborated with me more," Williams said. "Now I could talk and tell them the defense, tell them where to line up, how to get things settled and we're going to be alright…I just want to see us stay consistent, keep building on what we're doing and learn from our mistakes, even if we won or lost. I just want to see us as a team go up together as one."