Canes Set to Face North Carolina
CORAL GABLES, Fla. – It's a mindset Jakai Clark believes the Hurricanes need to embrace.
"Remember the past, but don't dwell on it," the offensive lineman said. "We need to look at the past and learn from our mistakes, but at the same time, we can't let the past affect what we're doing now."
Clark may have been speaking specifically about how the Hurricanes can bounce back after their tough 2-3 start to the season, but he knows that same mentality can make a difference with how Miami approaches its next opponent in particular.
This weekend, the Hurricanes will travel to Chapel Hill to face the same North Carolina team that just 10 months ago handed the Hurricanes one of their most gut-wrenching losses in recent memory.
Last December, Miami was a top-10 team bidding for a potential berth in a New Year's Six bowl game when the Tar Heels came to Hard Rock Stadium and totaled 778 yards of offense in a 62-26 win.
It's a performance that hasn't been forgotten in Coral Gables. The score has been mentioned more than once as the two teams prepare to meet again. The film has been rewatched.
But, Miami's players and coaches say, Saturday's Coastal Division showdown at Kenan Memorial Stadium can't simply be about avenging that disappointing day.
It's an opportunity to prove the Hurricanes (2-3, 0-1 ACC) can't be counted out – not yet, not with seven conference games still ahead of them on the schedule.
"It's mid-October and we still control our own destiny. Not every team in the country, not every team in our league can say that," Hurricanes head coach Manny Diaz said. "We still can…We can still write our story and I think there's power in that."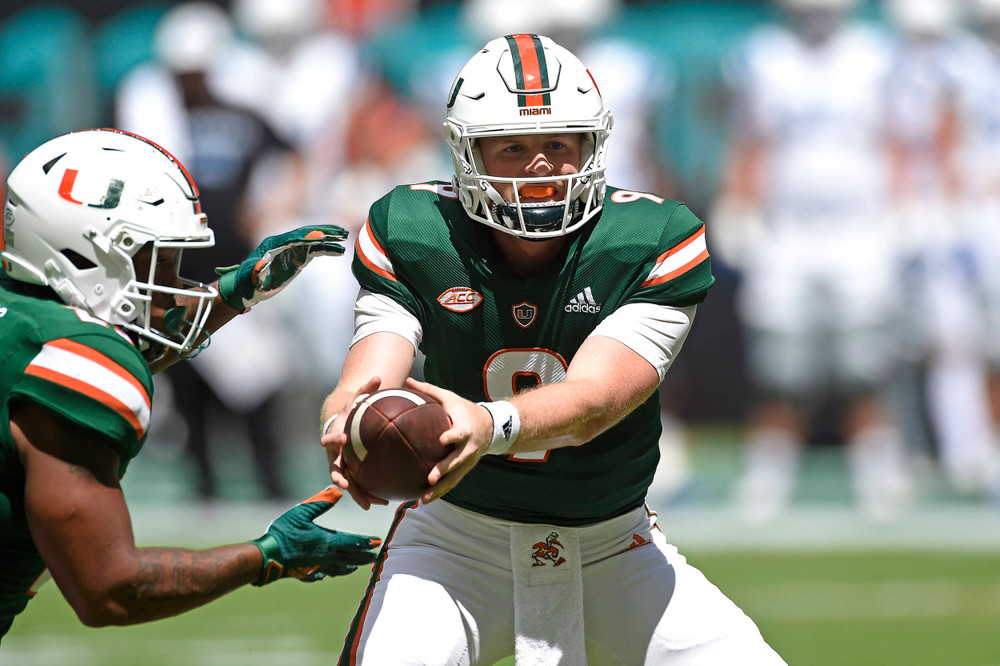 For Miami, some of the characters in that story will be a bit different moving forward.
Clark, a sophomore, is now Miami's starting center after redshirt junior Corey Gaynor suffered a season-ending injury. And second-year freshman Tyler Van Dyke has been named Miami's full-time starter after doctors determined veteran quarterback D'Eriq King would need season-ending surgery to repair the shoulder he injured in Miami's Sept. 18 loss to Michigan State.
Van Dyke started both of Miami's games since King's injury, but now with King officially sidelined, Van Dyke has tried to make it a point to find his voice as a leader for the Hurricanes.
His teammates have noticed a difference and say they've done their best to rally around the young quarterback, who completed 25 of 40 passes for 473 yards in his starts against Central Connecticut State and Virginia.
"He's just laid back and calm, but what shocked me was before the Central Connecticut State game, how he brought everybody up and started talking," receiver Mike Harley said. "I was like, 'Oh, man. He's ready. He's ready for his shot.' And he's been doing good ever since he got his shot."
Added Clark, "I played as a freshman and I know what happened with me. It takes a little while to get back into the flow of things. But you realize after a while, you're just playing football. It's the same thing you played in high school, the same thing you played in youth ball. It happens at a different pace and that's what you're getting used to. But I think during that Virginia game, [Van Dyke] got used to that pace and was able to make his reads a little bit faster and get the ball out. I think that second half of the Virginia game showed what we could really be."
Van Dyke, of course, won't be the only quarterback to watch in Saturday's game.
North Carolina's Sam Howell, the ACC Preseason Player of the Year, has completed 61 percent of his passes this year for 1,697 yards and 16 touchdowns. He is also the Tar Heels' second-leading rusher with 396 yards and three more touchdowns.
Given that North Carolina (3-3, 2-3) rushed for 554 yards in last year's matchup, Howell's mobility is something the Hurricanes know they'll have to find ways to contain.
Limiting the Tar Heels' explosive plays will also be key.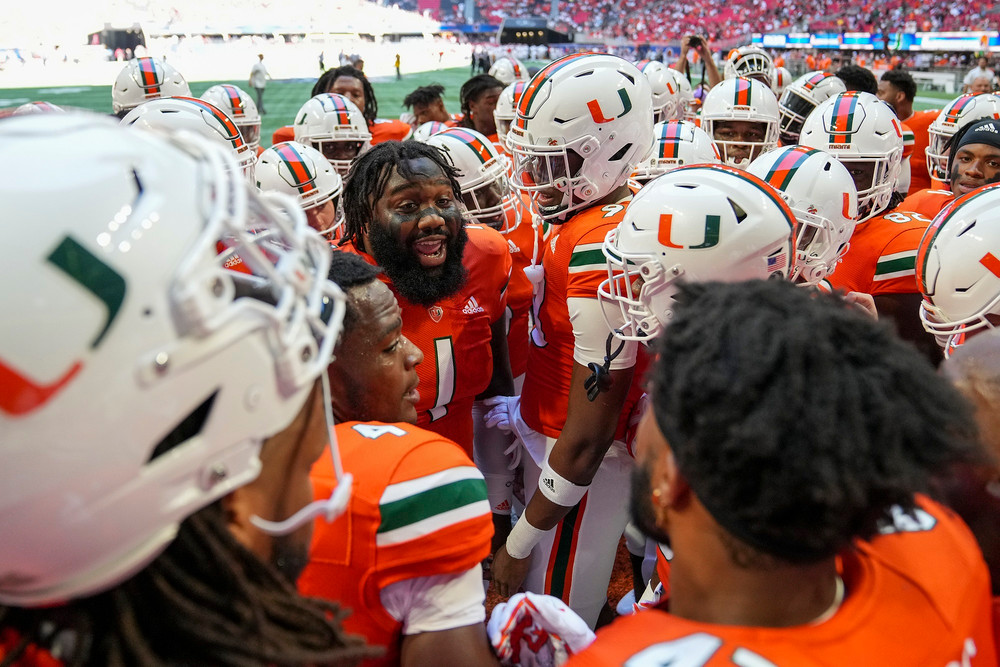 "He throws a great deep ball, so they always have an explosive element to their offense when he's in there," Diaz said. "He's got great command of the RPO game, which benefits their run game so much. It puts your defense into a stressful position with how you allocate people to stop the run…That's something we've had a hard time with this year. We've had some quarterbacks in the backfield where we had a chance to put them down and we've not put those guys down in those situations. It's going to be a test of all 11 guys on your defense pretty much every snap."
To prepare for that test, Diaz says the Hurricanes spent a good chunk of their off week after the Virginia loss getting back to basics. Practices resembled those more often seen during preseason camp. Conditioning drills were revisited.
And the fact that the Hurricanes still have so much to play for has given the team a spark.
Now, they need to carry all that with them to North Carolina.
"It really does keep the energy up," Van Dyke said. "You can see it in the standings. A lot of teams have one, two [conference] losses. We really control our own destiny. If we win out, we can win the Coastal. That really keeps everyone going. We're trying to press that reset button and get that win on Saturday."