Canes Set to Host Blue Devils
CORAL GABLES, Fla. – They came into the season knowing they'd face a series of early tests.
A season-opening matchup against the defending national champions. A home game against an opponent that's won 81 percent of its games since 2015. A non-conference, nationally televised showdown with a much improved Big Ten opponent with a potent rushing attack.
The start of the year has been every bit the challenge the Hurricanes expected and of those three games, only one – a close 25-23 win over Appalachian State – went Miami's way.
And so, ahead of Saturday's game against Central Connecticut State, the goal in Coral Gables has been remarkably simple: the Hurricanes have got to be better.
"We've got the ability now to analyze all of our performances and get this thing looking the way that we want," Hurricanes head coach Manny Diaz said ahead of Miami's first practice of the week. "It'll be highly competitive out here this week and I'm looking forward to seeing a better version of ourselves Saturday back at home."
To move the Hurricanes (1-2) closer to being the team they want to be, Diaz, his coaches and his players have spent a good amount of time assessing Miami's performances in its first three games.
They've taken a look at the drills run in practice, analyzed game film to see which players have stepped up and delivered in critical situations and have turned up the intensity on Greentree in an effort to help the Hurricanes improve before ACC play begins next week.
It's made a noticeable difference, receiver Charleston Rambo noted.
"They upped it. They came more physical and the receivers, we came more physical back," Rambo said of how the Hurricanes' defensive backs have pushed him in practice. "We're just pounding each other at times and just being better from there, making each other more physical at the point of attack."
Added defensive lineman Elijah Roberts, "It's really simple. [It's] just being physical, bringing more physicality to the game, bringing our feet on tackles. Small things like that, just focus on the game. Our fundamentals are there. Everybody's there. The talent's there. It's just small things of the game. Little things and we'll be good."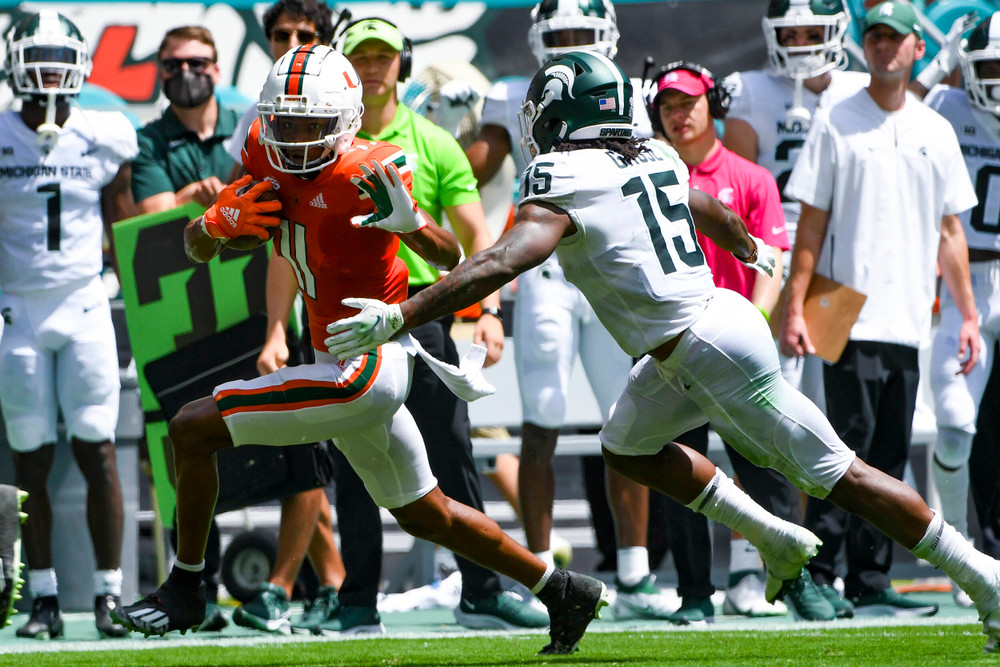 The Hurricanes have also, Diaz said, worked to give some of their younger players increased opportunities in practice with the hope they can have an impact against the Blue Devils (1-2), who are coming off a 56-10 loss to Southeastern Louisiana and have yet to face an FBS program this season.
One area where some of Miami's freshmen could make an immediate impact? Under center.
Veteran quarterback D'Eriq King was injured in last week's loss to Michigan State and, according to Diaz, is "really doubtful" for Saturday.
That means freshman Tyler Van Dyke, who was with the Hurricanes last season, and Jake Garcia, who arrived on campus earlier this year, will likely both see action this week.
Neither of them has logged any significant playing time, but both ran Miami's offense throughout spring drills while King recovered from offseason knee surgery.
And the Hurricanes say they're confident both young quarterbacks are ready for the challenges they could face Saturday and beyond, if needed.
"From a team standpoint, I think the guys have total faith in both guys. I think that's where our spring was a blessing," Diaz said. "Both those guys were able to move the football and do good things and show we can be successful with either guy."
Said Rambo, "We worked the whole spring with those two guys. It's cool. They're both good guys. We're receivers…We have to be there for those quarterbacks, whoever's in at the time."
That mentality is exactly what Diaz said all of the Hurricanes offensive playmakers need to have this week. Miami's veterans will need to support their young signal callers and the best way they can do that is by correcting some of the errors that have plagued the Hurricanes early.
Penalties, dropped passes and red zone inefficiencies have all taken a toll in the first three games. Getting all of that corrected will make life easier for Van Dyke and Garcia – and the Hurricanes as a whole.
"I think it's important for the 10 guys on the field around the quarterback to raise their level of play," Diaz said. "Obviously, we've got to run the football better and throw the RPOs that are appropriate off of it and we've got to protect our quarterback, get the ball out and continue to make tough catches, especially in critical situations. That's all we need…a clean offensive football game."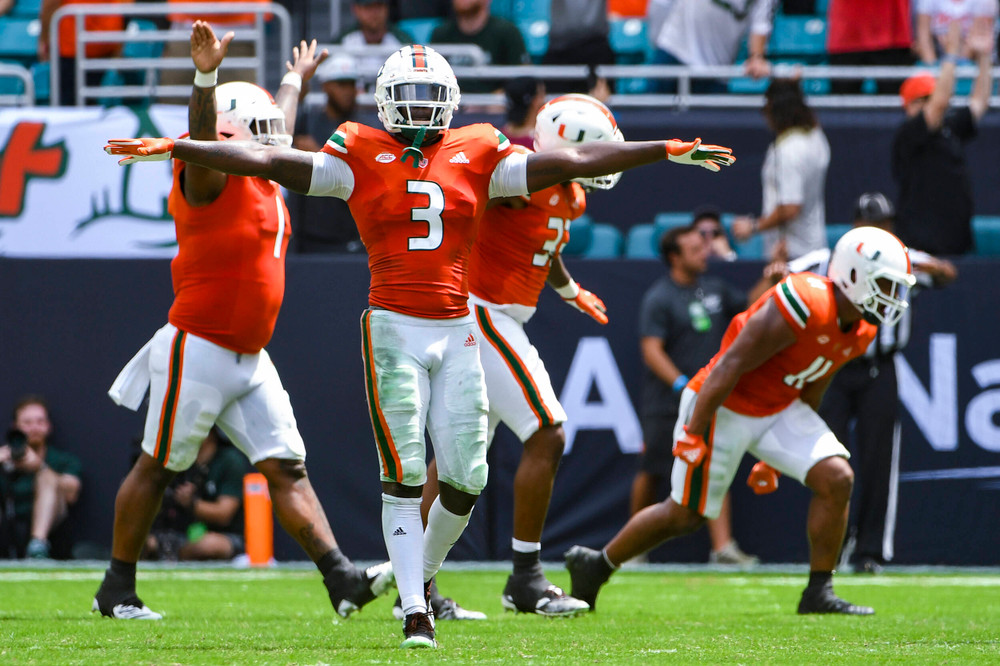 Correcting some of those issues – along with fixing some of Miami's tackling woes on the defensive side of the ball – Saturday will do more than help the Hurricanes improve to .500.
It will, players and coaches know, help make a difference as Miami turns its focus to next Thursday night's ACC opener against Coastal Division foe Virginia.
There won't be much turnaround time between the two games and confidence heading into conference play will be key. That confidence is something Miami knows it can grow with a big performance against Central Connecticut State.
"We are going to get better. We're going to fix it. We're fixing it day in and day out," striker Gilbert Frierson said. "We're trying to improve and put last week behind us and move forward and find a way overall to get better at everything."
Added Roberts, "Everybody's just got to keep their head down and keep working. We obviously know the things we have to work on [from] last game. It's on us. It's all on us. That's the same thing the team has been preaching. It's all about us. Everybody's just kind of practicing every day, putting that hard hat on and keep working."