Carson Palmquist Named Stopper of the Year Finalist
CORAL GABLES, Fla. – The University of Miami's Carson Palmquist is among the 10 Stopper of the Year finalists, as announced Wednesday by the National Collegiate Baseball Writers Association.
The 16th NCBWA Stopper of the Year recipient will be announced via a nationwide news release on Friday, June 18.
The most dominant closer in the ACC and one of the top relievers in America, Palmquist earned his first All-America honor last week when he garnered second-team distinction from Collegiate Baseball. The southpaw was named the All-ACC first-team relief pitcher after an incredible first full season in Coral Gables.
Palmquist, who was also named to the 2021 ACC All-Freshman Team, was named a semifinalist for the Dick Howser Trophy and a Freshman All-American by Collegiate Baseball. He is the only freshman among the 10 finalists for the 2021 NCBWA Stopper of the Year.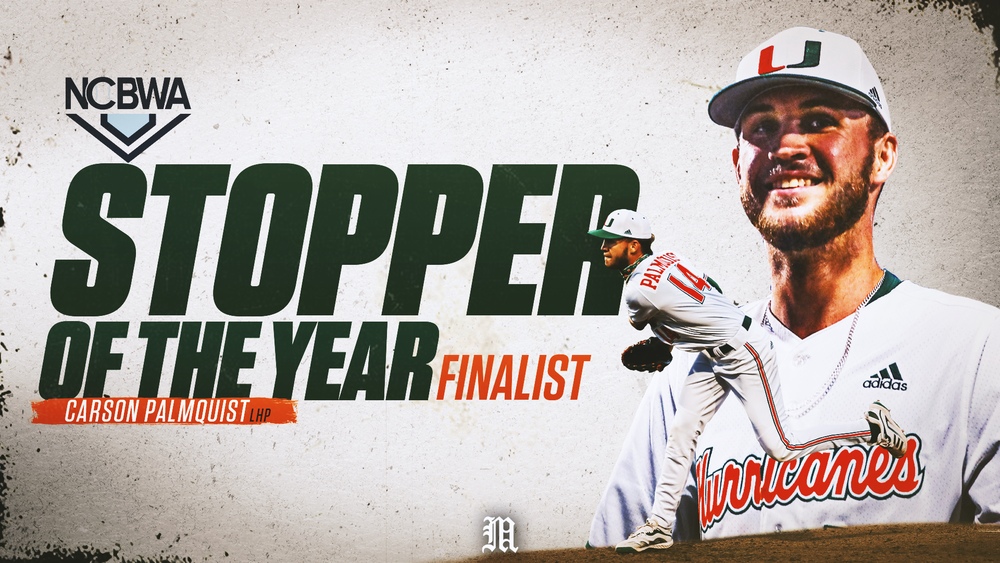 The Fort Myers, Fla., native finished the 2021 season with an ACC-leading 14 saves that rank third nationally. Palmquist wrapped up the season with a 2.22 ERA, allowing just 11 earned runs over 25 appearances. His 75 strikeouts pace all Miami pitchers and he is averaging 15.1 strikeouts per nine innings pitched with a 9.4-to-1 strikeout-to-walk ratio. His 14 saves tie him for 10th place in a single season in Miami history, joining former standouts Robbie Morrison (1996) and George Huguet (2001).
The complete list of Stopper of the Year finalists is below.
Stopper of the Year Finalists
Blake Bales, Sr., Virginia (ACC)
Taylor Broadway, Sr., Ole Miss (SEC)
Haylen Green, Sr., TCU (Big 12)
Zach Grech, Sr., Stanford (Pac-12)
Nick Jones, Sr., Georgia Southern (Sun Belt)
Kevin Kopps, Sr., Arkansas (SEC)
Jake Mulholland, Sr., Oregon State (Pac-12)
Carson Palmquist, Fr., Miami (ACC)
Landon Sims, So., Mississippi State (SEC)
Vince Vannelle, Sr., Arizona (Pac-12)