Georgia Tech (24-18, 18-12 ACC) at Miami
(27-15, 15-14 ACC)
Roster | Schedule
May 14-16, 2021 | 7 p.m. | 7 p.m. |1 p.m.
Alex Rodriguez Park at Mark Light Field | Coral Gables, Fla.
CORAL GABLES, Fla. – No one ever thinks about the end.
Whether you're an athlete or a professional, few people ever have their focus on the finality of their career. But eight Miami Hurricanes will be honored this Saturday as part of Senior Day festivities recognizing their contributions to the Hurricanes baseball program.
Spencer Bodanza, Christian Del Castillo, Daniel Federman, Raymond Gil, Tony Jenkins, Gabe Rivera, Alex Toral and Ben Wanger make up the first senior class in head coach Gino DiMare's tenure leading the Hurricanes and they're a group he will never forget.
"It flies by so fast," DiMare said. "These guys come and they go. You turn your head and it's like, 'Oh my gosh! He was just a freshman here and now he's getting ready to go.' It's certainly a class that I appreciate. It's guys that I'm certainly happy that they came back."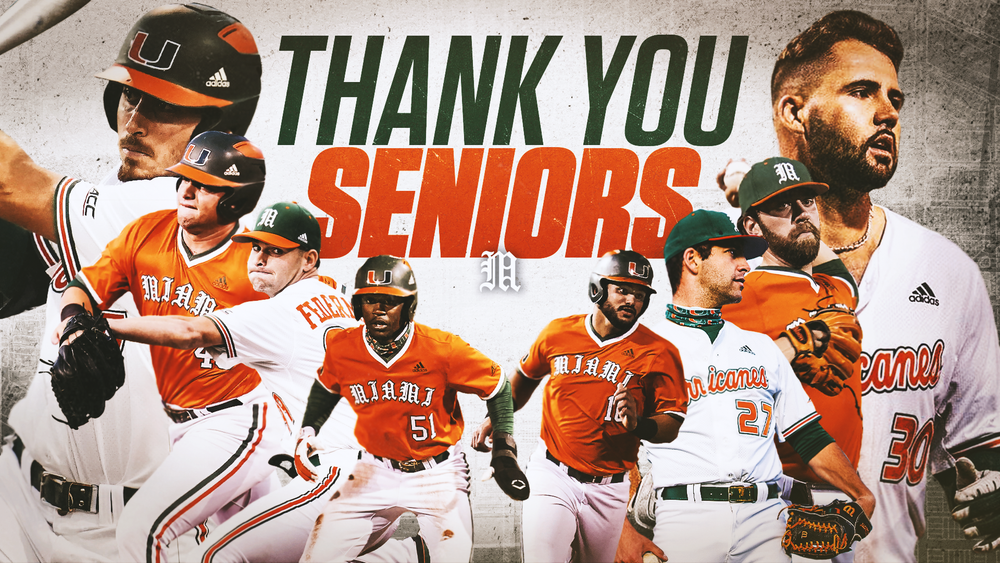 Much like DiMare will remember his players, the eight Canes have a bond with each other and their teammates that will last a lifetime.
"The bond we all share as Miami baseball players is special," first baseman Alex Toral said. "There are guys that played here six or seven years before I even arrived here and I've been fortunate to connect with and build relationships with. Whether you played here a long time ago or just a few years ago, we all have great love and pride for The U and we all connect because of that."
Federman, Gil, Jenkins, Rivera and Toral are four-year players that arrived at Miami together ahead of the 2018 season. The quintet has been through some highs and lows in their four seasons with the Canes and they hope to punctuate their fourth season on a high note.
"It means a lot to be part of that group," Rivera said. "We came from our freshman year dealing with that adversity and bounced back in 2019 and obviously last year with the whole COVID situation, we've been through a lot. We're a core group of guys and we've known each other even before we stepped on campus. Our relationships with each other have just gotten stronger and it's been a joy to play with each other here after growing up playing with each other to now finishing our college career here. It's been a blessing to play with those guys and they'll be my close friends for the rest of my life."
"It's definitely incredible being with some of these guys for four years and knowing some of them even before that," Jenkins added. "We're obviously going to go our separate ways after our careers end here, but I know we are all going to keep in touch. These are my brothers and I'll always stay close to them."
The four-year players have a history that goes back beyond their time at Miami. Four of the five hail from South Florida and have spent much of their lives together on a baseball field.
"We pretty much grew up together," Gil said. "A lot of us played together and all of us played against each other since we're kids. We grew up knowing who we were and keeping in touch and then to come together now at The U is something special and it's been fun."
For Toral and Federman, Saturday will mark the second Senior Day the duo shares in their baseball careers. After starring at Archbishop McCarthy High School, the pair played key roles in their four years at Miami.
"My class came here with I think 17 guys when we first arrived and I think it means something to say that we're the last five standing," Toral said. "It's something that's not common in college baseball. It's not common to be able to go through your four years with a set group of guys, so we've obviously all become really close over our time here. And then there's Fed, I've been playing with him since I've been 10 years old. The two of us have spent the majority of our lives together playing this game. These are friendships that last forever."
"Those are guys that I'm going to be friends with for the rest of my life," Federman added. "I am an only child and I consider those guys as brothers. Just to be able to share this moment with them and be able to have four years of just playing with your close friends, there is nothing better than that. It's probably what I'm going to miss the most about this place."
Bodanza arrived at Miami ahead of the 2020 season and spent the last two years with the Hurricanes. But the lefty who transferred in from Hillsborough Community College feels like he has been a part of the Canes baseball family from the start.
"It feels like my college years in general just went by really fast," Bodanza said. "It feels like just yesterday I was walking on at HCC and then next thing I know I'm here with these guys. A lot of the guys that are graduating alongside me right now have been here for years and they've made it feel like I've been a part of the family from the start of me getting here. It almost feels like I had been here the four years, so it's just a good feeling to be graduating alongside a lot of these guys."
Del Castillo and Wanger are the newest arrivals in the senior class, joining the program as graduate transfers ahead of this season. Both have had unique experiences in Coral Gables and are happy to be part of the Hurricane family.
"It's always interesting coming in and trying to meet new guys and form relationships with a new team," Wanger said. "I've had a good time this year, getting to meet some new teammates and explore the city of Miami. It's been great here. The program obviously has an extremely rich history, and I'm excited to move forward being a part of that family."
For Del Castillo, the opportunity to be a Cane fulfilled a pair of lifelong dreams. First, the Miami native got to play for his hometown Hurricanes. Adding to that was the opportunity to team with his younger brother, Adrian, for the first time since the two were playing in youth leagues.
"It's been spectacular being teammates with my brother," Del Castillo said. "It's been an amazing year from that standpoint because, through the ups and downs, we're still brothers and still there for each other. It's been a blessed year to have the opportunity to be teammates. I wouldn't trade it for any other year I've ever played baseball. I love my brother and love that I got the chance to play baseball with him this season.
"Being a Hurricane means everything to me," Del Castillo added. "This program has been around for decades and has produced so many amazing players. I've always been a fan of UM, like many people around Miami, so it's a dream come true to get the opportunity to play for them and to go to school at UM."
Saturday's Senior Day festivities are a reminder that the 2021 season is winding down, as Miami has just seven regular season games remaining before heading to the postseason.
"Senior Day is going to bring a lot of memories, especially from the time that I committed to my four years playing here," Rivera said. "I'll be thinking about all the ups and downs, meeting fantastic people in the school and throughout baseball, meeting guys that I'll be friends with for the rest of my life.
"I'm glad that I was able to get this opportunity and represent my city," Rivera continued. "It's a huge deal for a lot of our local guys here and I'm just extremely blessed to say that I came through here and was a part of this program and tradition and was able to develop as a player and make connections throughout the school, too. I'm very blessed to have been here for four years."
Senior Day could be an emotional one for the eight players participating, even if it's not the end of the time with the Hurricanes. With all student-athletes getting their eligibility year back after the 2020 season was canceled, seven of the eight Miami's seniors will have eligibility remaining following the 2021 season.
"I'm shocked, surprised, happy; just a lot of different emotions flowing and going through my head coming into this weekend," Jenkins added. "Truthfully, I'm just excited to be able to put on this uniform each and every day, and just go out there with my boys and just work hard and get better every day."
"Senior Day is definitely exciting but it's also sad because it's towards the end of the season and you never want the season to end," Del Castillo said. "You always want to just keep on playing with your brothers by your side, but it's definitely exciting. It's always awesome to be part of a group of outstanding men and having the chance to play with them on the field and connect off the field as well. This is a great group of guys and I am happy I am a part of it."
While Senior Day is important, the Hurricanes are not getting caught up in all of the pomp and circumstance that surrounds it. Instead, Miami's players are focused on their series with the ACC Coastal-leading Georgia Tech Yellow Jackets.
"This is crunch time," Federman said. "We've got two ACC weekends left, starting Friday night. Every game is big at this point and every game matters. This could potentially be the last week that I play on this field so there are a lot of emotions but I'm just going to try to soak it all in and when I get my opportunity, go out there and perform."
Miami is just three games behind the Coastal-leading Yellow Jackets and the Canes know the importance of this weekend's series.
"We're here towards the end of the season and we've put ourselves in a position where we need to win and we need to put ourselves in a better position going into the ACC tournament and hopefully into the NCAA tournament," Toral said. "I think that Georgia Tech when we last played them a couple of years ago, they gave us a run for our money here at home. They were our opening ACC weekend that year and we walked it off one night and the rest of the games were kind of close so hopefully, we can go out there on Friday night and set the tone for the weekend."
Wanger, who has not pitched since March 7 due to injury, is available for the first time in two months this weekend. The veteran adds a key arm into Miami's bullpen and one that has already had success in big games.
"Obviously, it was a thrill being out there in the Florida game and being able to help the team win in that series," Wanger said. "I'm excited to just get back and help the team win more down the stretch."
With the team coming off a sweep last weekend, Miami hopes to make a run over the final two weeks of the regular season with the hopes of getting hot and extending their seniors.
"I haven't even thought about it much, but it could potentially be my last home series here as a Cane," Gil said. "I don't think it'll hit me until probably after the series ends but thinking about it now, time flies and I've had a great time here, and hopefully, we can make a push now and make a run."