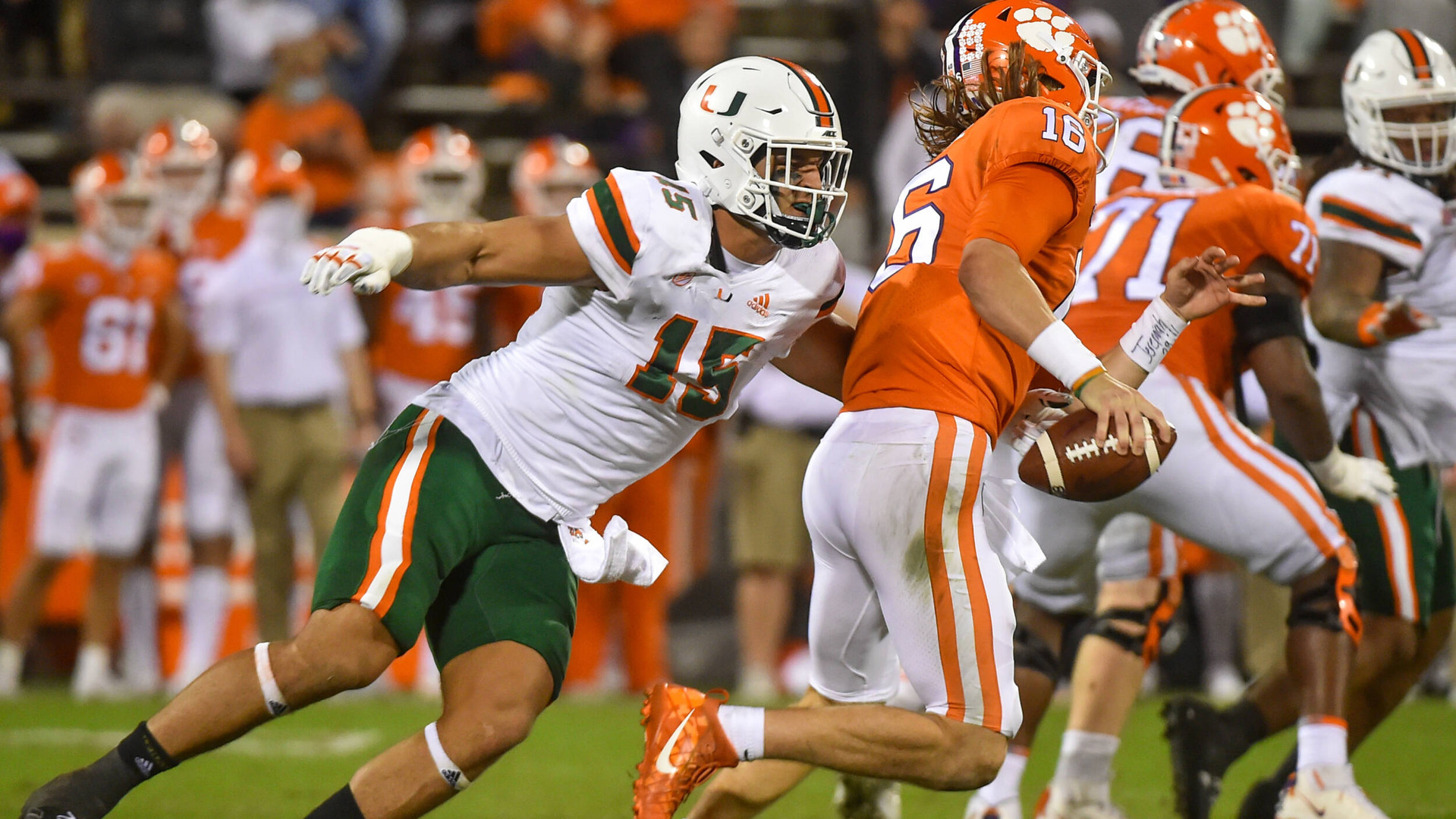 CORAL GABLES, Fla. – It has become a tradition of sorts in recent years, at least one Hurricanes defensive end hearing their name called in each of the last four NFL drafts.
Thursday night, that rush on Miami pass rushers continued in a big, big way.
Defensive ends Jaelan Phillips and Greg Rousseau were both selected in the first round of this year's NFL Draft, with Phillips going to the Miami Dolphins with the 18th overall pick and not long after, Rousseau going to the Buffalo Bills with the 30th overall pick.
Their selections marked the first time in Miami's storied history that two ends have been drafted in the first round and Rousseau's selection marked the 18th time a Miami defensive lineman was taken in the first round – that's the most of any program in NFL history.
The significance of the moment wasn't lost on either player, both of whom spent a good amount of time together in Coral Gables, even with Phillips joining the Miami program in 2019 as a transfer and Rousseau opting out of the 2020 season because of the COVID-19 pandemic.
"Me and Greg are really tight, so I'm super excited to see where he ends up," said Phillips, who was the first edge rusher to come off the board in this year's draft. "I just feel blessed to be the first one taken and most importantly, blessed to be able to get taken by the Dolphins. This is an amazing opportunity."
Said Rousseau, "First and foremost, it's a blessing [the Bills] believed in me. I know they're a really great team. They had a real far playoff stretch last year and our communications were pretty simple. We were going back and forth, they told me they liked me and things just worked out. I'm so grateful and happy they did."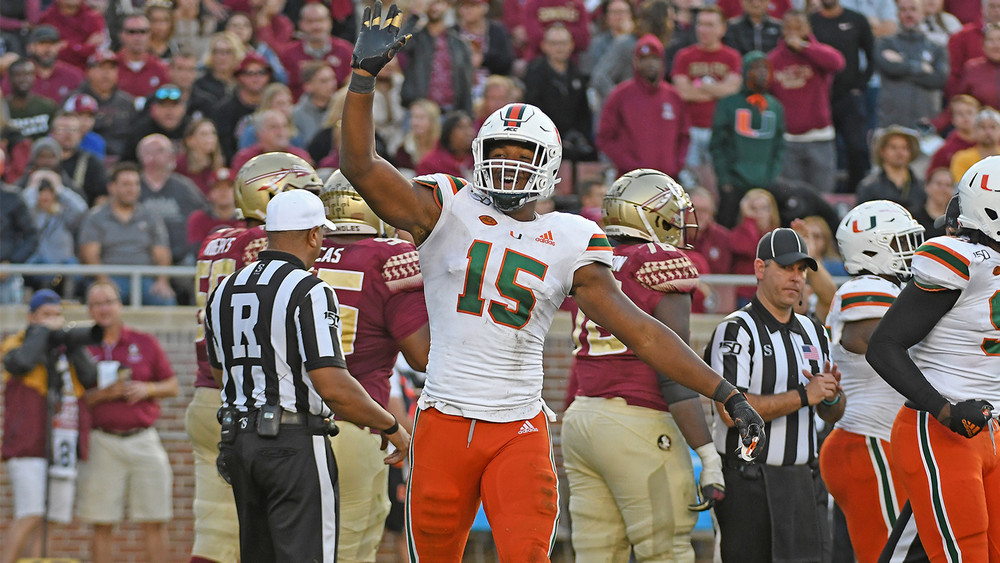 Each player takes an impressive resume with him to the NFL.
Phillips, who was the nation's top high school recruit in 2017, was an All-American last season, starting 10 games for the Hurricanes and finishing with 45 tackles and a team-high 15.5 tackles for loss and eight sacks.
Meanwhile, as a redshirt freshman in 2019, Rousseau was named the ACC Defensive Rookie of the Year and a Freshman All-American after leading the ACC in both sacks (15.5) and tackles for loss (19.5).
But for all their success, Phillips and Rousseau both know they have to continue proving themselves as they prepare to play on the game's biggest stage.
Before coming to Miami, Phillips dealt with a series of injuries at UCLA that forced him to step away from football ever so briefly.
But the Redlands, California native wasn't ready to give up the sport for good and he came to Miami seeking a second chance. He sat out the 2019 season to satisfy NCAA transfer requirements and used that time to not only get healthy, but to fully transform his body.
His perseverance and drive quickly earned him the respect of his new teammates and coaches, who knew he'd overcome a series of challenges to get back on the field.
"He's a great role model for everybody in our program. Here's a young man that walked into our building a couple years ago, 220 pounds, no muscle mass, hadn't played football and just went to work," Miami head coach Manny Diaz said. "He spent two years doing everything the right way, two years dedicating himself to the program and two years in [Director of Strength and Conditioning] Dave Feeley's pocket. He worked his way into being a first-round draft choice. That's an inspiration to everybody in our program."
Said Phillips, "All I can say about that is perseverance. There were good days, there were bad days. But at the end of the day, I kept my faith, I stayed humble. I worked hard and I had great people around me to support me and carry me through this process. It's been surreal. These last three years of my life, so much has changed and I'm just so blessed to be in this position that I am in right now and so thankful for everybody's who's helped me along the way."
For Rousseau, the challenge that now lies ahead is showing that a year away from the game hasn't slowed his step.
The South Florida native chose to sit out last season after some tough discussions with his family, including his mother Anne, a nurse who has cared for COVID-19 patients.
But he has spent months working out, taking classes and he remained in contact with his former Miami teammates as the Hurricanes navigated their way through an 8-3 season last fall.
There really were no off-days, he pointed out Thursday night.
"I didn't really take any time off," Rousseau said. "I feel like I'm going to be ready and I'm just ready to come in and prove I'm there for a reason and earn the respect of my teammates and my coaches."
In an interesting twist of fate, Phillips and Rousseau will now go from being Miami teammates to AFC East rivals who'll face off against each other multiple times a year.
And each has ties to the area where he'll play.
Phillips, of course, will return to the same stadium and community where he starred last fall. And Rousseau was able to get a quick primer on all things Buffalo from his parents, who spent time in upstate New York before they moved to South Florida.
Both players, of course, are eager to build on those ties to their new NFL cities in the years ahead.
"I know all about Buffalo – Jim Kelly, the whole nine yards. There's a Miami connection for sure," Rousseau said. "My family is so happy. It's a moment I'm going to remember the rest of my life. I'm so blessed."
Said Phillips, "Words can't even describe how I feel right now. It's literally like an out-of-body experience, but I'm just so grateful for Miami as a city. They embraced me when I came into The U and they've supported me for the last two years of my journey, so there's no place I'd rather be. Back to the 305. It's just crazy. I'm so excited."