Bats Waking Up Ahead of UNC Series
Miami
(21-11, 13-10 ACC) at North Carolina (18-16, 12-12 ACC)
Roster | Schedule
April 23-25, 2021 | 3 p.m. | TBA |12 p.m.
Bryson Field at Boshamer Stadium | Chapel Hill, N.C.
CORAL GABLES, Fla. – The Miami Hurricanes entered the 2021 season with one of the deepest lineups in the ACC.
Led by preseason All-Americans Adrian Del Castillo and Alex Toral, the Canes brought back eight of nine hitters who made at least 11 starts over the 16-game shortened 2020 season. But the potential for an explosive offense did not translate to immediate production.
Miami hit .238 and hit just 15 homers as a team over the first 16 games of the season, averaging 6 runs per game. But the Hurricanes have heated up offensively, batting .298 with 27 homers and averaging 7.43 runs per game over the last 16 contests.
"I'm hoping our hitting does catch on fire and we're starting to swing the bat more like I'd like to see us do and like I thought we could, but hadn't earlier," head coach Gino DiMare said. "If we can swing the bat a little bit more and still hit with guys in scoring position, I think we will be more consistent.  We're scoring runs, but we just need to be more consistent in doing so. In some games, we're scoring big runs and in other games, we're not scoring hardly any and that can't be the case. It's a consistency thing."
The Hurricanes have the potential to be a powerful club and it's starting to show. Miami is averaging 3.25 extra-base hits per game over the last 16 games after averaging just 2.25 extra-base hits per contest over the first 16 games.
"In terms of us swinging the bat and getting extra-base hits and home runs, it's something that we need from our guys," DiMare said. "We're not telling guys to try to hit home runs, you don't want that, but they have the ability to do that and we've got a number of guys in the lineup that can do it. It's a big part of our offense because we're not a team that's a running team per se or a manufacturing runs type of team. Although our guys have done a good job of situational hitting, and part of that is hitting with runners in scoring position. We're hitting .300 right now as a team with runners in scoring position. That's a big stat that can make up for maybe a little bit of lack of hitting."
Big bats like Toral have gotten back in their groove. The slugger has hit three homers over the last four games, while Raymond Gil has four homers over the last seven games. While the Hurricanes were pressing early in the season, they have a more laid-back approach that has paid dividends.
"Everybody just relaxed," Toral said. "When you start scoring runs early and you get a pretty good-sized lead, it seems like everybody just relaxes and is having fun out there. You're facing the pitcher but it almost feels like if it's just a batting practice session when you're up that much. It feels like you're just trying to hit the ball hard and everybody's loose and just putting together good at-bats."
Toral's power was on display in last weekend's Clemson series, as the slugger .538 (7-for-13) with three homers, four RBI and a 1.856 OPS for the week to earn ACC Player of the Week honors. But the big weekend was not a flash in the pan, as the first baseman has hit .339 (19-for-56) with five homers and 18 RBI over the last 16 games after struggling early in the season.
"I just feel like I went back to being myself and just being a lot more comfortable in the box," Toral said. "I feel like I was a little bit tense and pressed a little bit too much in the first half. It's good to get things rolling here in the second half and I'm hoping to keep this going through the end of the season."
Third-year infielder Anthony Vilar has been one of Miami's most consistent hitters. The second baseman is batting .333 with three homers and 15 RBI in ACC play and has reached base in 39 of his last 42 games dating back to last season – including 18 straight. For Vilar, Miami's offensive surge was a long time coming.
"Everybody knows that hitting is contagious," Vilar said. "Once we start hitting, everybody's going to continue to hit. That's just how the game of baseball has been going. We've just got to stay confident ourselves, be ready to hit tomorrow and tomorrow be contagious as well and we'll just continue to hit."
Miami's leading hitter, Christian Del Castillo, has been hot from the start and enters the weekend with a .364 batting average. Like Vilar, Del Castillo feels it just takes one hit to get the offense going.
"One hit gets everybody going because it brings more energy, more focus to help drive in the runs.," Del Castillo said "I definitely think getting a hit early on in the game gets everybody going. Even if we don't get ahead, we try to pick each other up as best as we can."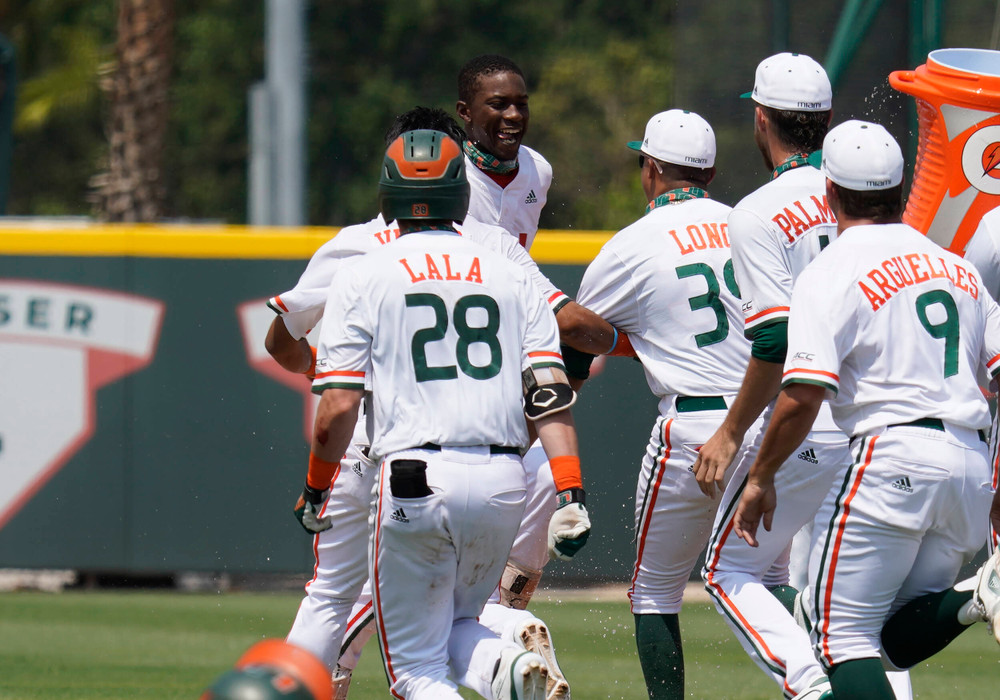 Vilar had a walk-off single last week against FGCU but Miami also got some walk-off heroics from outfielder Tony Jenkins. The fourth-year player has struggled this season, batting just .111 over 22 games, but his sacrifice fly to center clinched a 3-2 win on Sunday over Clemson.
"It's tough for anybody, let alone a college kid, it's hard mentally to stay prepared and stay focused and stay with it," DiMare said. "He's never wavered in terms of his work ethic. He's always working very hard. For me personally, because I'm out there with him in the outfield working with him. He's our best outfielder and that's why we do bring him in late and that's why we brought him in that game. It was for defense. It just so happened, Carson [Palmquist] wasn't on his 'A' game like he always has been and they tied it up.
"So here he comes up to the plate in this situation and I just remember his body language when he was walking up," DiMare added. "I remember making eye contact with Tony and I pointed at him just like, 'You're the guy I want. You're the guy.' His reaction was outstanding, it was perfect just the way you'd want it to be. You could sell see him say, 'Okay, he's got confidence in me. And now I've got I got confidence in myself' and he was aggressive. I was most proud of him because he was aggressive. He was ready to go first pitch. He jumped on it and got it done." Miami has scored eight or more runs in eight of its last 16 games and is 12-4 in that stretch. With the offense starting to produce like expected, Toral hopes to see the Canes do so on a more consistent basis.
"It's supposed to be normal," Toral said. "With this lineup, that's supposed to be normal and something that we're supposed to go out and repeat day after day. Hopefully, we can continue to do this."
Miami's next opportunity to keep its offense going comes on the road at North Carolina. The Hurricanes dropped two-of-three at Boshamer Stadium in 2019 and are looking for a better result this weekend.
"North Carolina has always been tough competition for us," DiMare said. "We're going up into their park, so my concern and focus is our guys and just try to build off what we've done here the last four games and being consistent in playing the way I know we can. Hopefully, we can do a good job when we go to North Carolina."
For Toral and his teammates, the expectation is to build off their success and extend their current four-game winning streak.
"It's the second half of the season and the bats are finally showing up for us," Toral said. "I think it's something we can build off. Hitting is contagious. As long as we start the game off pretty good and we keep it going, I think we compete with any arms in the country and this lineup can be dangerous."