Palmquist Shutting the Door for The Canes
FGCU (19-10, 7-2 C-USA) at Miami (17-11, 10-10 ACC)
Roster | Schedule
April 14, 2021 | 4:00 p.m.
Alex Rodriguez Park at Mark Light Field | Coral Gables, Fla.
CORAL GABLES, Fla. – When Carson Palmquist comes in the game, it means the Miami Hurricanes are about to head home happy.
Miami has had a long line of dominant closers, from legends like Rick Raether and Danny Smith, national champions Michael Neu and George Huguet, MLB All-Stars Danny Graves and Chris Perez and recent standouts like Bryan Garcia. Head coach Gino DiMare believes Palmquist can be one of the best closers in the history of the program.
"I try to think of pitchers that have come through here, closers that have dominated the way he has and I don't know if I can recall one," DiMare said. "We've had we had a few guys back in the day when they came in it was over, I mean you just knew it was over, they were that good, they dominated. But not many and I don't know if they've done it like him where he's doing it really with one pitch. He's dominating with the fastball, so imagine if he gets his off-speed working. You've got to go with what works and the fastball is what's been working. He's got the best command of that."
The second-year left-hander has blossomed as a shutdown closer for the Canes, posting a 1.19 ERA while going a perfect 9-for-9 in save opportunities in his first season at the back of the Miami bullpen. Palmquist is honored to join the lineage of elite relievers at The U.
"Honestly, it's a dream come true that my name is in that discussion but that doesn't mean that I can start thinking that I made it," Palmquist said. "I still need to continue to work as hard as I can and keep on getting better every day. I just want to keep on improving and hopefully, I can be in the discussion again at the end of the year."
Palmquist, who has allowed just three runs all season while striking out 39 batters over 22.2 innings pitched, has garnered national attention for his success on the mound. The southpaw was recently named a D1 Baseball Midseason All-American after being nearly unhittable over the first half of the 2021 season.
"Getting this recognition motivates me a lot," Palmquist said. "It gives me a little something that makes me want to work harder and keep on pushing myself and push everyone around me. It helps my teammates a lot because everyone wants to push themselves to be the best they can and something like this can push others to try and get to the next level as players."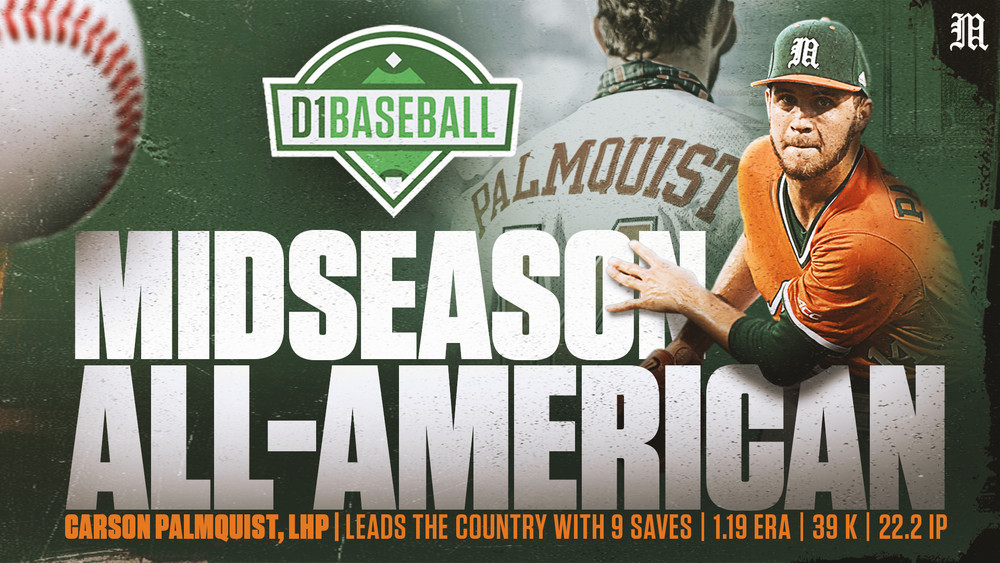 The transition to closer was new to Palmquist, who was a standout starting pitcher in high school. But he has developed a routine that has helped him find success pitching at the end of games.
"The first three innings, I mostly just hang around and do a few stretches. I'm mostly just looking at what hitters are doing and what our pitchers are doing to get them out," Palmquist said. "Then from the fourth to the sixth inning, I'm doing my stretching. I'll get stretched out by our trainer. I'll do bands, light stretching and some sprints just to get my blood pumping. And then by the seventh, eighth and ninth inning, which I know I could go in at any time, I'm just preparing mentally. I keep myself away from people and just get mentally focused and ready to get called into the game."
Palmquist knows he will have the ball when Miami needs him to close out a victory, but he still gets excited every time his name is called to get ready to pitch.
"When I hear that I need to get loose because I might be coming in soon, there's a lot of butterflies coming in my stomach, a lot of nerves, but I also get a mindset where I need to ready right then and get ready to head out there," Palmquist said. "Once I'm out there on the mound, I just focus on executing every pitch. Then at the end of the game, it's just a big sigh of relief and a big feeling of joy. The whole team runs out to celebrate the win and everyone is happy that we just won. It's a great feeling to be the guy to close out the wins like that."
Palmquist has proven to be one of the top closers in the country in 2021, and his ability to consistently wrap up victories for Miami has earned him DiMare's trust and put confidence in his teammates.
"When he comes in I can tell you this, the confidence in the team is obviously cranked up a bunch of notches," DiMare said. "Having said that, we can't take it for granted. There's going to be a time where he's going to give up a blooper, a homerun or something's going to happen because he is human, Palmquist is human. He's not going to be perfect all the time, but it has been amazing to watch. It makes a head coach look really great when you go to a closer like that."
"We have a very good feeling that we're going to win the ballgame," outfielder Christian Del Castillo added. "It doesn't mean that we can lay back or anything. We have to keep competing every pitch, but it's definitely a great feeling. We know we have a very good shot to get that win."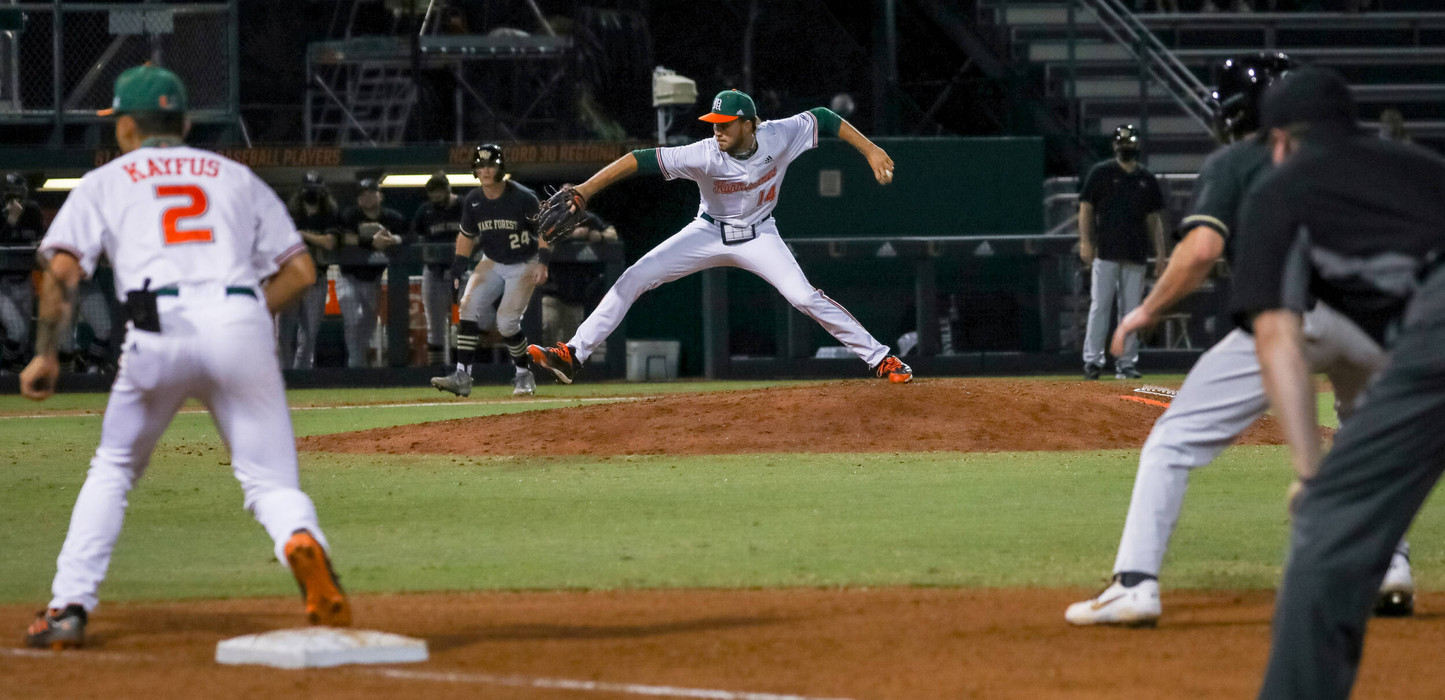 Palmquist and the Hurricanes are set to face a familiar foe Wednesday, as FGCU will travel to Coral Gables for a 4 p.m. game inside Mark Light Field. For Palmquist, it will be a matchup against the team the Fort Myers, Fla., native rooted for as a young kid.
"Growing up, I would go to FGCU games since they're right down the road from me," Palmquist said. "We'd always find ourselves at FGCU games and I was a big fan of them. I had a lot of friends that played for them and my brother's friends have played on that team, so there have always been connections to FGCU. When I was younger, it just felt like FGCU was like a home field for me because I was there a lot. But now I'm able to actually play against them and compete against them, which I think is really cool."
While Miami got the best of the Eagles when they met on March 17, winning 15-2, the Canes know they need to come ready to play on Wednesday afternoon, especially after a tough weekend at Pitt.
"The main thing is everyone having confidence in themselves and not losing confidence in each other" Palmquist said. "We're all the same guys and we all know how to play the game. We've just got to be able to turn the page, even though it was a horrible weekend. We need to make sure it doesn't happen anymore and just all work together at getting better because we have a lot of getting better to do."