Dubberly Reaping Rewards on the Mound
No. 20 Miami
(17-8, 10-7 ACC) at No. 17 Pittsburgh (14-10, 9-9 ACC)
Roster | Schedule
April 7-9, 2021 | 3 p.m. | 3 p.m. |1 p.m.
Charles L. Cost Field | Pittsburgh, Pa.
CORAL GABLES, Fla. – Jordan Dubberly never thought he'd be in this position.
A right-handed pitcher from Hazlehurst, Ga., Dubberly always dreamt of playing baseball close to home.
A shoulder injury in his senior season of high school forced him to redshirt as a true freshman at the University of Georgia. Then began a circuitous path that eventually led him to The U.
"I never really expected to end up in Miami being from South Georgia and all," Dubberly said. "But it's a great program obviously and it's always been one of the top programs in the country, and just being able to be a part of it really means a lot. I'm super psyched to be here and excited that I could be a part of this team."
Dubberly made his Miami debut on the second day of the season, allowing three runs over 2.1 innings. While the stat line might not be what he hoped, facing the Gators that day marked the first time he pitched in a game since having Tommy John surgery in 2020.
"The important thing to remember after surgery is that the first 12 months are to get in throwing shape," pitching coach J.D. Arteaga said. "But just because he's throwing the ball and there's no pain and they're loose, that doesn't mean they're ready to pitch. That's what I mean by he's building and getting better. Every time out, he's getting better and his stamina is getting stronger and he's lasting longer in games. The best is yet to come for him and we're excited to have him."
Since that outing, Dubberly has steadily improved each time he has stepped on the mound for the Hurricanes. After earning his first career save following an impressive four innings of relief at FAU on Mar. 23, Dubberly was tasked with his first start as a Hurricane and the newcomer did not disappoint.
"J.D. called me on Saturday night and let me know that I was going to be starting the next day so it was a kind of last-minute thing," Dubberly said. "I let my parents know first. I was a little bit nervous but I was really excited as well just for a great opportunity like that."
The right-hander learned less than 24 hours before his first start that he would be the man on the mound for the series finale at Virginia on March 28. Dubberly stepped up for the Canes, allowing two runs (one earned) on three hits while striking out four over 4.2 innings. His strong outing helped Miami win the game and take the series, sparking the Hurricanes' active six-game winning streak.
"It was really exciting and really, really rewarding after going through the long process of coming back from an injury," Dubberly said. "Just to get a chance to start a game like that on the weekend, a rubber match, it was meant a lot to me and it was really exciting."
A week later, Dubberly turned in his best outing as a Cane and was rewarded with his first career win. The right-hander held Duke to just one run on four hits over a career-long five innings pitched, tallying a career-high seven strikeouts to help Miami sweep the Blue Devils.
"I was able to do a good job of locating and getting some weak contact and let the defense work behind me," Dubberly said. "Starting off, everything was working pretty good. Towards the end there, I had a little bit more trouble but for the most part the first few innings everything was going pretty well.
"I was locating and doing a good job of making pitches where I need to," Dubberly added. "Not having a super overpowering fastball or anything like that makes it a lot more important to locate. That definitely played the biggest part in helping me get a few strikeouts."
His performance against Duke was memorable for a variety of reasons but was made even more unforgettable because his mother, Lynn, was in the stands cheering him on.
"It was really exciting," Dubberly said. "It was the first time she's been here so I was glad she was able to come see me pitch and be here for my first win."
Dubberly's path to excellence at Miami is an unconventional one, transferring from Georgia to St. Johns River State in Florida for two years before enrolling at Miami as a fourth-year redshirt sophomore in August. He arrived in Coral Gables in the midst of a Tommy John surgery rehab and has worked hard to get back on the mound.
"I was coming back from the injury back in the fall and my velocity was down a little bit from what I'm normally used to," Dubberly said. "I think I was like 86-87 and it started coming back slowly. Honestly, I'm not exactly sure what my velocity has been, but it's slowly coming back. The arm is feeling good. I think the more I throw and the longer I can stay healthy, it's just going to continue to get better."
"The guy has overcome a lot in his young baseball career," Arteaga added. "He's about 14 or 15 months out from Tommy John surgery, so we haven't seen his best yet. That's a good thing because as the season goes on, he's going to get better and stronger and more velocity will come back. He's a great pitchability guy that throws four pitches for strikes. As quiet as he is off the field, he's a very strong competitor on the field."
Arteaga has been a key mentor for Dubberly since he arrived at Miami. The right-hander has leaned on his pitching coach for help in his development both physically and mentally.
"J.D. has been there for me since the beginning and once the injury happened, he didn't blink an eye," Dubberly said. "He still had faith in me and I feel like he's always been there. He's s guy you definitely want to play for. You don't play for your teammates and your coaches and he's definitely been there for me and encouraged me and he's been a huge part in helping me to get back and keep growing and improving the mental side and physical side of pitching."
As a pitcher that has come back from two arm injuries, Dubberly has learned to be determined and resilient as he pursues his goals.
"I've definitely grown a lot," Dubberly said. "I've been through the injury process a couple of times now and it's definitely more of a mental grind than physical. We've got a great staff here to help you get back physically. It's the mental side of it that really takes a toll on you. I think in the long run that'll help me and I've definitely come back a lot better, a lot tougher and a lot stronger mentally since coming back from that injury."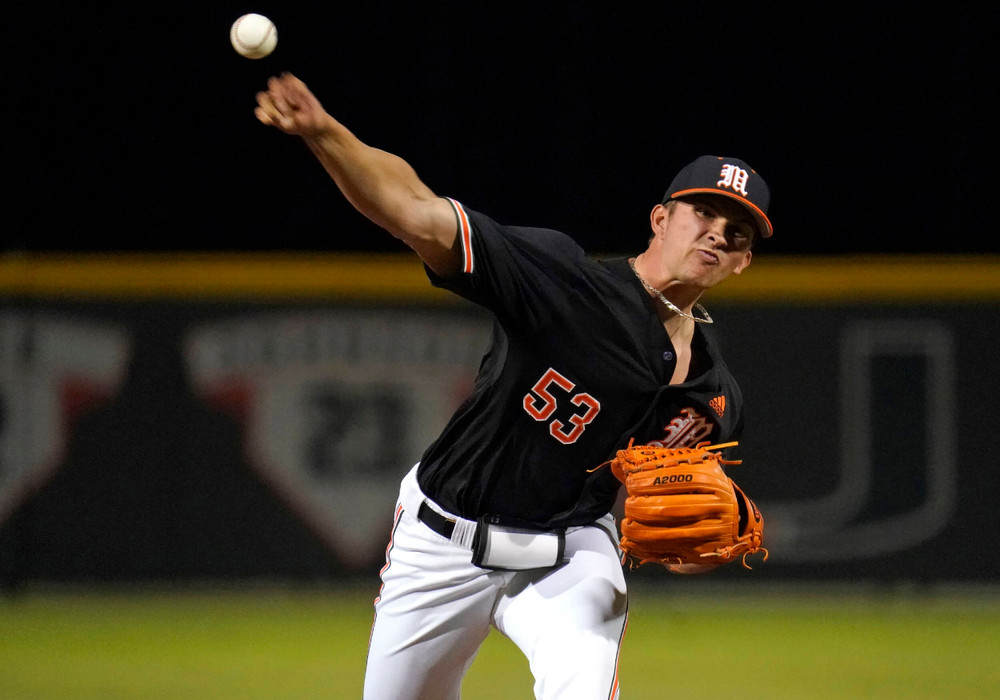 Heading into his third career start this Sunday at Pitt, Dubberly would like to continue his success while building on it and giving his team more every time he takes the ball.
"It's been pretty good so far," Dubberly said. "I had a couple of long outings out of the bullpen. So, it hasn't been too difficult yet. Hopefully, I'll continue to be able to go longer and deeper in the games."
Dubberly believes the secret to his success is hitting his spots and letting his defense work. If his last two starts are any indication, that formula works very well for him.
"Just being able to throw more than one pitch for a strike and having a few pitches to throw and letting the defense work behind me," Dubberly said. "I've got a great defense behind me and the hitters have been doing their job scoring some runs for us."
With the No. 20 Hurricanes looking to earn the right to host in the NCAA postseason, Dubberly and his teammates are focused on keeping their winning ways going and that starts with this weekend's series against the No. 17 Panthers.
"You often hear that baseball is a marathon, not a sprint," Dubberly said. "We've been playing a lot better recently and it's not how you start, it's how you finish so if we can just keep this momentum, keep playing well, like we know we can, we'll be alright."