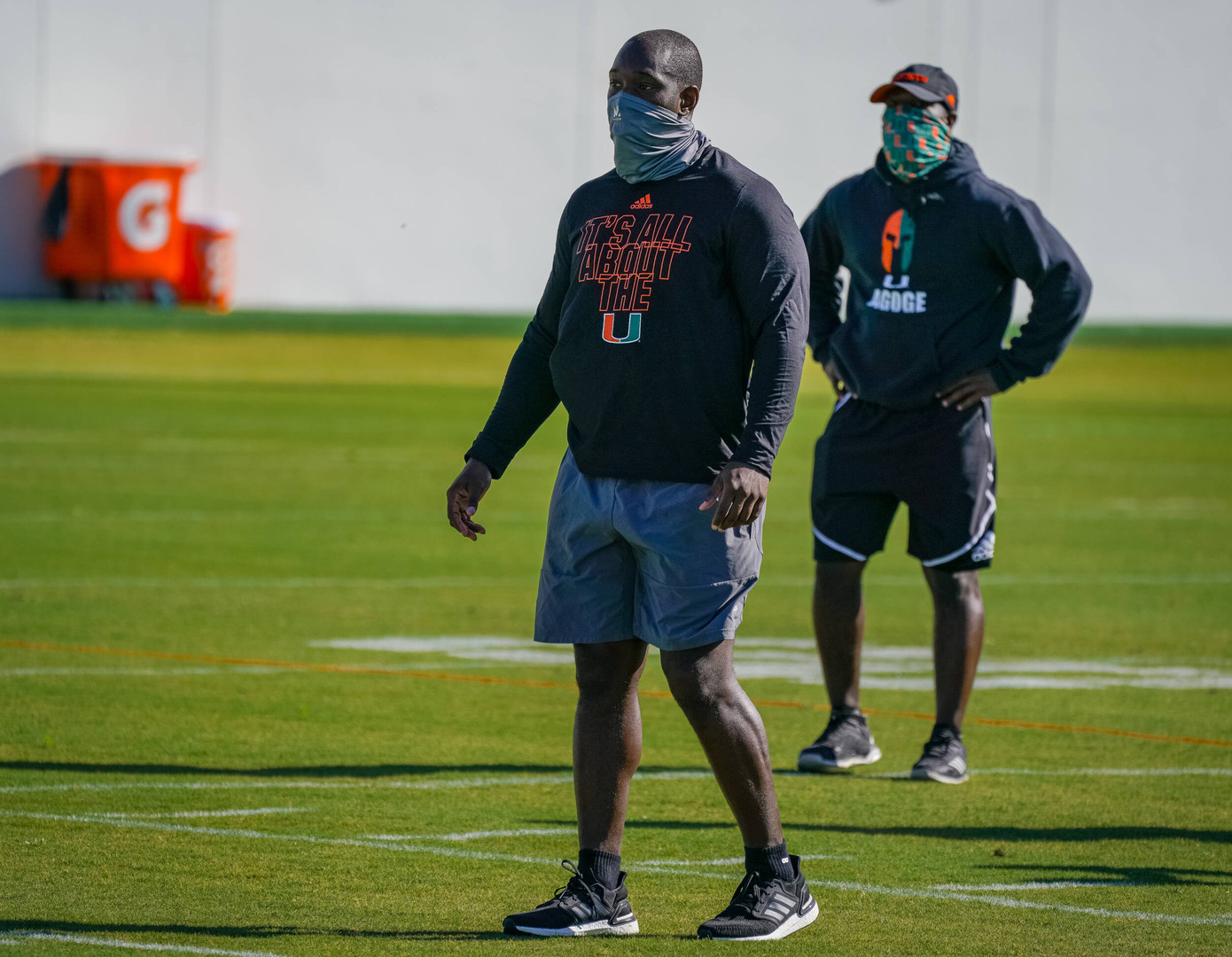 CORAL GABLES, Fla. – It was a phone call Ishmael Aristide won't forget any time soon.
When Aristide told his father, Wallace, he was returning home to Miami to join the Hurricanes coaching staff, the father and son had a moment – even if it came with some joking skepticism.
"He didn't believe me at first," laughed Aristide, Miami's outside linebackers coach. "He was like 'What? You tell Coach [Manny] Diaz he better not be playing any games. I just kept saying 'This is real.' He was excited. My dad's a family guy and it means a lot to me and my family to have this opportunity. For him to be able to see me coach live and in action, versus me being far off somewhere else, it's great."
It's also been very much a whirlwind.
Aristide, a Miami native who both played football and ran track at Purdue, didn't exactly have a whole lot of time to get settled when he was hired in late February before the Hurricanes began spring drills in March.
Fortunately, Aristide says, he has a knack for both understanding aggressive defenses and the South Florida athletes who thrive in systems like the one he'll be helping Diaz and the Hurricanes execute this fall.
That should only help make his transition to Miami easier.
"We're not reactionary. Our mentality will never be reactionary.  We don't react to anything. They react to us. We're going to close space. We're going to close windows.  We're going take away plays," Aristide said of the philosophy he and Diaz share. "We're not going to react to plays. We don't function that way. That's not the culture of this city. This is a very aggressive city with very aggressive kids and I think this is a very aggressive game. If you can get them to play that way, in a very controlled manner, you can really thrive defensively…We're going to impose our will. We're going to attack everything. It's very much a downhill mentality when we play defense and I love that.
"That's how I grew up."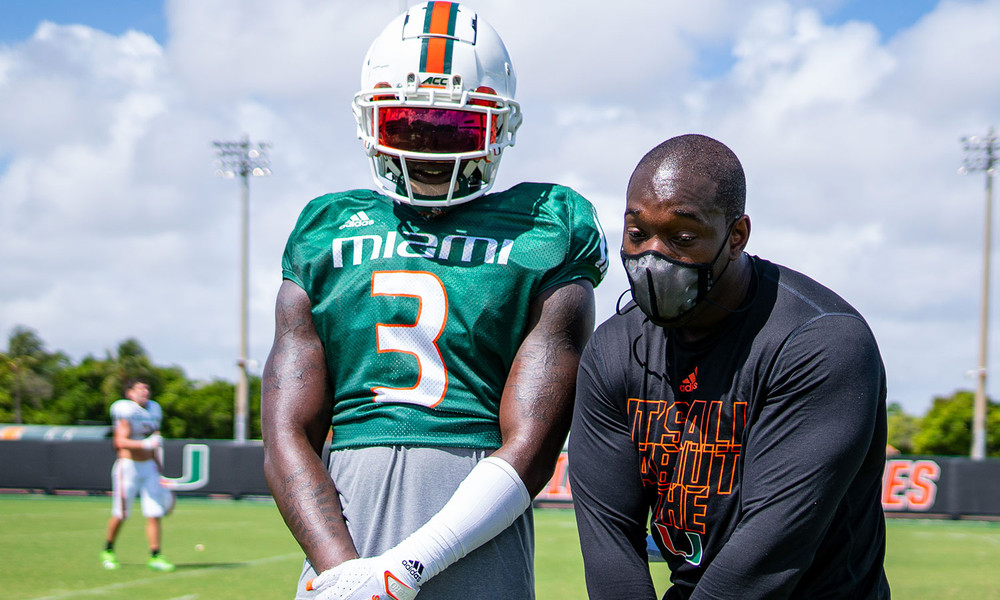 Football has been a part of Aristide's life for as long as he can remember.
His father, who is now the principal at Miami Northwestern High School, coached at both North Miami High and Miami Central. Aristide himself played youth football not far where one of his  new colleagues – Hurricanes cornerbacks coach DeMarcus Van Dyke – played his youth ball.
At Purdue, he gained experience on both sides of the ball, playing both safety and wide receiver. Injuries cut his career short and after graduation, he ventured into what he thought would be his post-football life with a corporate job at a consulting firm in Atlanta.
Still, the idea of still being connected to the sport lingered and Aristide realized he wasn't finished with football. Not yet.
"It was always in my spirit," he said simply. "And it was a natural progression."
He returned to football in 2016, as a defensive graduate assistant at Auburn – where he met an up-and-coming offensive coordinator named Rhett Lashlee. After his time with the Tigers, he spent two seasons at Mississippi, where he served as a player personnel analyst in 2017 and a senior player personnel analyst in 2018.
In 2019, he joined the staff at Texas A&M as a defensive analyst and last season, he worked closely with a defense that allowed an average of 317.3 yards per game, a number that ranked ninth among FBS programs and led the Southeastern Conference. Texas A&M capped a 9-1 season with a 41-27 Orange Bowl win over North Carolina and months later, Aristide returned to Miami – this time as a part of Miami's coaching staff.
The change to finally coach on the field isn't one Aristide takes lightly – especially given the Hurricanes' history at linebacker.
He knows full well what is expected of Miami linebackers and he is determined to make sure his players live up to the legacy set by Hurricanes greats of the past.
"It's a larger than life opportunity. It's a program with a rich history and I get to be a part of that," Aristide said. "My goal is to put my head down, try to continue the history, try to continue the lineage, try to continue to build on what Coach Diaz has established as a foundation. I think in his mind, we're in sync with how we want to do that and what his vision is for the program."
And though Aristide is still continuing to get to know his players – which includes redshirt sophomore striker Gilbert Frierson, sophomore Keontra Smith and freshman Chase Smith – the coach has been impressed with the competitiveness and the drive his group has shown through Miami's first workouts of the spring.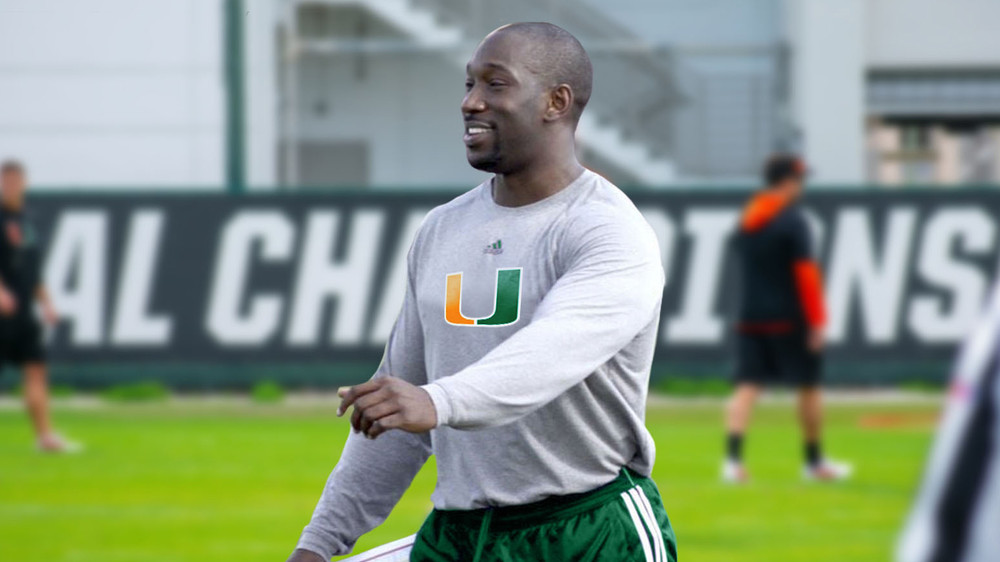 "They work hard. They strain and the most important thing, as a coach, that you love is how much they embrace being coached," Aristide said. "They want to be coached. You don't want to tell a horse 'giddy-up,' you'd rather tell him 'whoa.' The biggest thing is, when they come to the sideline – Gilbert, Chase, Keontra – when they come to the sideline, they're like 'Coach, what did you think? How did I look?' Every single play, they want to be as good as they can possibly be and they understand what it means to be a high-level football player at the University of Miami."
And the players, for their part, see a coach who is eager and willing to teach and push them to be their best.
"He wants us to work," Frierson said. "He comes with great energy, high energy. He comes to practice with pride and he wants everybody to get better, no matter what."
For both the coach and his players, there will be a learning curve. There will be adjustments. They'll each have to get to know each other's strengths.
But Aristide is more than eager to get to work – especially given that work is coming in his hometown.
"I'm not the average coach that comes in here with a rich background and has worked at a bunch of different places and this is just another job for them. This is very much like my baby because I am from here and I represent something larger than myself," Aristide said. "This is something my family is a part of…It's very much in our roots. Growing up, no matter what school you went to in South Florida, you had UM gear. You wore it. This University is very much a part of the culture here in South Florida…It's very much a part of the brand of this city. And I understand that, being from this city."