Canes Baseball Stays in Top 20
CORAL GABLES, Fla. – The University of Miami baseball program remained ranked in five of the six major polls, coming is as high as No. 18 in rankings released Monday.
Miami is ranked in the top 20 of four polls, coming in at No. 18 in both the USA TODAY coaches poll and the NCBWA poll. The Canes held their position at No. 19 in D1 Baseball's top 25 and are No. 20 in the Baseball America rankings. The Hurricanes also appear in the Perfect Game top 25 at No. 22.
The Canes (12-8, 7-7 ACC) went 3-1 last week, winning big at FAU and taking two of three at Virginia.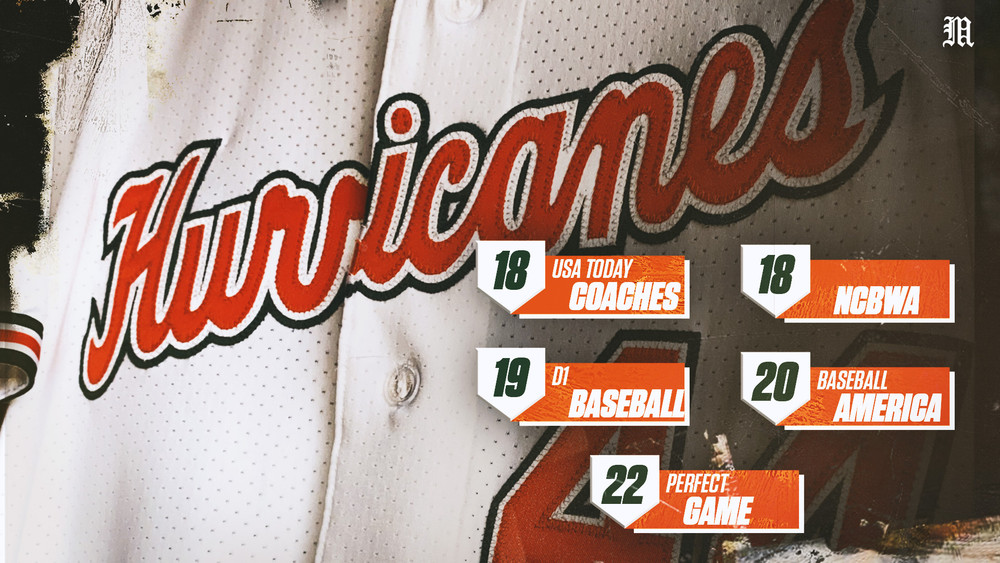 Miami exploded for 14 runs on a season-high 17 hits in a midweek victory over the Owls on Tuesday. First baseman Alex Toral became the first Hurricane to drive in six runs since Jacob Heyward in 2015, powering Miami to a 14-9 win.
The Canes came back from a 2-0 deficit to take Friday afternoon's game over Virginia, 8-6, posting a pair of rallies late in the game to secure a victory over the Cavaliers.
After stranding the bases loaded three times over the first five innings, Miami finally got a run on the board in the top of the sixth, as Gabe Rivera destroyed a 1-1 pitch from Nate Savino that was hit out of Disharoon Park. The homer was Rivera's second of the week and sparked a five-run rally to lead the Hurricanes to victory.
After getting shutout on Saturday, the Canes showed resilience against one of the top pitchers in the ACC in Sunday's series finale. Miami battled back against UVA right-hander Mike Vasil to earn the series win with a 4-2 victory.
The Hurricanes are back in action Wednesday, closing out a five-game road stretch with a midweek meeting at FIU. First pitch is scheduled for 7 p.m.