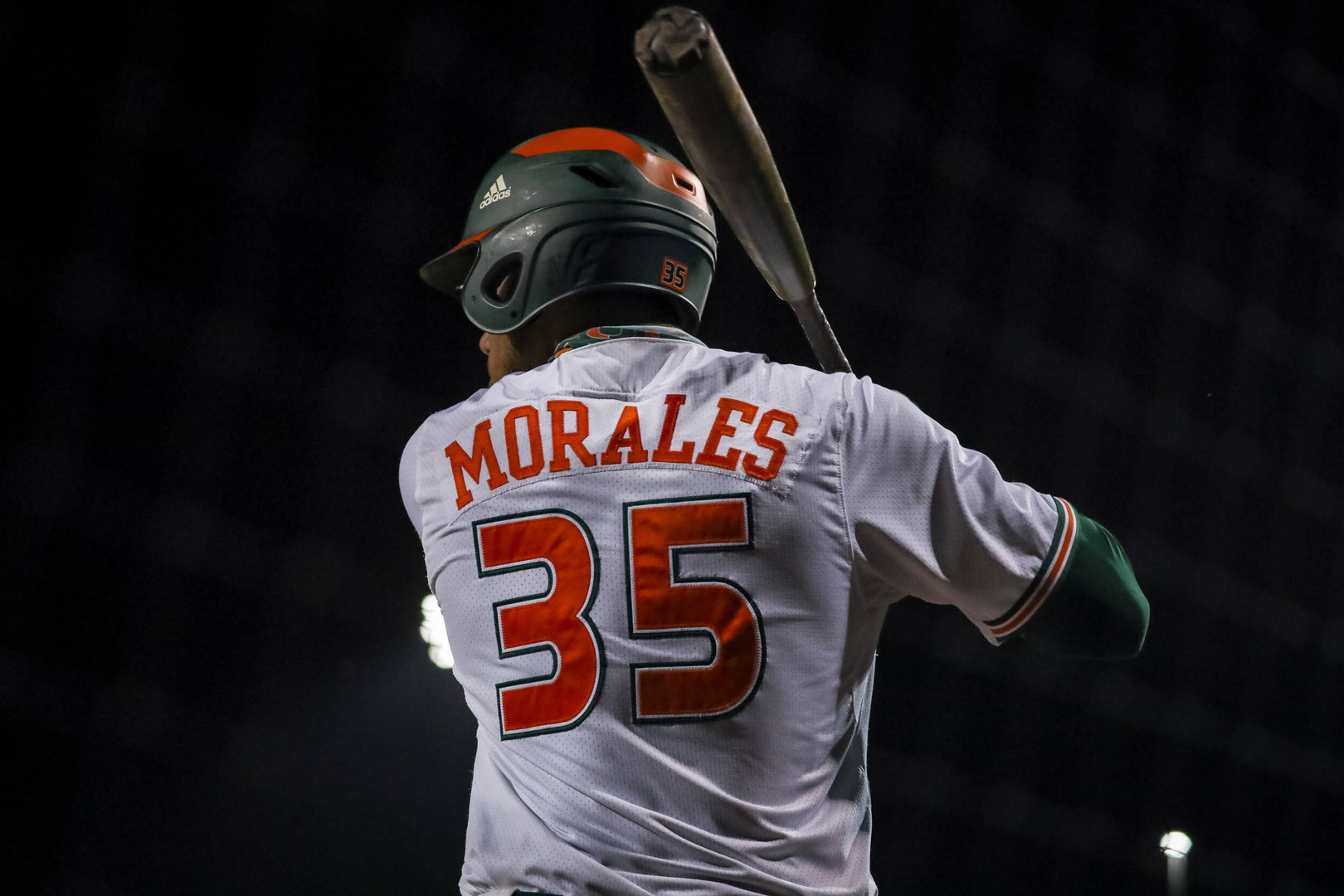 CORAL GABLES, Fla. – It was the kind of moment that would make any parent proud.
But for Andy Morales – a former member of the Cuban national baseball team who fled his homeland seeking freedom and a professional career in the United States – watching his son step to the plate wearing Team USA's red, white and blue was overwhelming.
That Yohandy Morales did it twice – once as a member of 12-and-under team and again as a member of the 18-and-under team – well, that seemed much too amazing to describe.
"It was incredible. I really don't have the words and he did it twice," Andy Morales said of his son. "There are no words. When I saw him in that uniform, both times, it was very special. Do you know how many kids play baseball in the United States? Millions and millions. For my son to play with Team USA was very special."
These days, Yohandy Morales gets to wear a different, yet still very special, uniform as a member of the Miami Hurricanes. His family remains incredibly proud and early in Yohandy Morales' college career, there's plenty to celebrate.
As the Hurricanes travel to Virginia to take on the Cavaliers this weekend, the former Under Armour and Perfect Game All-American is one of Miami's top five hitters, with a .278 batting average through 17 games. The infielder is one of four Hurricanes to have notched at least 20 hits on the young season and is also among team leaders in home runs (3), doubles (4), runs scored (13) and RBI (15).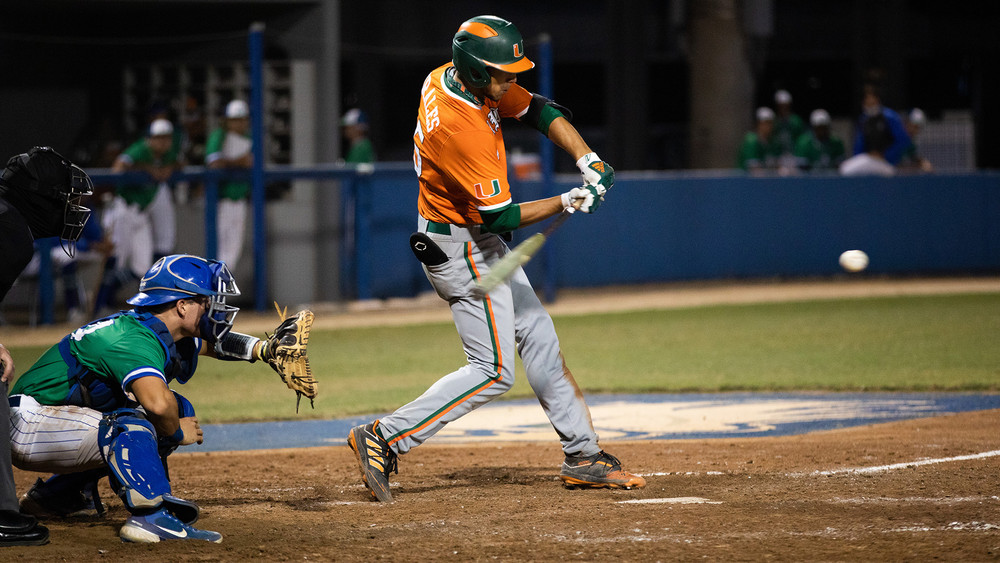 Given that he's grown up in a baseball family and has been tossing the ball around with his father and grandfather since he was a toddler, that doesn't surprise those who know him best.
"He has the mind of a champion, of a winner. That's one of the things I love about him," said Hurricanes assistant coach Norberto Lopez, who helped recruit Morales. "When you talk to him, he's all business. He's a baseball rat. And he has a baseball legacy in the family. They all know what baseball is about…They understand what it takes and when you talk to the kid, the kid is really locked in…He's so coachable. He's always open-minded and you almost have to be careful as a coach with what you tell them because you don't want to take away their authenticity. But he wants to learn and get better."
Added Andy Morales, "I've always encouraged him to respect the game and love the sport, to be serious about what he's doing. This is a sport that requires a lot of sacrifice. I want him to give 100 percent every time he goes on the field. It's a game. Sometimes things go well, sometimes they don't. But my focus has always been that whenever he's on the field, he needs to give it his all."
For the Morales family, lessons about hard work and sacrifice are very personal.
Despite all his success in Cuba – playing professionally in Havana and representing his homeland during exhibition games against the Baltimore Orioles – Andy Morales knew he wanted a life and a baseball career in the United States.
He attempted to defect from Cuba in June 2000, but he and 30 other Cubans were stopped at sea and repatriated as part of the wet-foot, dry-foot immigration policy that existed at the time.
Roughly six weeks later, Morales attempted to defect again. This time, he was successful. He later signed with the New York Yankees and began the process of bringing his family to the U.S. with him.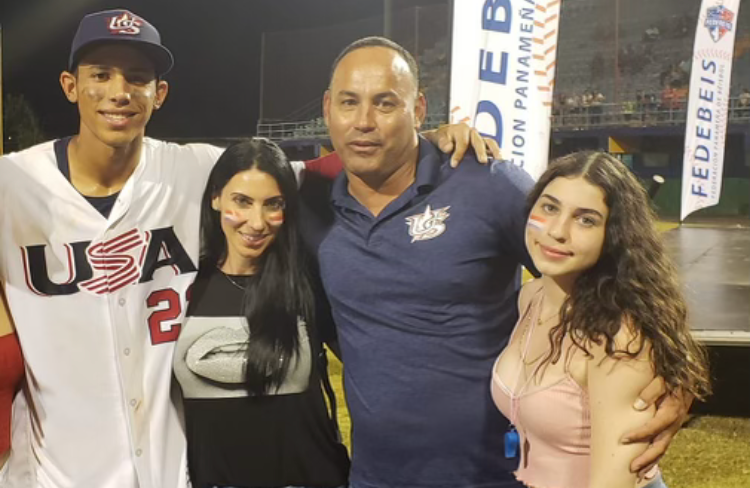 Andy Morales eventually spent time with both the Yankees and Red Sox organizations before retiring and passing his knowledge of the game on two his two sons, Yandy, who was born in Cuba, and Yohandy, who was born here in the U.S.
One of the highlights Yohandy Morales has watched more times than he can count? The three-run home run his father hit against the Orioles in the Cuban national team's 12-6 win over Baltimore at Camden Yards in May 1999.
"I see that video all the time, when he hit the home run to center field. He's shown it to me. My mom's shown it to me. Everybody shows it to me," Yohandy chuckled. "He always teases me and says 'I told you, I'm a better baseball player than you.' We have that back and forth all the time. But, it means a lot.
"I know what my dad did was hard. I wouldn't wish that on anybody. But I'm really grateful for everything he's accomplished and he's taught me so much. He's always wanted me to follow in his footsteps, not everything he did, because he made mistakes and he's always telling me to not go in that way. He's always reminding me what I should and shouldn't do."
The life lessons, of course, extend to the diamond.
After three tough losses to rival Florida State last weekend, Andy Morales provided encouragement, reminding Yohandy that baseball – wonderful as it may be – is far from easy.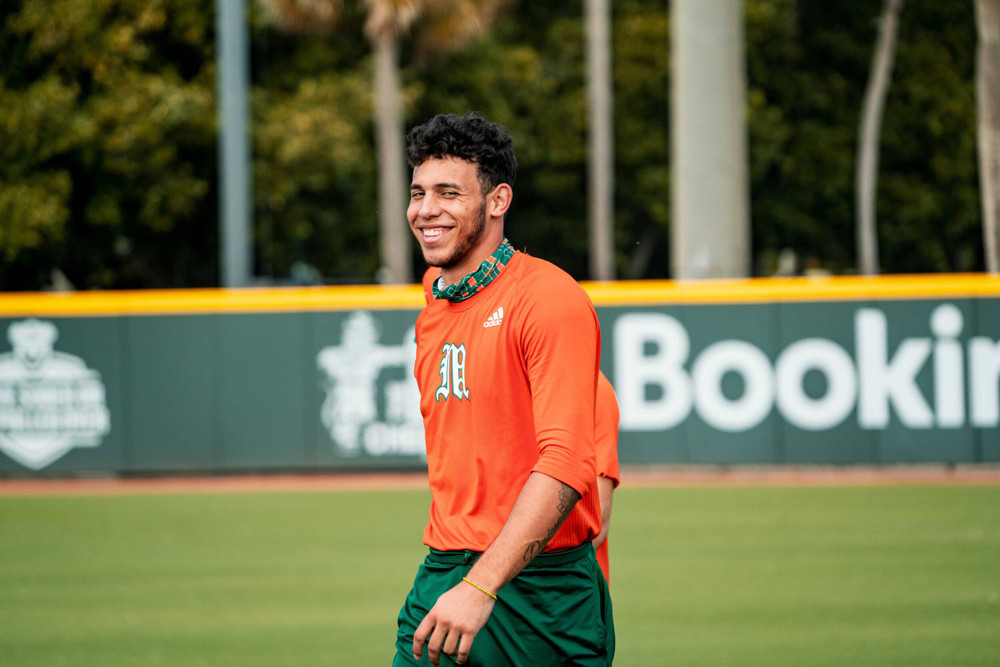 There will be opportunities to bounce back, more games on the schedule and though he had a pair of strikeouts in Miami's 14-9 win over FAU on Tuesday, Yohandy Morales also had a hit and scored a run.
He'll be looking to continue that progress this weekend against Virginia – and beyond.
And he knows his father and the rest of his family will be supporting him through it all.
"Honestly, I think they're really proud of me and the man I've become. I still have a lot to work on, obviously, but I feel like everything is going as planned. We're moving forward," Yohandy Morales said. "My biggest thing is trying to help my team win. We want to win. Everybody wants to win as a team."