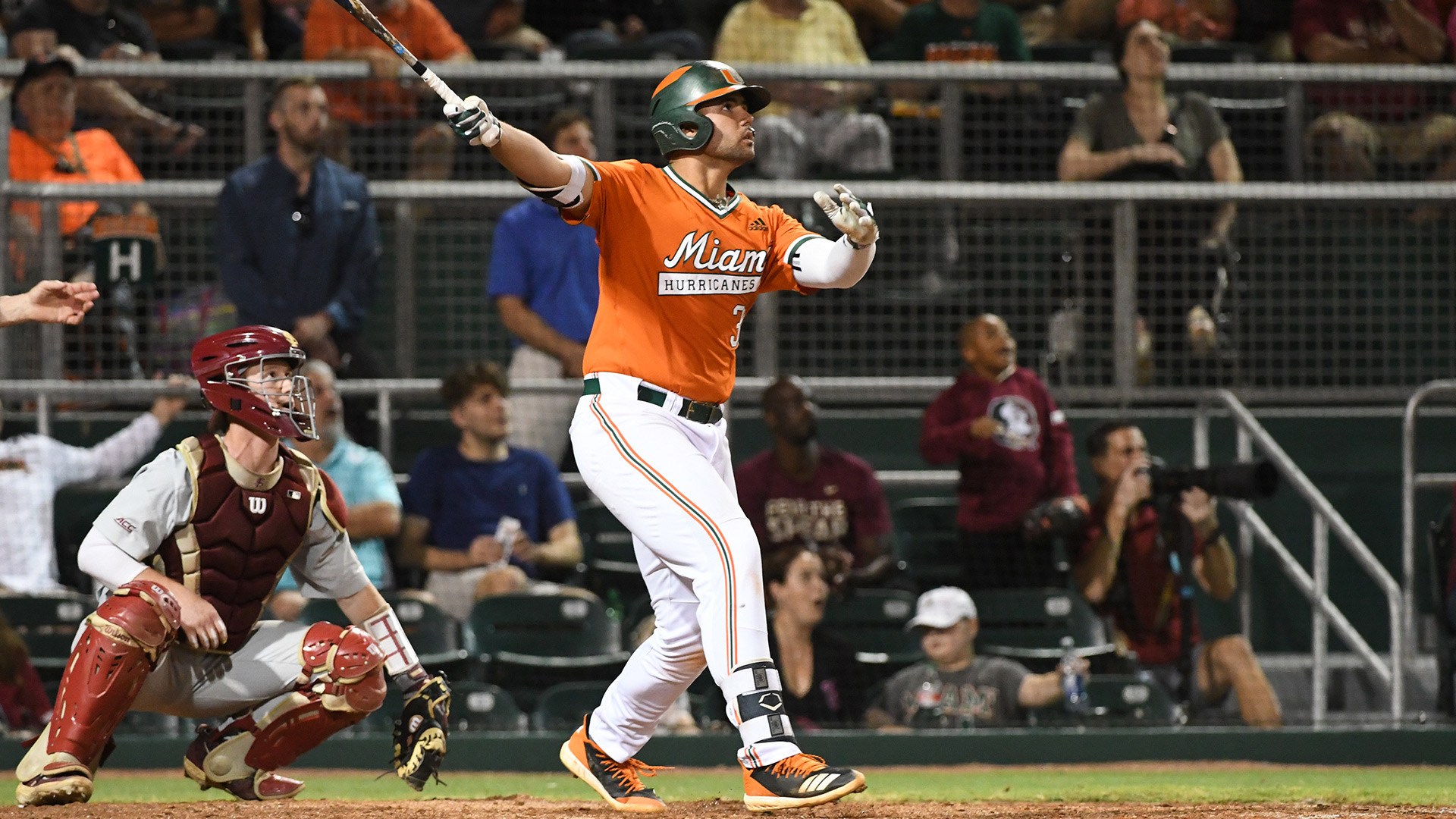 Florida State (7-6, 4-5 ACC) at No. 5 Miami
(9-4, 5-3 ACC)
Roster | Schedule
March 19-21, 2021 | 7 p.m. | 7 p.m. |1 p.m.
Alex Rodriguez Park at Mark Light Field | Coral Gables, Fla.
CORAL GABLES, Fla. – Weekends at the corner of Ponce and San Amaro are usually filled with Mark Light Magic, but things will feel a little bit bigger this week as the rival Florida State Seminoles head to Coral Gables for their annual series against the Hurricanes.
The No. 5 Canes (9-4, 5-3 ACC) enter the weekend on a six-game winning streak, but the Noles have some momentum, too, after taking a series on the road against a ranked Virginia Tech team over the weekend and thwarting the Florida Gators, 10-2, on Tuesday. With both team playing their best, head coach Gino DiMare anticipates a highly competitive series at Alex Rodriguez Park.
"Of course, I'm happy with the way the team is playing. We've won six games in a row and are starting to swing the bat better, a little more consistent," DiMare said. "FSU is coming in and they're playing with some confidence. They beat up on Florida the other night and won two-of-three on the road against Virginia Tech, so it should be a good matchup. I know they've gotten off to maybe a slower start, but they're a better team than what the record shows, and their pitching is very good and they're going to match up probably pretty good. They've got a Friday guy, a lefty that is very good and we've got a lot of lefties in our lineup. So, we're going to have to be able to give good at-bats against a very, very good, probably the best lefty we've faced up to this point. It should be an exciting series."
That lefty is Florida State ace Parker Messick, who had pitched better than his 1-2 record and 3.54 ERA would indicate. Messick, who was brilliant at Virginia two weeks ago, will face off against reigning ACC Pitcher of the Week Alejandro Rosario on Friday night at 7 p.m. The true freshman understands the meaning of the in0state rivalry, but he is not letting the extra excitement of playing the Seminoles affect his preparation.
"I'm approaching this one like every other start," Rosario said. "I've got to go out there and give the best opportunity for my team to win and just go out there and compete."
Rosario has been one of the top pitchers in the league over the first month of games, going 2-0 with a 1.96 ERA and 23 strikeouts over 23 innings pitched. The right-hander has been especially dominant at home, going 2-0 with a 0.00 ERA and allowing just four hits and striking out 14 batters over 14 innings at Mark Light Field.
Fellow true freshman Victor Mederos will take the ball on Saturday opposite FSU lefty Bryce Hubbart. DiMare is confident his two rookie pitchers will be ready for the challenge of their first starts against the Seminoles.
"I'll stay out of their way. I won't say a word. Those guys have been just fine the way they are," DiMare said. "The worst thing you can do is try to overblow this thing up or overcoach them. Those guys are very talented guys. They've proven already that they can handle the atmosphere, whether it's in Gainesville or we've been on the road half the time it seems like. Nothing seems to faze those guys. I think they'll be fine. We're going to treat it like any other game that they've come in and pitched and J.D. has done a great job with those guys. I've mentioned it before but I feel very good about our recruiting class. These young guys that have come in are very talented but, maybe even more so, I just like their demeanor, I like the character of the guys and how they handle themselves and I think that's going to take them a long way."
While Miami has two true freshman set to start in the first two games of the series, fourth-year right-hander Daniel Federman will take the ball in game three opposite FSU right-hander Conor Grady. DiMare is confident the experienced Federman will be ready to go when he takes the mound in the series finale.
"Federman is not an overpowering guy," DiMare said. "He's not a 95-96 [miles per hour] guy like these younger guys are so he's got to be a little bit more pinpoint with his control, he's got to keep the ball down, he's got to get ground balls, he's got to be able to pitch backwards. Some of the balls have been left up, and they've hit some home runs off of him. He's a veteran guy. We have a lot of confidence in Fed. He'll be ready to go on Sunday, I know he'll be ready to go."
Yohandy Morales is another true freshman set to make his debut against Florida State and the Miami native has shown he is a player that steps up in big moments. Morales, who has started every game this season, went 5-for-14 (.312) with a double, a triple, an RBI and four runs scored in the season-opening series at then-consensus No. 1 Florida.
"I go into every game the same, no matter who we're playing," Morales said. "It's obviously going to be a good series going against FSU, but our mentality and our offensive mentality is going in and doing our best everyone, no matter what team we play."
Morales leads the Hurricanes in hitting (.345) and is tied for the team lead in home runs (3) and RBI (15). He ranks second on the team with five multi-hit games and has reached safely in 11 straight games. But fellow infielder Anthony Vilar has been red-hot at the plate, going 17-for-39 (.436 AVG) with a double, three homers and 12 RBI during his active 10-game hitting streak.
"We're very confident at the plate," Vilar said. "We're not really thinking about the winning streak or anything like that. We just take it one game at a time. We know we're all clicking hitting-wise. Our pitching has been there all year. So, we're just trying to continue it and keep it going to win the game."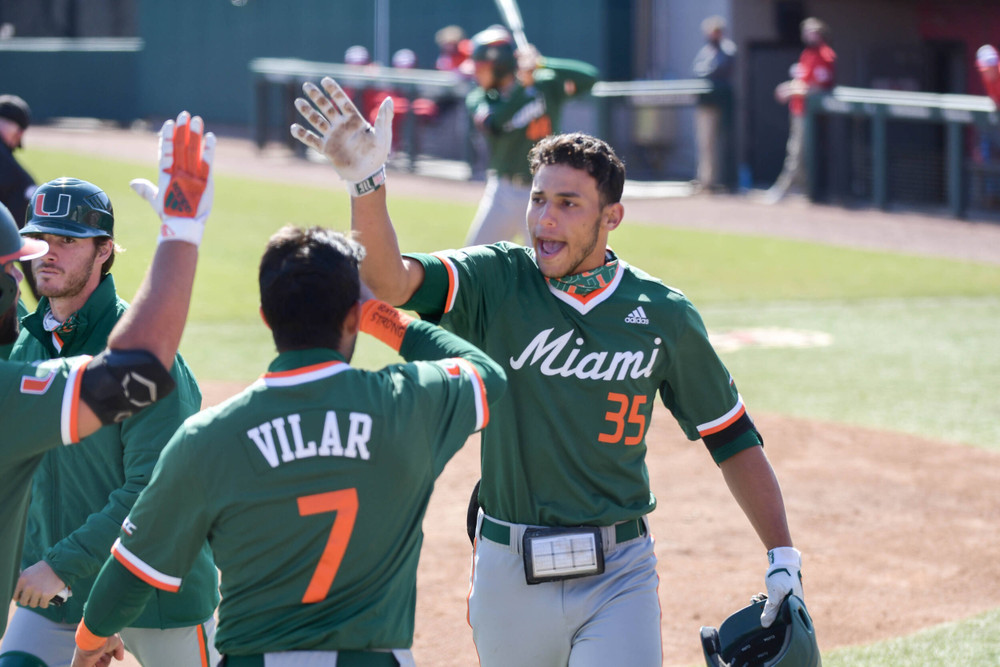 The Hurricanes have scored 42 runs over their last four games, performing like the potent offense everyone expected at the start of the season. Miami's bats are feeling more comfortable at the plate and that has led to an offensive surge after starting the season slowly.
"The first word that comes to mind is confidence," DiMare said. "It's amazing how that is. I don't know how you put a value on it but it's big, it's huge. Now, why do we have confidence? Obviously, we're playing better baseball. They go hand-in-hand. We're just playing more complete baseball. Virginia Tech and then, of course, the first game at NC State, which I think was the climax of playing about as bad at baseball as you could play that first game at NC State where we were horrible on the mound, we were horrible defensively, we were horrible swinging the bat at every phase. It totally boggled my mind because I'm like, 'Golly, we're so much better than this.' But it's kind of goes that way too when you have a lack of confidence and you start questioning yourself and look around going, 'Well wait a minute. Are we this bad?'
"I thought we had a good conversation after Friday's game and the guys were able to bounce back maybe more so mentally than anything because we were beat up pretty good mentally," DiMare continued. "You could see it in everybody, coaches, players, everybody. It's not fun playing baseball like that. So, I just felt like we turned it around on the mound, we started pitching better. We started playing much better defense. I think playing the younger guys, getting Dom Pitelli to play short and moving Yoyo to third has really solidified our infield, given us more confidence and even we're playing freshmen at first in Kayfus at times. I just feel like defensively, we're pretty good with those guys in the infield. And then all of sudden we got it going offensively. We're a team that's supposed to be known for some power and we were getting for power at all. That Virginia Tech series, we had one extra-base hit the entire series. I can't ever recall that and we're supposed to be a power-hitting team. We got it going on that last day at NC State where we started hitting the ball out of the ballpark and doubles and driving the ball and it's kind of taken off from there. I think Coach Lopes has done a good job with the hitters. He's kind of just freed them up and not thinking so much and being so defensive. Guys are just cutting it loose and we've kind of had a roll going here swinging the bat. We're playing just more complete baseball. I think that's really the biggest thing right now in the six-game winning streak."
With the rival Seminoles coming into town, excitement is high around Coral Gables. But veterans on Miami's roster are making sure the team maintains focus ahead of this weekend's series.
"It's definitely a series everybody looks forward to at the beginning of the season, something that you kind of highlight on your schedule," first baseman Alex Toral said. "Yesterday we got home, we had a good win at FGCU and right away, everybody's mindset switched over to FSU. I think everybody's ready to go and has the juices flowing for the series."
"It's been a big rivalry obviously since back in the day," catcher Adrian Del Castillo added. "FSU and UM is a very big rivalry but, honestly, we just got to stay focused on ourselves. We've been pretty hot lately and winning and we've just got to keep doing our thing, keep hitting, keep pitching and defending. That's all we've got to do."
The stage is set for the annual rivalry series and both teams have plenty of momentum coming into it. But DiMare believes Miami's best chance to be successful is by focusing on itself.
"Their strength to me watching them so far, it's been their pitching, their depth to their pitching, both starting and their bullpen,"DiMare said. "I know their lineup is better than what it's produced, statistically, but similar to us, they got off to a slow start offensively. They're starting to get it going, offensively if you saw what they did at Virginia Tech and what they did just the other night against Florida. They're starting to get the offense going kind of like we are. We maybe got a head start on our offense before but the bottom line is they're a very dangerous team, they're better than what the record shows. We've got to be ready to go. The bottom line is we've got to worry about how we play the game and not what FSU is doing. If we play the game the way we're supposed to, good things will happen for us."