Canes Baseball Moves Up Two Polls
CORAL GABLES, Fla. – The University of Miami baseball program climbed up two polls after a 3-0 week that included a win over a ranked team and an ACC series sweep.
The Hurricanes (8-4, 5-3 ACC) had big wins over then-No. 25 Florida Atlantic and took both games in an unusual weekend series against Wake Forest.
Miami is ranked highest by Baseball America, remaining at No. 5. The Canes made their biggest move in the USA TODAY coaches poll, rising five spots to No. 8. The Hurricanes also moved up two spots D1 Baseball's top 25 to No. 6. Miami held its positions in Perfect Game's poll (No. 6), the NCBWA poll (No. 8) and in Collegiate Baseball's rankings (No. 16).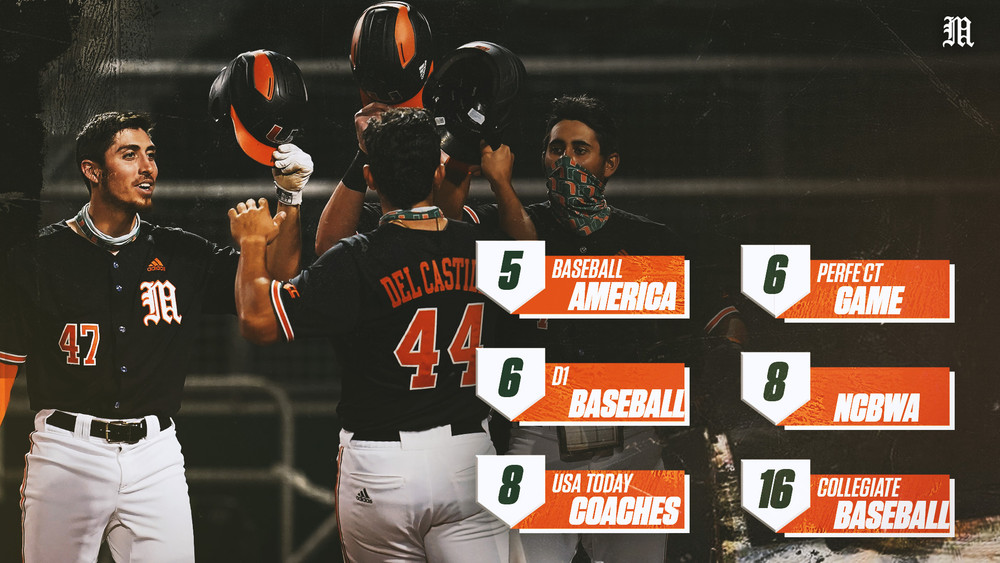 A strong pitching performance by Jake Garland and big game by the bats propelled No. 5 Miami to victory over No. 25 FAU in the Hurricanes' first midweek game of the season last Tuesday.
Adrian Del Castillo crushed a three-run homer that capped a seven-run fourth inning, helping the Canes start the week off with a dominant 11-2 victory over the Owls.
Miami's bats stayed red-hot on Friday night against Wake Forest, as Anthony Vilar and Alex Toral all homered in a 10-0 victory. But it was true freshman Alejandro Rosario that made the biggest impact against the Demon Deacons.
The right-hander was brilliant from the start, striking out the first two batters he faced to open his first career Friday night start. Rosario earned his second win on the Mark Light Field mound, allowing just one hit in his seven scoreless innings while tying his career-high with seven strikeouts. He was named ACC Pitcher of the Week following his outstanding effort against the Demon Deacons.
Timely hitting helped the Miami Hurricanes rally back to sweep Wake Forest in an unusual two-game series with a 6-3 victory on Saturday night.
Vilar and Del Castillo both homered to bring Miami back from a 3-1 deficit and the Canes scored five runs over their final three turns to bat to secure the win. The victory gave the Hurricanes their first ACC series sweep of the season and increased their winning streak to five games.
The Hurricanes return to action Wednesday with a midweek trip to FGCU. First pitch is scheduled for 6:30 p.m.