Rosario Named ACC Pitcher of the Week
CORAL GABLES, Fla. – University of Miami right-hander Alejandro Rosario was named the ACC Pitcher of the Week for March 15, as announced Monday by the conference office.
Rosario dominated over seven shutout innings, leading the No. 5 Hurricanes to a 10-0 victory over visiting Wake Forest. The win was Miami's first on a Friday night in the 2021 season.
"It's obviously a big deal," Rosario said. "It's something I've been working on ever since I was in eighth grade, just getting here and helping the team win every time I go out. I feel like I'm just going to get better."
The true freshman was brilliant from the start, striking out the first two batters he faced to open his first career Friday night start. Rosario earned his second win on the Mark Light Field mound, allowing just one hit in his seven scoreless innings while tying his career-high with seven strikeouts.
"The ball was jumping out of his hand," head coach Gino DiMare said. "The command was great, the fastball command. Actually, I really liked how he threw his off-speed. For the first time, I thought his off-speed was really, really effective, changeups and the breaking ball. I just love his demeanor on the mound. He's just such a tough kid and gets after it, so I'm very, very happy. His first start on a Friday night for us but you wouldn't notice anything different out of him. He's the same guy that he's been since he stepped on our campus."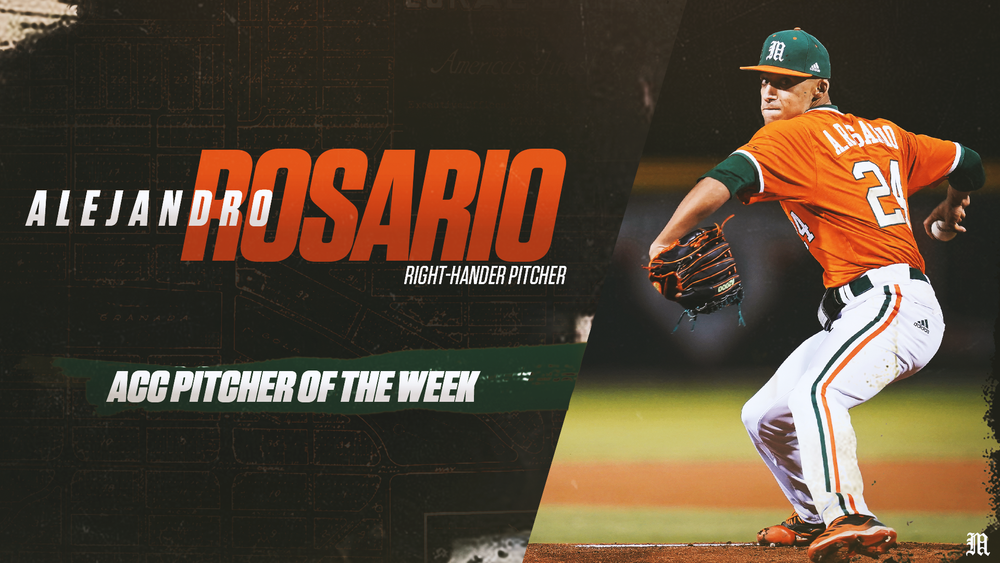 A Miami native, Rosario improved to 2-0 on the season, while lowering his ERA to 1.96. The true freshman has now tossed 14 scoreless innings at home, allowing just four hits and striking out 14 batters in his two starts at Mark Light Field.
"He's been amazing," infielder Anthony Vilar said of Rosario. "He has a lot of room to grow, but just the way he's pitching now is unbelievable. He knows he can get better and he is going to get better. But his fastball is electric, he hits his spots and his slider and his changeup are very, very good. He locates well but I know that his pitches can get better and that's what he's going to do. He's going to get better every start he goes out there."
Rosario joins outfielder Christian Del Castillo (Feb. 22) as Hurricanes earning ACC weekly honors in 2021.
The Hurricanes return to action Wednesday with a midweek trip to FGCU. First pitch is scheduled for 6:30 p.m.