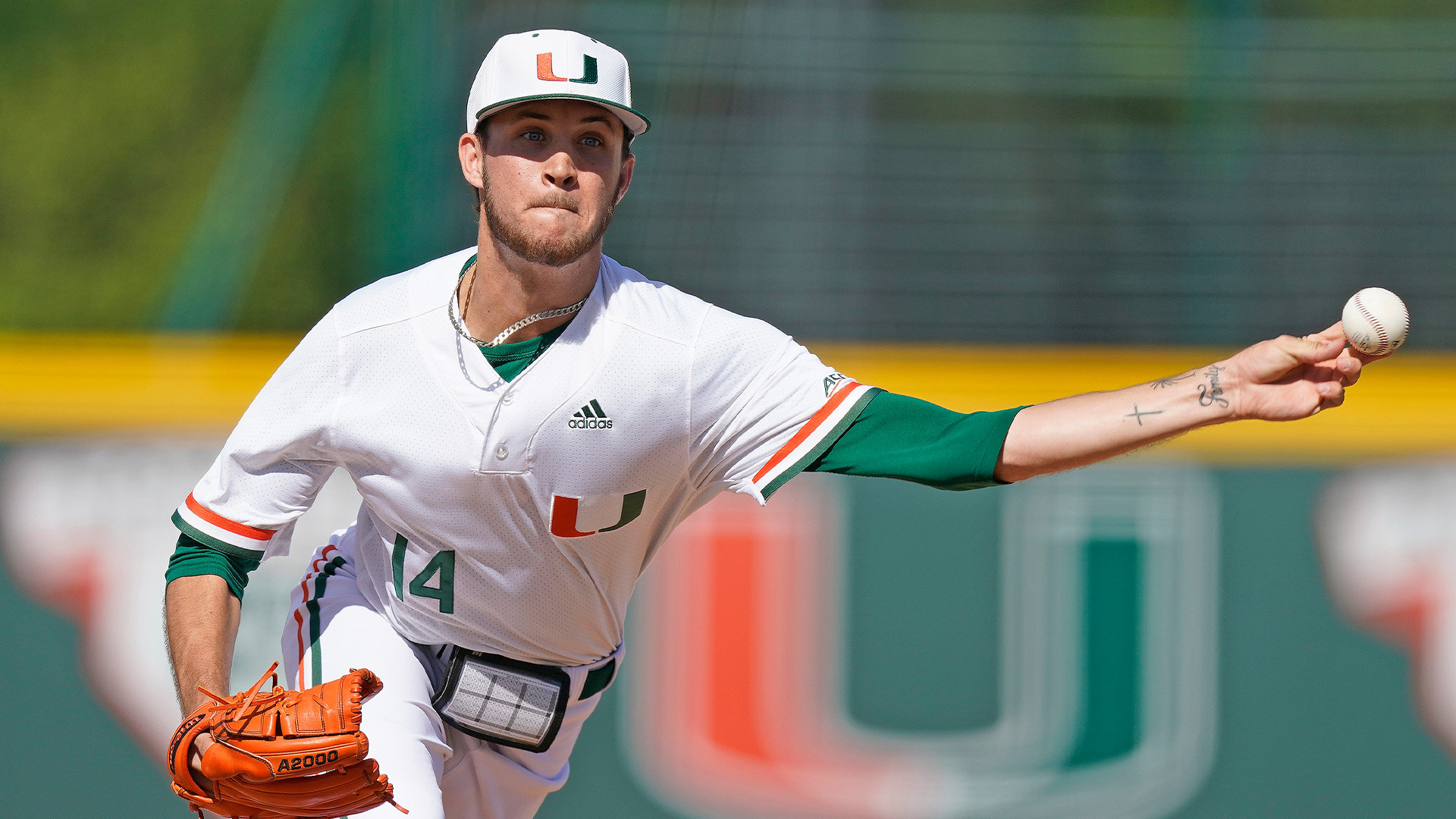 CORAL GABLES, Fla. – Finishing games was a challenge for Miami in recent years, but the Hurricanes have one of the top closers in the country anchoring the back of their bullpen.
Carson Palmquist has been one of the most dominant relievers in the country in his young career. The left-hander is one of six players tied for the national lead with four saves this season, his first as the Hurricanes' closer.
"It's a great feeling to have after every game," Palmquist said of earning a save. "I don't really remember what happened in the past. I just go in every game a little nervous, but ready to get after it. I've been fortunate that at the end of the game it's always been a good feeling."
Palmquist has experienced nothing but good feelings after each of his five outings in 2021. The Fort Myers, Fla., native announced his presence in a big way in his season debut striking out four batters over three shutout innings in Miami's extra-innings win over then-No. 1 Florida on Feb. 20. A day later, the southpaw threw a scoreless ninth to earn his first save and clinch the series for the Hurricanes.
"I love that pressure," Palmquist said. "Everyone should want to pitch in that pressure because it's the best feeling when you go out there and you get the win for your team in the last inning. You do your job and everyone's cheering you on and everyone's happy, but it can all turn around pretty fast if you don't get the job done."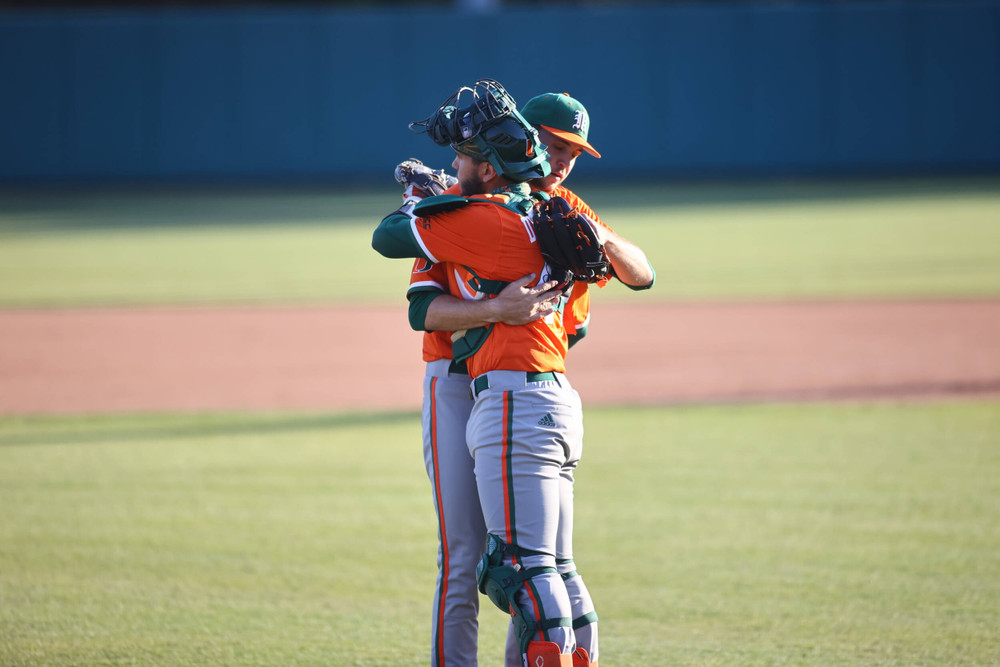 While he has been outstanding as a closer over the first 10 games of 2021, Palmquist did not know he would be in that role until just before the season began. Once he found out he was the man at the back of the bullpen, he looked to a couple of people close to him that had experienced shutting the door in the ninth.
"At first, I didn't really know what to expect because I've never been a closer before," Palmquist said. "But I talked to [Daniel] Federman for a couple days about what he did and tried to learn his routine and what his mindset was before going out there. I took a bunch of stuff from him and then I talked to my older brother, Cody, who pitched in the Texas Rangers organization, and was learning stuff from him as well."
Palmquist proved himself in his brief collegiate debut a year ago, going 1-0 with a 2.31 ERA and 15 strikeouts over 11.2 innings pitched before the COVID-19 pandemic cut short the season. Heading into 2021, Miami pitching coach J.D. Arteaga knew Palmquist would be a late-inning factor for the Hurricanes but it was his performance in the fall that convinced Arteaga to put the lefty in the closer's role.
"He's fearless," Arteaga said. "He just goes out there and he attacks hitters. He's not afraid of contact and just goes after guys. Carson is a guy that there are usually quick at-bats against. He's been extended a couple times, like three innings at Florida this year, but he only threw 31 pitches. He threw four innings over Saturday and Sunday last week at NC State but again his pitch counts were low. He probably averaged around 11 to 12 pitches per inning, so when you do that and have the ability to bounce back on back-to-back days and have the mental strength that he has, it's a perfect fit for a closer."
Palmquist was an elite starting pitcher in his four years at Riverdale High School, where he was a team captain as a senior and led his team to a regional appearance. The lefty did not allow an earned run in his junior and senior years, posting 106 strikeouts in his senior season, so it was a new transition when he moved to the bullpen as a Cane.
"Everybody wants to be a starter and everybody is accustomed to being a starter," Arteaga said. "It's not too often you have a Bryan Garcia that wanted to close from the get-go, or a Chris Perez that wanted to close and we actually tried to start him. When I asked him what he thought about closing, he said he'd love to do it and bought into it right away. Other guys, they think the starters get all the glory and all the wins, so it's a tough sell at first. But once they go out there and they have that success and that feeling of closing a game out, that adrenaline rush, they fall in love with it pretty quick."
Despite Palmquist's success as a starter, Arteaga felt he would flourish as a late-inning reliever a year ago. After an impressive fall, the veteran Miami pitching coach knew Palmquist was the guy he wanted getting the final three outs for the Canes in 2021.
"I would trade two starters for a closer," Arteaga said. "It's a great thing to know that once you get to the eighth inning or ninth inning, if that guy is available then the game is over. It just really shortens the game up and you really sleep good at night when you have someone like that in the back of your bullpen. The toughest innings of pitch are always the fifth inning for a starter and the ninth inning for anybody. Trying to close somebody out is hard. There's no shot clock or no time clock. You've got to put a team away and get the 25th, 26th and 27th outs of the game and those are tough ones when the game is on the line. So, it feels really good to know you have a guy that's going to go out and do that."
Palmquist, who has pitched more than an inning in seven of his 13 career appearances, has the confidence to pitch more than a typical closer would because he has been a starter before.
"Being a starter in high school helps me know that I could go as many innings as a starter can, Palmquist said. "I think knowing that I've done it before helps me when I've had to throw two or three innings. I know I have the ability to be successful beyond one inning because I've done it before."
In five appearances this season, Palmquist has not allowed a run while scattering three hits and striking out 11 batters over 9.0 innings pitched. He attributes his success to a mindset that focuses on the present instead of dwelling on the past, no matter how good or bad it may be.
"It helps you not think so much, and you just go in there and throw the baseball," Palmquist said. "It's still a kids game and you can't worry too much about it. Being a closer can definitely get in your head a lot because the whole game falls on you. You get on the mound and how you perform decides the outcome of the game, so it helps a lot to not think too much and just go out there and throw."
For Arteaga, it's Palmquist's combination of height, length and unconventional delivery that combine to make him a very tough pitcher for a hitter to figure out.
"Right now, it's his deception," Arteaga said. "He's long, lanky and throws from a very low arm slot for a left-hander that you don't see it very often and he gets that up to 94 to 96 miles an hour sometimes. He's tough to hit. It's an uncomfortable at-bat for lefties and righties where the ball just kind of jumps on you and it's not something you're accustomed to seeing every day so it's just a different look."
Just five appearances into his career as a closer and with only 20.2 collegiate innings of experience, Palmquist is still learning every time he takes the mound.
"I've learned to maximize my pitches," Palmquist said. "When you're starting, you have to go long distances in games, and you pitch in a way that helps you do that. But now that I am closing, I know I will usually throw one or two innings most of the time o I just go out there and try to throw as hard as I can each pitch. I make sure I throw my best pitches because I'm not getting very many pitches. I make sure to be at my best from the start so I can get my job done."
As the national leader in saves after 10 games, Palmquist has certainly gotten the job done thus far. The 6-foot-4, 190-pound pitcher hopes to continue his success on the mound and join a long list of great closers in Hurricanes history.
"It means a lot just to even be mentioned in the same sentences as some of those guys," Palmquist said. "A guy like Bryan Garcia is one of the best closers that has ever pitched for Miami and he could be one of the best closers in the Major Leagues right now. It's just an honor to be following those guys as a closer at Miami."
Palmquist and the Hurricanes will look to continue their success this weekend against the visiting Wake Forest Demon Deacons. The three-game series begins Friday at 7 p.m., with Saturday's game set for 6 p.m. and Sunday's series finale scheduled for 1 p.m.
"This is a big weekend for us," Palmquist said. "We'd like to go out there and get a sweep this weekend, but we know it's not something that will be handed to us. We're going to play a really good Wake Forest team and they'll be hungry to play after missing games last week. We just started swinging the bats a little more and our bullpen is just now starting to go, so it's hopefully going to be a good weekend for us.