Hurricanes Get Back to Work
CORAL GABLES, Fla. – It's been a season – a year, really – of uncertainty for the Hurricanes.
What they do know as a new week begins is that, as of right now, the two-week pause of their season has ended, they are expected to return to the practice field Monday evening and they're scheduled to play an unexpected opponent – Duke – on Saturday night in Durham.
That game – like so much in 2020 – isn't guaranteed, especially given how COVID-19 numbers are rising again in South Florida and all across the United States. But, having the chance to be on the field again is an opportunity Miami head coach Manny Diaz said his players are grateful to have, especially given all the Hurricanes have endured since last playing a game on Nov. 14.
"This team has to have a great sense of 'Hey, we'll come in today and find out what today is all about because we know by tomorrow it may change again,'" said Diaz, who 10 days ago announced via social media he had tested positive for COVID-19 himself. "We did have some meetings this morning and … I do think the kids are very excited to be back. They want to play. It almost reminds me of when we got back together again in the summertime. These kids want to play. They want to finish the season. …
"What we went through and what you see going on around the country, the fact that us and Duke are able to play Saturday – as of right now, keep doing the right things during the course of the week – I think there's two things: one, the ability to adjust to whatever presents [itself] and two, to be thankful in this year for what we have because it's not promised us."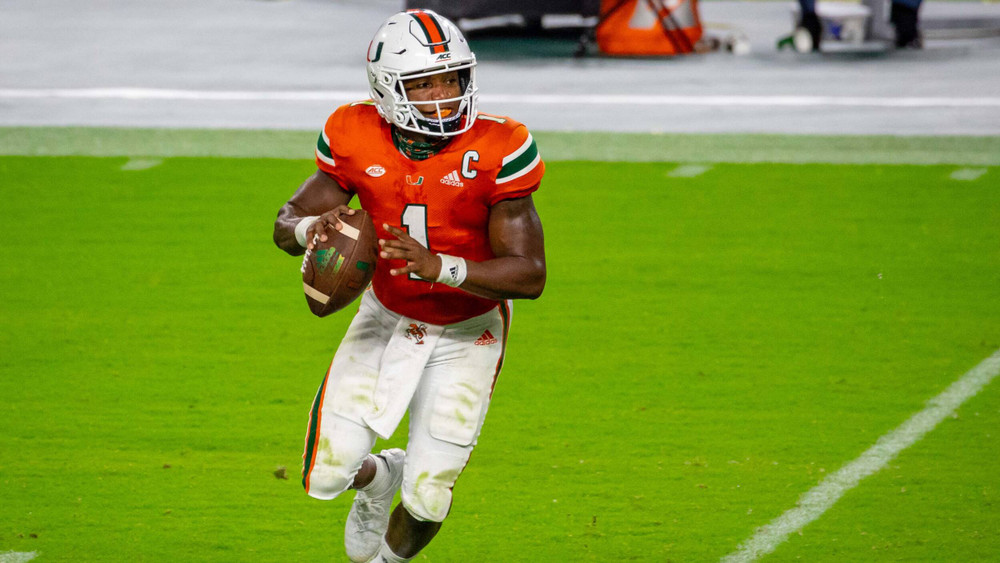 Initially, the ninth-ranked Hurricanes (7-1, 6-1 ACC) expected once they resumed their season, they'd play a road game at Wake Forest on Dec. 5 before hosting a pair of home games against North Carolina and potentially Georgia Tech on Dec. 12 and 19th respectively, if Miami didn't advance to the ACC Championship Game.
But, with the Demon Deacons dealing with COVID issues of their own, the ACC announced on Saturday that game – like so many others – was postponed, again. By Sunday night, though, the Hurricanes had a new opponent for the coming week: Duke, a familiar Coastal Division foe who wasn't on Miami's revamped schedule that was announced by the league in August.
Suddenly, Diaz and his staff have had to scramble to begin preparing for a Blue Devils (2-7, 1-7) team they weren't expecting to face in this most unusual of seasons.
"We didn't really know Duke was going to be our opponent until [Sunday] night and I think … there's certainly some familiarity with our defense and their offense, certainly," Diaz said. "But with our offense being new, the coaches on that side of the ball don't have the same familiarity. They're kind of figuring out who Duke is for the first time this year, today."
There will be challenges, of course.
Along with having a short window of time to game-plan for the Blue Devils, Diaz said Monday the Hurricanes expect players will be returning to practice in waves as they are cleared by Miami's medical staff. They'll also be balancing their work on the field with final exams.
And a two-week lay-off brings with it specific points of attention the Hurricanes must address if they want to extend their four-game win streak.
"I'd love to know what play-call bypasses rust," Diaz quipped Monday. "The only thing that is in any way similar is a bowl game, where you have a long layoff, but it's not a bowl game because you haven't had your normal bowl practices. To me, the things that stand out are number one, tackling because you haven't tackled in a long time; conditioning, just being in that football shape. … We've tried to manage that in any way we can; special teams, either just because of disruption on the depth chart or just again, the timing of special teams … and turnovers.
"I think you saw all of this in the Duke-Georgia Tech game on Saturday night. I keep saying it: we have to stop acting like things are [normal]… they're not normal … these games are not normal due to the preparation and when you take three weeks off, the ball is not being attacked. Things like turnovers, ball security, tackling, as I mentioned with tackling, conditioning, those are the things you really double-down on. … You try as hard as you can to double-down fundamentally to make yourself hard to beat. … The scheme will look better if the fundamentals are better."
Another issue the Hurricanes will look to focus on ahead of Saturday's matchup? The passing game, which was seemingly hitting its stride before the pause.
After some early-season struggles, Miami's trio of veteran receivers – Mike Harley, Mark Pope and Dee Wiggins – were playing some of their best football of the year in recent weeks, the trio combining for 55 catches and 788 yards in the Hurricanes' three wins over Virginia, NC State and Virginia Tech.
In those same games, quarterback D'Eriq King completed 76 of his 109 passes for 1,007 yards and seven touchdowns.
Getting that rhythm back will be a priority.
"D'Eriq's always been able to throw a good deep ball. The first three or four games of the year, we struggled, but I think that we were struggling more than he was struggling," offensive coordinator Rhett Lashlee said. "I think as we got more on the same page with him and the wideouts, we got better at it. Obviously, there's concern when you've had three weeks off. We've got to do our best to try and kind of get that rhythm going again."
Still, though is a lot of work to do before kickoff Saturday, the Hurricanes say they are looking forward to, once again, returning to a season that has featured big plays, remarkable comebacks and their best start since 2017.
"We are excited," Diaz said. "We're happy for the league to be able to arrange [and] to get us a game. [Our players] will be excited to go play Duke."