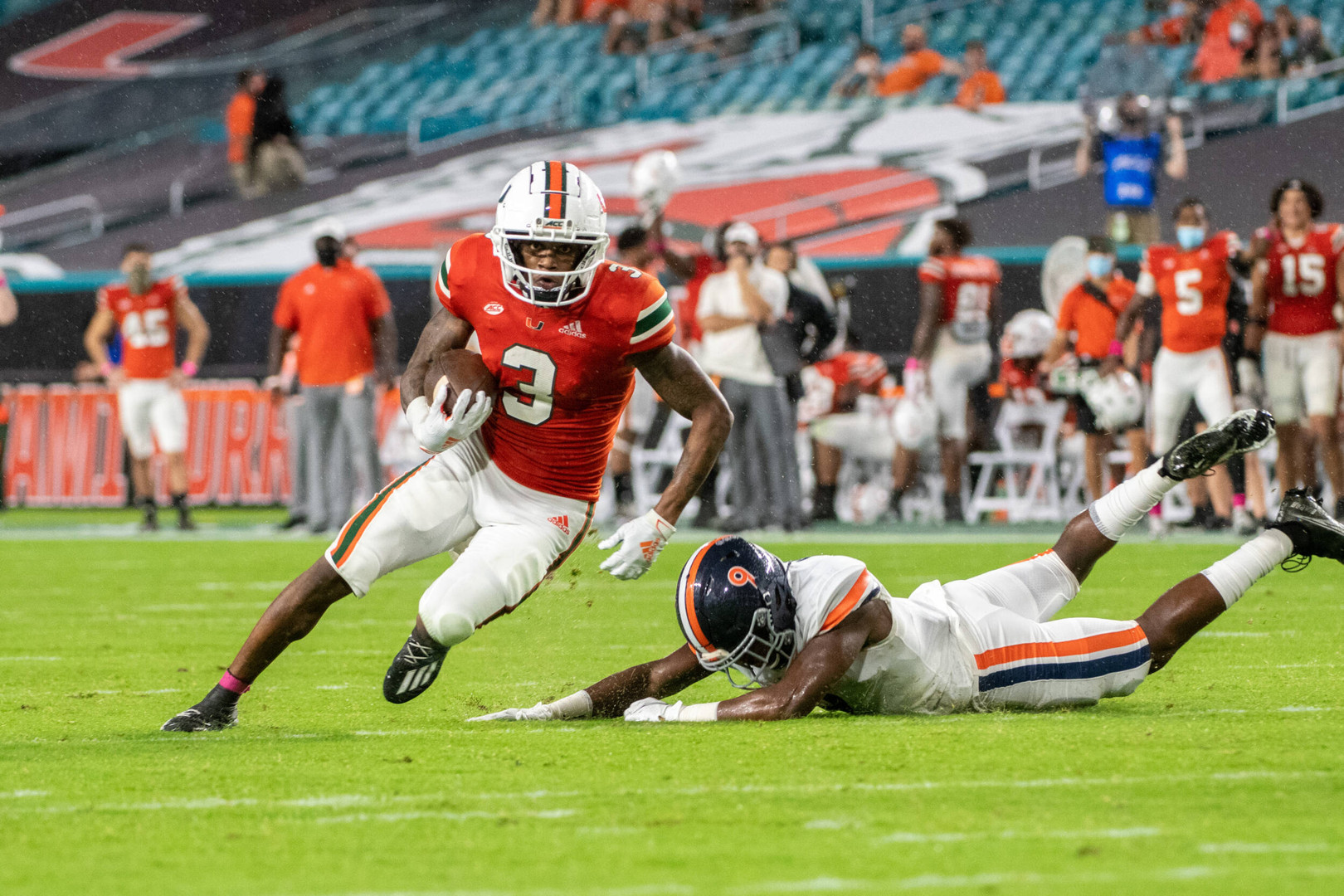 MIAMI GARDENS, Fla. – It was a challenge Mike Harley took personally.
When Hurricanes receivers coach Rob Likens texted each of his players early in the week to inform them none had done enough in recent weeks to guarantee themselves a starting job against Virginia, Harley was upset. Frustrated. Disappointed.
As the lone senior in Miami's receiving corps, it was his responsibility to not only deliver on the field, but to lead off of it. And he knew on both fronts, he hadn't been at his best of late.
So, he took it upon himself to get better – and make sure his teammates improved, too.
There were extra film sessions. Several heart-to-heart conversations. And plenty of pass-catching reps, both with quarterback D'Eriq King and with the Jugs passing machine. Some of those sessions came inside the Carol Soffer Indoor Practice Facility, others were outside on the Greentree Practice Field during more than a few heavy rainstorms, something that came in plenty handy Saturday against the Cavaliers.
Ultimately, Miami's receivers put together one of their best performances of the season Saturday and Harley led the way with a career-high 10 catches for 170 yards in Miami's 19-14 win over Virginia, last year's Coastal Division champion.
Harley's 170 receiving yards were the most any Miami receiver has totaled since Phillip Dorsett had 201 yards against Arkansas State in 2014. It was also the most against an ACC opponent since Allen Hurns had 173 yards against Pittsburgh in 2013.
And his 10 catches tied for second-most by any Miami player since the Hurricanes joined the ACC, behind only Dorsett who had 12 catches against USF in 2012.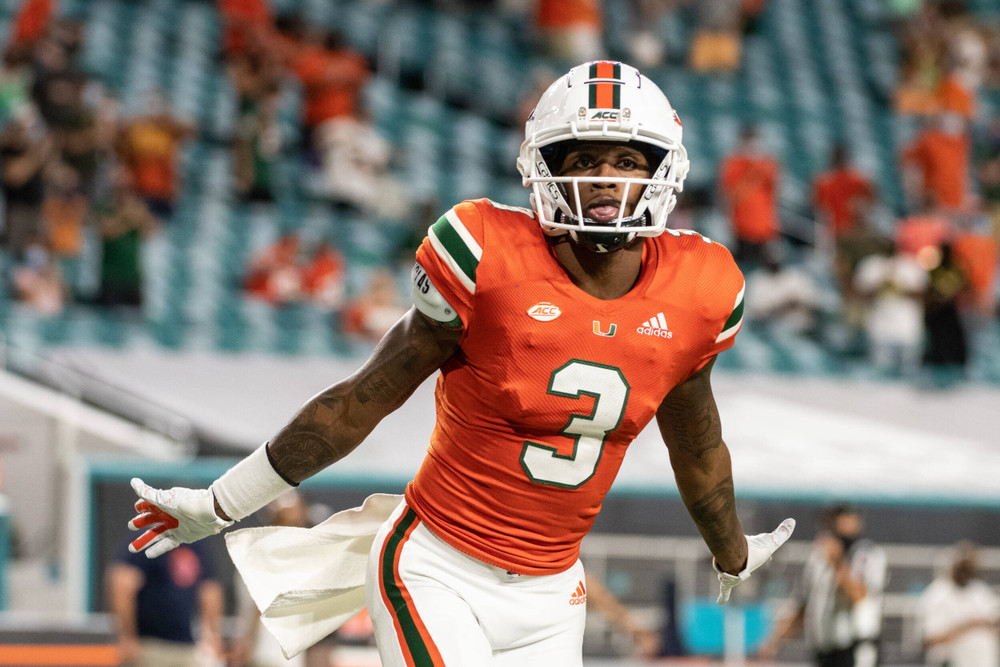 In his own way, Harley made a statement against Virginia – which is just what his coaches were hoping for when they once again, forced Miami's receivers to compete for their jobs.
"I think Mike absolutely accepted the challenge," head coach Manny Diaz said. "They wanted to be pushed and it's not easy, especially when you're a senior. But I've got to say, to Mike's credit, the way he practiced – he didn't bat an eye. He was a great leader all week in practice and it wasn't surprising that he played well in the game."
Said Harley, "It's very hard playing this position at this University. There's so much outside noise going on and I took that as a challenge. I think I showed how tough I am when our backs were against the wall. I was just trying to make every play, gain trust with King. The receivers have had kind of an up-and-down season and I know how my performance has been. I wasn't pleased. I know we dropped balls, we couldn't get open … I took that in and I wanted to be that mentor to the young guys. If I go, they're going to follow. So I had to be that leader. I had to take that extra step."
Harley's efforts most definitely set the tone.
He wasn't the only receiver to come up big for the Hurricanes on Saturday, with Mark Pope making three catches for 48 yards and Dee Wiggins making three catches for 36 yards.
In all, Miami's receivers combined to catch 18 of King's 30 pass attempts, the group combining for 265 yards. King threw for 322 yards in the win.
"I think we're going to keep after throwing the ball deep and keep trusting those guys and I think those guys will make plays," King said. "Mike played a great game. He stepped up. … I think the receivers felt challenged throughout the week, just from inside the building. So he stepped up. He had an outstanding game. I'm happy for him."
King, Harley and Miami's pass-catchers set the tone for their performance early.
On Miami's first play from scrimmage, King connected with tight end Will Mallory on a 32-yard pass play. That was immediately followed by Harley's longest catch of the night, a 43-yard touchdown that gave the Hurricanes a lead 28 seconds into the game.
Yet, as big as the touchdown play was, it was his catches to extend drives the receiver was most pleased with on Saturday, particularly a 28-yard gain on 3rd-and-10 in the third quarter that ultimately led to a Jose Borregales field goal and a 20-yard grab on 3rd-and-11 in a fourth-quarter drive that ended with a Donald Chaney Jr. touchdown run.
"It wasn't just the big plays, it was the critical plays, the third downs," Harley said. "You're supposed to make the touchdowns when you're wide open or you beat your defender. What separates you is when the pressure is on, the team is depending on you, and you know the quarterback is coming to you on third down to keep the drive alive. Making those plays makes me feel better."
As impressive as Harley's performance was on Saturday, the receiver knows he can't afford to take this performance for granted.
Already once this season, he's had to fight to keep his job. He knows his coaches won't hesitate to pressure him again if they feel they have to.
"I have to build on this by moving on to the next game," Harley said. "This game's dead. I have to come out and do the same again, same preparation, just keep doing what I've been doing."