CORAL GABLES, Fla. – Nearly two decades removed from his illustrious career at the University of Miami, becoming a Hall-of-Famer was nowhere near Johnny Hemsley's mind.
Then, one day last September, while cleaning his house, the former Hurricane basketball standout got a call that he was just that.
Richard Horton, the president of the University of Miami Sports Hall of Fame (UMSHoF), informed a "really surprised" Hemsley he would be a member of the organization's 2020 class.
"It took me back to '96, when I first got on campus. I was happy; I texted everyone. I sent out a mass text to all my friends and family. I got real excited and I started planning [for the induction] day, like how I was going to celebrate, how I was going to have all my family come down," Hemsley recalled. "It meant the world to me because I'm from Baltimore and Baltimore is a tough city. When I came to Miami, I had no idea how it would go, but I worked my butt off, I know that. I never thought, in a million years, coming from Baltimore—where I came from in the inner city and some of the struggles that I had—that I would be in anybody's hall of fame."
He was then, however, just that. He was a Hall-of-Famer.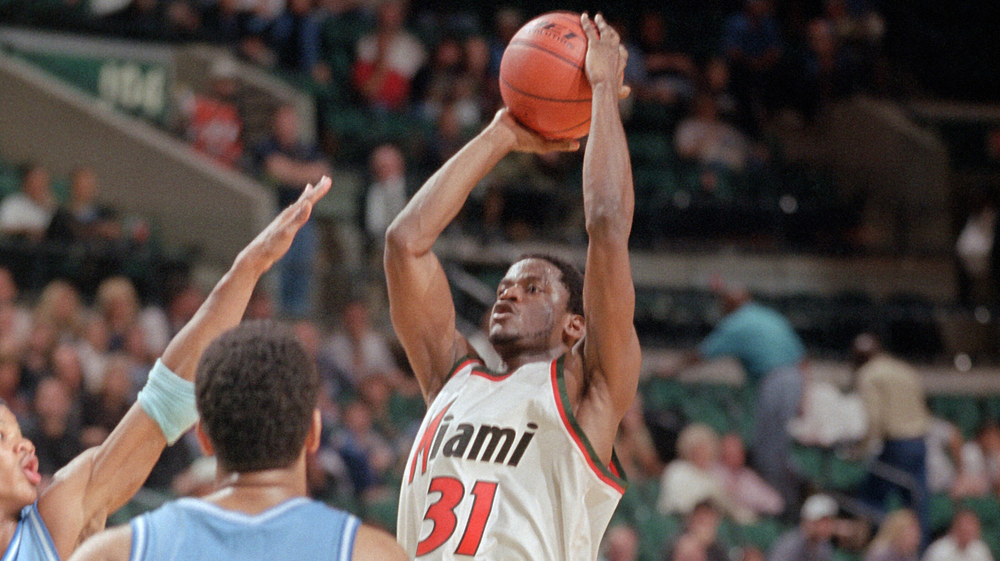 Hemsley, though, thought more than just about himself when he received the news. He thought about his fellow Hurricanes and all they accomplished as a group at The U.
"When I got the call, it was just like, 'Wow. Somebody really acknowledged that we made [an impact].' Not so much myself, but as a team," Hemsley shared. "We made a lot of strides with that program. We turned it around, I think. I never took all the publicity and all the accolades that I got for granted because I did work hard, but it was a team thing. It's a team sport."
In 1996, the year Hemsley reflected back to for his first days at Miami, the 6-foot-5 guard joined a program with one postseason appearance—a first-round exit in the 1995 NIT—and no 20-win seasons in 11 years since its rebirth in 1985.
Alongside players such as Mario Bland, Tim James, Kevin Norris, John Salmons and Elton Tyler, Hemsley helped transform the Hurricanes.
Following an NIT appearance in his freshman season, Hemsley aided Miami to the NCAA Tournament—its only prior appearance was in 1960—each of the next three years. The Hurricanes shared the BIG EAST title in 1999 and the next year, in Hemsley's last hurrah, Miami made the Sweet 16 and finished with 23 victories for the second year in a row.
To John Routh, the executive director of the UMSHoF and one of the foremost authorities on the history of Miami athletics, those are key reasons why Hemsley is worthy of inclusion in the exclusive group.
"He was one of those guys that particularly in the late 90s when the program was kind of struggling, he really helped them get up to championship caliber," Routh explained. "They went all four years to the postseason while he was playing. He really helped elevate the program with his play. Plus, he was named the Most Improved Player as a junior in the [BIG EAST]. So, that shows not only did he help the program, but he improved himself."
There is no question Hemsley, a two-time All-BIG EAST honoree who scored 1,497 points at The U, is deserving of his new position among Hurricanes legends.
Nonetheless, it still feels almost surreal to Hemsley that he is joining the ranks of so many accomplished fellow Miami athletes.
"It's just an honor to be in a sentence with those same people like Rick Barry and Ed Reed," Hemsley said. "…When I got the call, it's just like, 'Okay, they're putting me in the same echelon with these guys now.' It's [a great] honor. It's very humbling. I can't really explain it, but it's really humbling and I really appreciate it.
A particularly exciting aspect for Hemsley, who was always close with football and baseball players during his college days, is how many of his friends from other sports he is joining in the Hall.
Gridiron standouts such as Edgerrin James, Andre Johnson, Clinton Portis, Jeremy Shockey, Reggie Wayne and fellow 2020 inductee Phillip Buchanon are among that group. So are baseball stars Pat Burrell and Bobby Hill, as well as women's basketball All-American, Octavia Blue.
"When I came to Miami, I had no idea how it would go, but I worked my butt off, I know that. I never thought, in a million years, coming from Baltimore—where I came from in the inner city and some of the struggles that I had—that I would be in anybody's hall of fame."
As soon as he got the word he was in the Hall, Hemsley reached out to many of his friends already in the elite group.
"Edgerrin is going to the Hall of Fame in the NFL this year and he hit me right back and he said, 'Yo, if I can make it [to your induction], I'll come,'" Hemsley said. "That meant the world to me."
Having worked for the UMSHoF for 16 years and served in his current role for the past 11, few can better explain what it means to be selected to join names like Michael Irvin, Ray Lewis, Greg Louganis and Lauryn Williams in the Hall than Routh.
"Well, they're the elite of some of the greatest athletes to ever wear the orange, green and white. When you think about it … with the addition of this class, there are 291 student-athletes who have been inducted," he said. "So, you think of the thousands and thousands of athletes [who have played here]. Currently, this year, the University has approximately 400 student-athletes. So, of the 400 current student-athletes, maybe seven or eight will be inducted into the Hall of Fame. So, it really is the best of the best. It's a special place."
Unfortunately for Hemsley, Buchanon and the rest of the 2020 class—which also features Yasmani Grandal and five others—will have to wait for an official induction into the UMSHoF.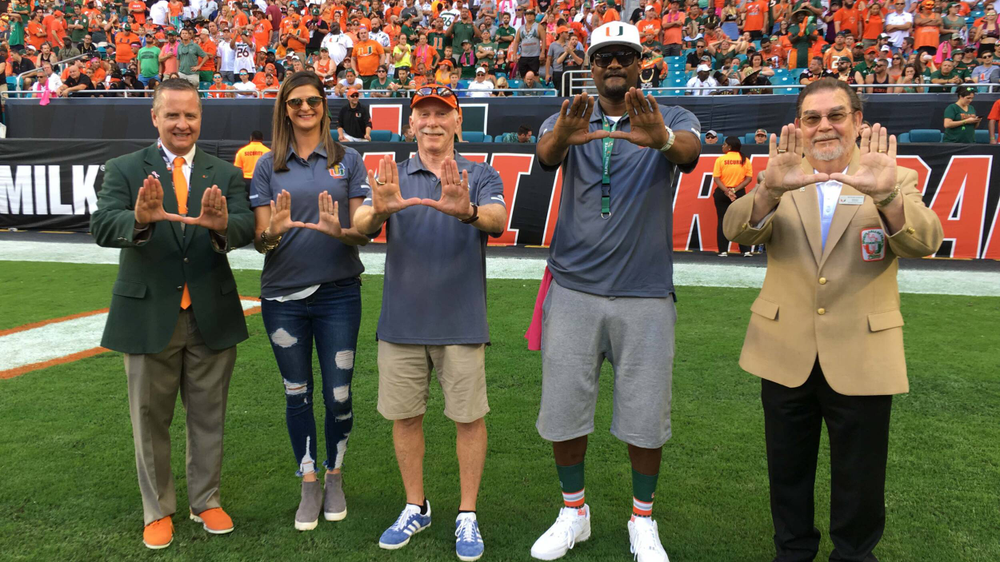 The annual banquet was initially scheduled for April 2, but was postponed due to the COVID-19 pandemic.
While understandably disappointed he will not enter the Hall when initially planned, as well as that his family and friends had to cancel their travel reservations, Hemsley knows this is "bigger than the yellow jacket" and the decision needed to be made.
"It's not in my control, it's not in their control, it's just something that had to be done in order to protect the safety and the well-being of everybody," Hemsley shared. "It hurt and it was a bummer, but it was the right thing to do.
Routh and the rest of the UMSHoF administrators are trying to juggle many moving pieces in rescheduling the banquet. An important point is that it is not canceled, but rather postponed; the banquet will happen.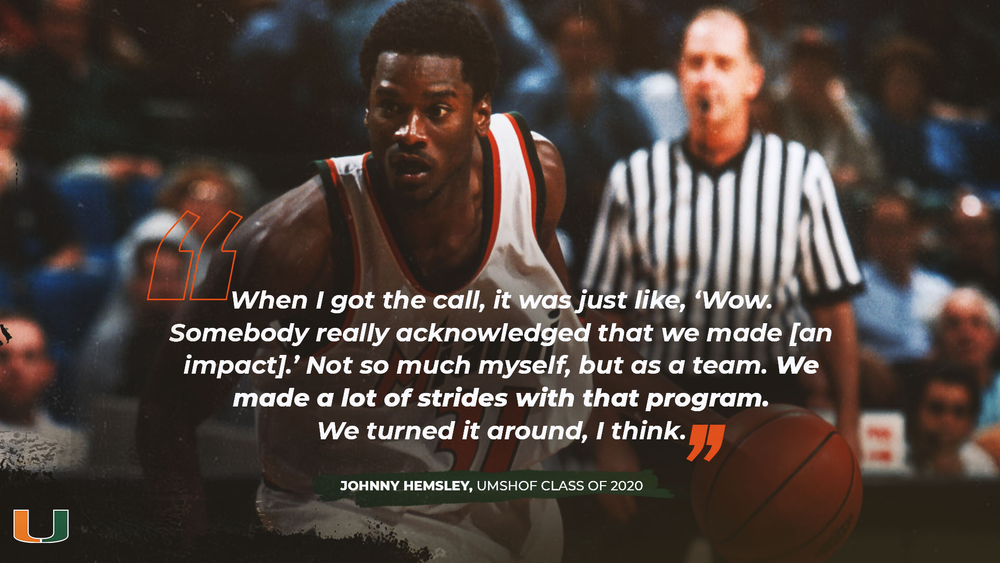 At this stage, decisions on a class of 2021 have been put on hold until the class of 2020 can be officially inducted. It just, of course, remains to be seen when that will be.
"To have a banquet where we would hope to have 250 to 400 people attend, it's just not feasible right now, both because of the pandemic and also because of the rules that local governments have set up. So, we're just waiting to see," Routh said. "We postponed it … until sometime in the spring. We're working with the facility to look at dates already in hopes that we can announce a date sometime this fall once, hopefully, we all get through this and get to a new normal, so to speak. We're like anybody else, we're just plugging along day by day and hoping that we can work it out."
Although it remains to be seen when the banquet can happen, Hemsley will be ready whenever it may be.
In fact, he has already picked out his suit for the evening. That is, until he replaces the top half that night with a sports coat only a few hundred others possess.
"Just something about that yellow jacket, it really means something because of all the things I went through at the University of Miami, good and bad," Hemsley said. "…That yellow jacket going on my back is just a culmination of people appreciating what I've done and all the success that we had as a team, as a program and as a whole."