MIAMI GARDENS, Fla. – Between the lines, the game will be exactly the same.
Quarterbacks will try to get the ball into the hands of their playmakers. Defenders will try to make crucial stops. Touchdowns will be celebrated. Big hits will be cheered.
But when the Hurricanes take the field Thursday night for the opening game of what is expected to be a most unusual season, things will look markedly different from openers past.
When they arrive at Hard Rock Stadium, they won't see thousands of fans tailgating before kickoff. They won't have the Band of the Hour playing the Miami fight song for them. Their fellow students won't be cheering in the stands. And while there will be fans scattered throughout the stadium, it will be a much smaller crowd than the ones they're used to seeing.
Even the sidelines will be different, with the faces of their coaches and teammates hidden behind masks, while chairs – not benches – will be where they sit to catch their breath.
Playing a football game in the age of coronavirus will be unlike anything the Hurricanes have ever experienced. For their fans, the experience of attending a game will be different, too.
But all of the changes players and fans will experience Thursday were made with one common goal in mind: to keep everyone as safe as possible and help prevent the spread of COVID-19.
"The world has changed and it's just a different approach to how we do everything," said Jennifer Strawley, Miami's Deputy Director of Athletics, Chief Operating Officer and the administrator who oversees the football program. "The most important piece in all of this is that we find a safe way for our student-athletes, coaches, staff and fans to have some normalcy and have a football game."
Across Miami's athletic department – and the University itself – thousands of hours of work have gone into helping the Hurricanes prepare for Thursday night's game against UAB.
On the Greentree Practice Field and in the Carol Soffer Indoor Practice Facility, coach Manny Diaz and his staff have put together a game plan for the Blazers. In the Hecht Athletic Center, in the Ashe Administration Building on UM's campus, at Miami's medical school and at Hard Rock, administrators, health experts and doctors have come up with a different kind of game plan.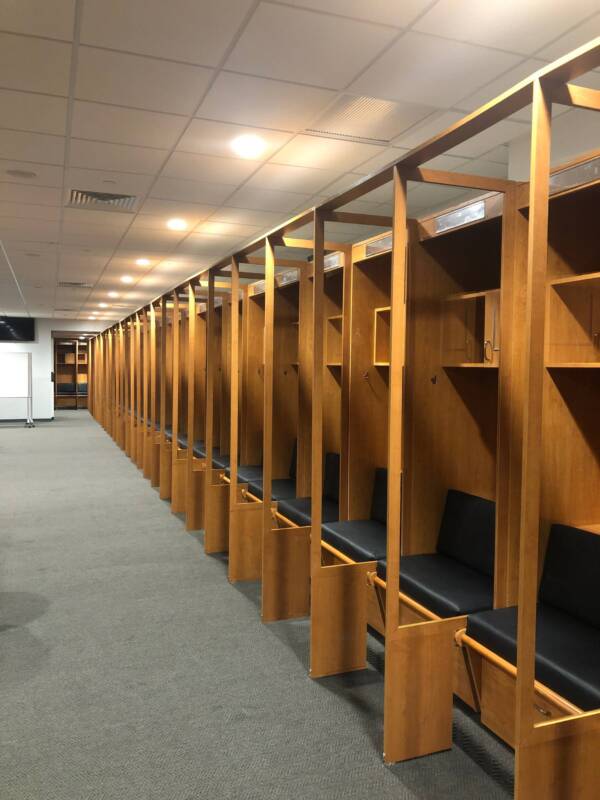 Tim Wise, UM's Senior Associate Athletic Director for Facilities and Event Operations has had near-daily conversations in recent weeks with the operations staff at Hard Rock Stadium to discuss everything from socially-distanced seating for fans to plexiglass locker room partitions for players, both in Miami's locker room and in the visitor's locker room.
And as the Hurricanes' opener inches closer, Wise says he is confident Miami's partnership with the Dolphins and Hard Rock Stadium will be an asset as the Hurricanes look to keep their players and fans safe, especially given that the stadium in July became the first NFL stadium to earn GBAC STAR facility accreditation from the Global Biorisk Advisory Council.
That certification is awarded only to facilities that have been validated by a third party as undertaking thorough cleaning, disinfection, and infection prevention strategies.
Among some of the protocols fans will notice at Hard Rock this season are new magnetometers at the entrance gates that will allow fans to keep more items in their pockets while still screening for weapons; mobile tickets that will allow for touchless entry; belts on empty seats to assist with social distancing; touchless sinks and toilets in restrooms; lots of hand sanitizing stations throughout the concourses; touchless concession stand options and dozens of guest services ambassadors to help direct traffic and maintain safety protocols like mask wearing.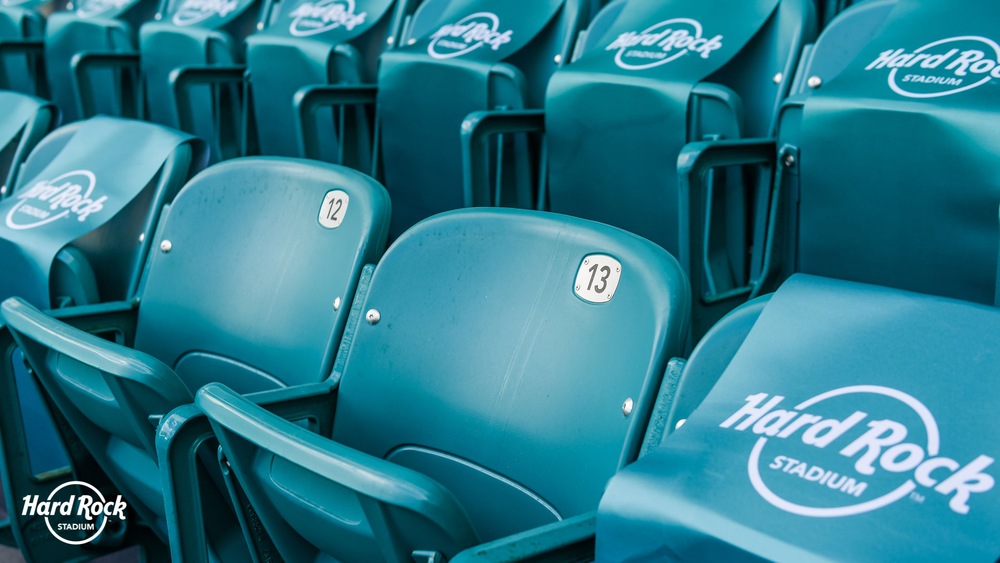 "Fans are going to definitely see just a dramatic difference from what they experienced last season at Hard Rock Stadium, but obviously, I think all the hard work and effort that's going on is for the betterment and safety of all the fans that are coming to the stadium," Wise said.
He continued, "Feeling safe and secure in that environment is important to everyone. So, having that relationship with Hard Rock Stadium and the Dolphins has been great. … When teams began to talk about whether or not they were going to have fans or not, the Dolphins were always on the forefront of that conversation. They were trying to be out front with these issues, to make sure they addressed the sanitation and how you manage all these new safety parameters that you have to go through. I just applaud them for their hard work and their effort over the last five months of being on the front lines and being leaders in terms of not only working with us, but working with local county government, work with the state of Florida to be able to provide an opportunity for our teams to compete and for our fans to be able to be there."
The Hurricanes and their opponents will experience their own set of changes this year as well, most notably of course, the increased COVID testing they will have to undergo every week before competing.
Per ACC competition protocols this season, student-athletes will be tested three times per week ahead of a game, with one test being performed by an outside entity the day before competition.
That means the Hurricanes could learn hours before kickoff if any of their players are unavailable for that day's game. That's why Diaz and his staff have stressed the need for Miami's players to not only be cautious when off the field and in the community, but why they need to be ready to play more than one position on the field, if it's needed.
Once games actually begin, the Hurricanes will stand on a sideline that now stretches from one 15-yard-line to the other, a change approved by the NCAA to allow for social distancing in the bench area. Individual cups and water bottles will replace shared hydration stations and there will be far fewer guests and staff on the sidelines than ever before.
Even post-game media sessions will be different, with in-person press conferences replaced by video chats that will allow coaches and players to meet with media virtually.
The staff in Miami's equipment room has also been doing its part to keep players healthy.
Each individual player has had the option to choose whether they wanted to add a protective visor or splash guard to their helmets. And while Associate Director of Equipment Sam Nichols and Associate Athletic Director for Internal Operations David Case have always prided themselves on making sure uniforms and equipment are properly sanitized to help prevent the spread of MRSA or staph infections, coronavirus has meant additional treatment for pads and other equipment in Miami's ozone machine.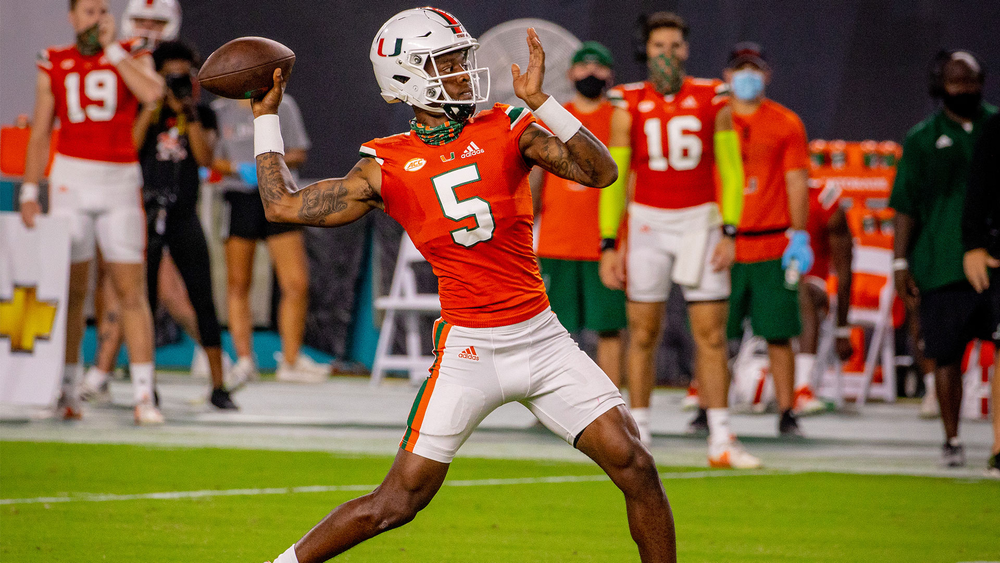 Additionally, the Hurricanes' locker room on campus undergoes regular sanitizing. Still even with the extra precautions, Miami's equipment room staffers say they've tried to make sure things feel familiar and comfortable for players.
"We're creatures of habit, right? They're used to everything being a certain way," Nichols said. "I think they've done a good job handling all the changes we've made here in the facility on a day-to-day basis."
While Thursday's opener will be the Hurricanes' first official game amidst a pandemic, for weeks, players practiced while adhering to all of Miami and the ACC's new safety protocols.
They also got a small taste of how different game day might feel when they held their third scrimmage of preseason camp on Friday night at Hard Rock Stadium.
In that scrimmage –designed as a mock game with Miami facing an opponent – quarterback D'Eriq King led the offense on a series of scoring drives, defenders Quincy Roche and Jaelan Phillips led a fierce pass rush and every player experienced what it felt like to wear a mask on the sideline between plays, how it felt to move in the expanded bench area and they got a look at how different their home stadium will look for at least the foreseeable future.
It will be different, no doubt. But, it will be, Miami hopes, as safe an experience as possible thanks to the efforts of so many across the University community who want to see the Hurricanes play.
"I can't even put into words how much having President [Julio] Frenk's leadership and steady hand has meant during this unprecedented time to help guide us.  And so many others at UHealth have just been unbelievable.  They have rolled up their sleeves and said, 'How can we help guide athletics during this time?' These doctors and administrators have their own full time jobs, plus they're working with campus on all our needs for classes and students, but they've been phenomenal resources for us," Strawley said. "Our guys have earned the right to play. They've done everything we've asked of them. They have made smart decisions. … That's a reflection of how much playing football means to them. Creating a sense of normalcy, for their well-being, for what it means to them as student-athletes and as people, we want to be able to create a safe environment for them to do that."