Borregales, Hedley Aiming for Special Season
It's rare for any football specialist to arrive on campus with sky-high expectations from fans or outsiders.
Even rarer, then, would be any team's field goal kicker and punter both spending time in the limelight.
Though they arrived a year apart, redshirt junior punter Lou Hedley and redshirt senior kicker Jose Borregales entered their careers as Hurricanes with similarly extraordinary anticipation.
For Hedley, it was more about the physical attributes. Fully tattooed from neck down, the 6-foot-4 Hedley arrived to Miami from his hometown of Mandurah, Australia after spending two years at the City College of San Francisco. Hedley ranked No. 26 in FBS in punting in 2019, his first season as a Hurricane.
Borregales, the all-time leading scorer at crosstown FIU, went 3-for-3 on field goals last year against the Hurricanes, including a season-long 53-yard boot. A semifinalist for the 2018 Lou Groza Award honoring the nation's top placekicker, Borregales is expected to stabilize Miami's kicking game for his final year.
The duo was hard at work in South Florida during the quarantine months, with Hedley practicing alongside roommate and longsnapper Clay James and Borregales staying put at his home in Miami.
"I don't think there's a better place to be during quarantine than Miami," Hedley said. "It's hot every day. We'd go for walks, run around…a good healthy spot to stay at. I really love it here."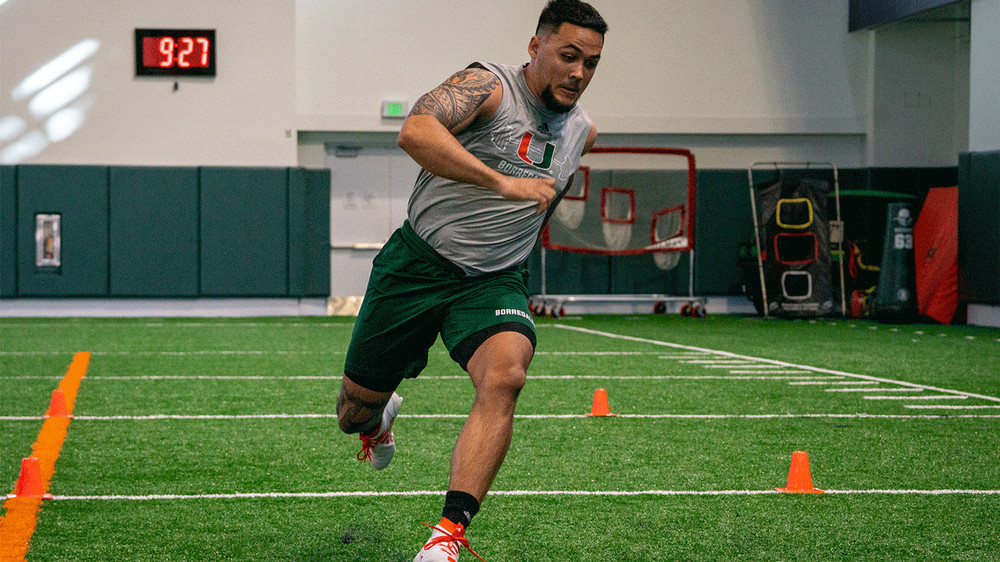 Borregales said the process for practice as a placekicker is not what many might expect, but took full advantage over the summer.
"All you need is five yards of space. You don't really need to hit a ball to be ready for a kick, just doing dry steps," Borregales said. "We ended up buying a net and there's a little patch of grass near my house. We went there and practiced there just to get ball contact."
Hedley averaged 43.9 yards per punt on his 64 punts in 2019 – his first season as an FBS player. He had 16 punts of 50-or-more yards, including a career-long 67-yard punt against Georgia Tech. Miami ranked in the top 30 in net punting last season.
"I think for my first year, it was a very good year. On paper, it was pretty impressive. Going over film, there's little bits I can touch up, and I think if I work on those little things, I can improve a lot, which is exciting," Hedley said. "So far during camp, I've kicked really well and it's the best I've ever felt. I'm just super excited the season is going ahead and I can't wait to get out there."
After spending last summer making headlines on ESPN Australia and setting social media on fire as the first recruit to sign thanks to the Australia time difference, Hedley is excited for Year 2.
"Last season there was a lot of pressure coming in on me. There's a lot of spark when I come with my tattoes and what not. This year I feel like I'm a lot more calm. It's my second camp…I feel way more relaxed coming into the season, and I feel like it's going to show in my punting as well."
Miami's kicking game will also enjoy a boost in 2020. And though Borregales posted a Panthers-record 281 career points during his time at FIU, he says he isn't focused as much on any individual accolades with the Hurricanes.
His track record, however, is eye-popping; Borregales finished with 50 field goals during his career at FIU, including a career-best 15 as a redshirt freshman.
My goal is to win the ACC Championship. I'm not much of an individual guy. I want the team to win instead of just me getting all the accolades. I came here ready to work and help the team win and that's what I'm going to continue doing.

Jose Borregales
Special teams coordinator Jonathan Patke said Borregales has impressed him ever since his arrival on campus in January. Patke was fresh off the practice field, having just watched the redshirt senior drill a 52-yard field goal, before offering glowing praise.
"Adding an older guy who has played a lot of football and kicked at a high level for a long time, going into his fifth year, you have confidence in him," Patke said. "He has all the talent. I'm just amazed to watch the guy to work. He carries himself like a pro, like a veteran. Guys just respect him. Obviously we were looking for that. We needed to add that to this team, and it makes our whole team better."
Now, Hedley can't help but get excited when he thinks about the possibility of fall football, and just how special his unit can be.
"Since we started working during the summer, we've been working, doing private workouts – me, [Jose] and Clay. We've been working really hard," Hedley said. "To come through the fall now and putting it all out there at practice and live reps, and see how good we can be, I'm really excited."
Lou Hedley meets with the media during Miami's fall camp.