Canes Create a Platform for Change
CORAL GABLES, Fla. – Over and over, the same conversations kept happening.
In text messages. In group chats. During virtual meetings. And, as more and more Hurricanes trickled into the football facility for workouts, in person.
After the death of George Floyd in Minnesota and as protests against police brutality spread across the country, it didn't take long for Miami head coach Manny Diaz, his coaches and staff to see that a good number of their players were hurting. Many were angry. Some were confused.
They knew it was important to act.
Across Miami's athletic department, administrators, coaches and staffers worked to support student-athletes as they mourned Floyd's death, kneeling with them during an eight-minute, 46-second socially-distanced moment of silence in the Carol Soffer Indoor Practice Facility. There were extensive opportunities for Black student-athletes to share their thoughts and experiences with teammates and staffers of different races. Painful stories were shared.
But as protests in South Florida wound down and time passed, Diaz and his staff knew their players needed to continue the dialogue that the deaths of George Floyd, Breonna Taylor and Ahmaud Arbery had prompted. To do that, the Hurricanes formed a Social Justice Council that would give players a venue to not only share their thoughts, but give them avenues to make change.
"It's tough. These kids are like our sons. We love them and when they're hurting, we're hurting," said Hurricanes running backs coach Eric Hickson, who is serving as the chair of the Social Justice Council. "When they don't understand something, it's our job as coaches, as mentors, as father-figures when they're away from home, to guide them and lead them and get them to understand these things are happening and we can't be ignorant to it. We can't run from it."
Players, as one might expect, have taken note of the impact the Council can have.
"I think it's good because it's going to allow us to have open and honest conversations about how we feel about certain things and give us the chance to talk to other people who maybe don't understand where we're coming from and also for us to understand where they're coming from," said quarterback D'Eriq King, one of the four Hurricanes football players serving on the Council. "It'll be good because we're going to have a lot of conversations.
"The first step to everything changing is people admitting there's a problem. This movement, what we've seen after George Floyd's death has opened a lot of people's eyes to see there's a problem in this country. That's the first step to everything changing."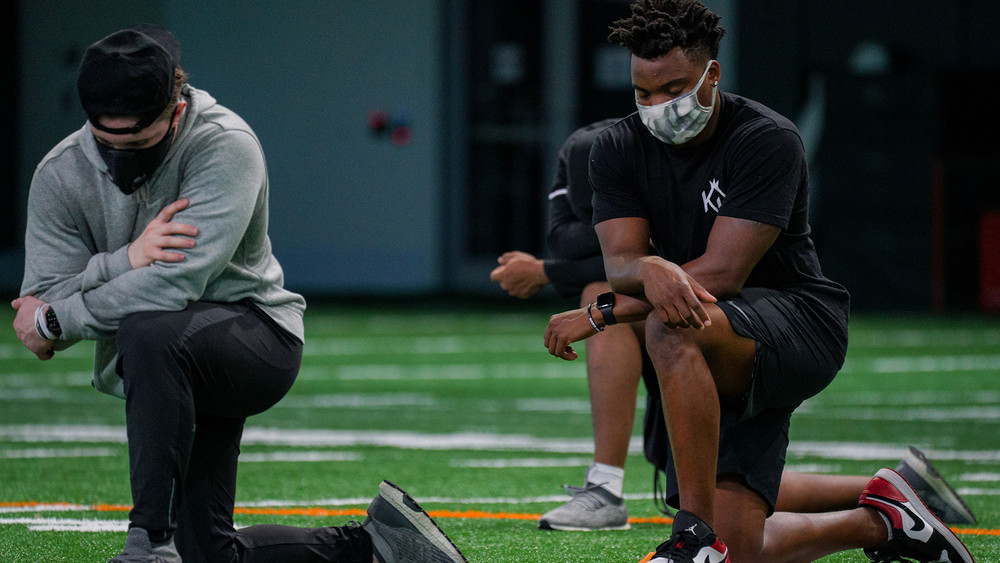 Joining King on the Social Justice Council are defensive tackle Nesta Silvera, offensive lineman Zion Nelson and running back Donald Chaney, Jr. Meanwhile, defensive end Greg Rousseau and safety Amari Carter will serve as advisors to the Council, while defensive linemen Jonathan Ford and Jaelan Phillips, offensive linemen D.J. Scaife and Navaughn Donaldson, cornerback DJ Ivey, running back Robert Burns and wide receiver Elias Lugo-Fagundo will serve on the Council's student-athlete committee.
Another priority for the newly formed Council was making sure every part of Miami's football program was represented, so Diaz sought to fill the the group with staffers and administrators from across both the football facility and the athletic department.
Along with Hickson, graduate assistant Benedick Hyppolite, senior quality control analyst Telly Lockette, assistant strength and conditioning coach Jordan Barber and assistant recruiting director Edwin Pata volunteered to serve on the Council, which also includes senior associate athletic director Renae Myles Payne and assistant athletic director/director of football academics Demetreus Darden. The group will work with Chris Clarke, the University's Director of Multicultural Student Affairs.
"I wanted to build it in a way where the Council was representative of all the different aspects in our program. We've got an on-field coach, a quality control coach, a graduate assistant coach, a member of the recruiting department, a member of the academic department, a member of the strength staff," said Diaz, who noted the response from his staff was "overwhelming" when he called for volunteers to serve on the Council.
He continued, "It was also very important that there were two roles that were not in any way, shape or form related to football. That's where having Renae Myles Payne as the representative of our athletic department [comes in] and having Chris Clarke represent our campus as a whole. There may be issues that are beyond our football program that one of our players may want to talk about or, our players may feel more comfortable opening up with someone who doesn't see them for what they did at practice that day.  … We want this Council to be completely separate from what we do on the field, so I think it was important to have a great cross-section like that and I couldn't be more excited with the people we have."
Making sure that cross-section included players from different position groups and different classes was also key, Hickson noted.
"They have to have a seat at the table. You have to get their point of view. Peers will talk to peers and if there's a problem, that's what Coach Diaz is trying to tackle. We don't want to miss anything," Hickson said. "We want to help our kids in whatever they're going through. We don't want to miss anything. It's important for them to be there because they can understand that they really have a voice. That's the biggest thing, them having a voice, to be able to share their thoughts with the Council and now, we can take actions of what we need to do and how we need to do it and find a way to make things better."
"It's going to allow us to have open and honest conversations about how we feel about certain things and give us the chance to talk to other people who maybe don't understand where we're coming from and also for us to understand where they're coming from..."

Hurricanes quarterback D'Eriq King
While the Council is still in its early stages, earlier this month it carried out one of its first major initiatives: making sure every member of the Hurricanes football team was registered to vote.
Council members helped facilitate the process, hosting a virtual meeting showing Florida residents how to fill out the state's registration form. Then, players were came into the facility to fill out forms which had been printed for them and were later certified and delivered to the proper local election officials.
Out-of-state players, meanwhile, got assistance registering online in their respective home states in a socially-distanced computer lab.
The effort proved successful with 100 percent of Miami's players now registered to vote.
"It was great. One of the steps in making change is voting for who you want in office," King said. "A lot of people might think, 'My vote doesn't count' or this and that, but every vote does count. It's important to register to vote and when it's time to vote, everyone is going to vote as well. I think those are big steps."
Added Pata, "I was proud to see our guys get the bigger picture, especially our younger, 18-year-old guys. They're starting to realize how important it is. … To see guys come out in droves, after workouts or before an early-morning workout to take their time and do it and make sure it was done right was warming. … These are the guys that are going to change the world, the guys who want to do more, want to be involved more. It was encouraging to see our guys are getting the bigger picture."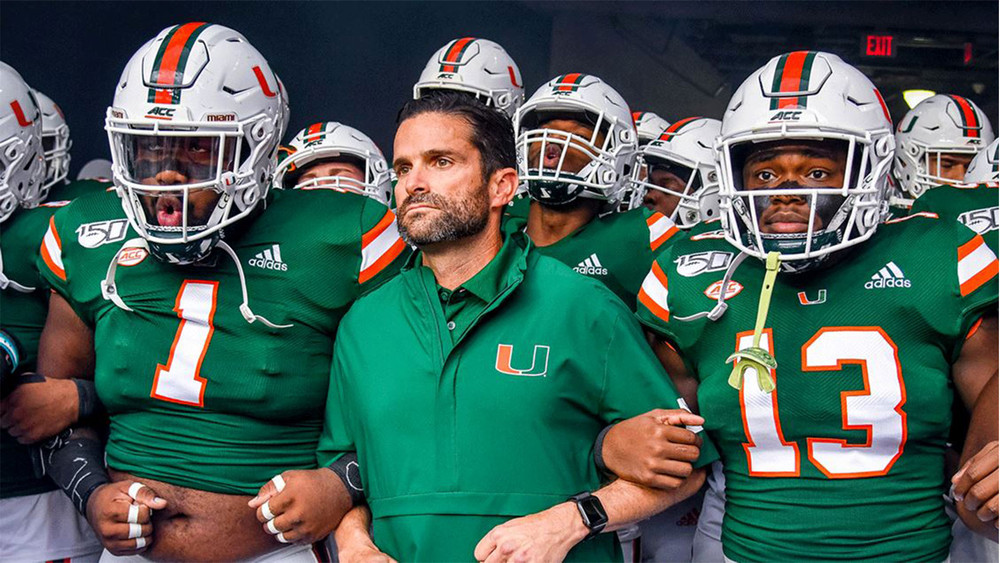 While the Council is working on other social justice initiatives for the coming weeks and months, Pata and Diaz both stressed that one of their major priorities is making sure the Hurricanes continue to feel comfortable speaking their minds on issues that matter.
They want their players to know they'll be supported, no matter what may be happening in the community and world at large. And they want to make sure it's understood, especially off Miami's campus, that their players are more than just talented athletes.
"This is important for all of college athletics. Sometimes, I think, people get lost in thinking these kids are just athletes. No, this is something they do. This is a talent they have. It's not the majority of who they are," Pata said. "These kids are sons. They're young uncles or young dads and they're all of that before anything else. Football is part of it and sometimes, the kids feel like that's forgotten and they're just seen as athletes when they are so much more as human beings, as good people, as leaders, as people what can make a significant impact in the world. … When kids start to feel that way, when they see they are more than that, you really start to see them blossom and develop their skillsets of leadership and who they are as men."
Added Diaz, "Many people can create a response in the first days after the tragedy in Minneapolis, but that can be as far as it goes. It's so important to me for our program to create long-lasting programs that will have an impact on our players this year and in years to come. That's really where the Council was born. … And I want our players to know their voices are heard. That there's someone that can hear their concerns and help bring about an idea that can turn into something proactive that can make our team better, our program better, our University and community better. It's easy for everyone to be angry in the moment, but for things to get done, things get done when people band together. That's what the Council is about. The Council is about giving a platform that one person who has a thought or an idea or an emotion can band together with others and with the support of our program and the support of their teammates, can really enact some serious change."