The Hardwood to the Sideline
CORAL GABLES, Fla. – Garrius Adams needed to figure out what was next.
After one year in Belgium and one in France, the former University of Miami standout was on his third season as a professional basketball player abroad.
Despite averaging just under 10 points per game for K.B. Bashkimi Prizren in Serbia during the 2016-17 campaign, Adams got the sense that it was time to look into jobs off the court.
"I was just kind of at a point where I was playing overseas and trying to navigate what I wanted to do after and I wasn't really sure, and I was going back and forth with some of the coaches at UM now, kind of like seeing what my best options were," Adams explained. "I just happened to know someone . . . and it kind of just led me to this and it wasn't really something too planned out, but it was obviously in a field I love, so I just kind of ran with it."
That field is, once again, basketball.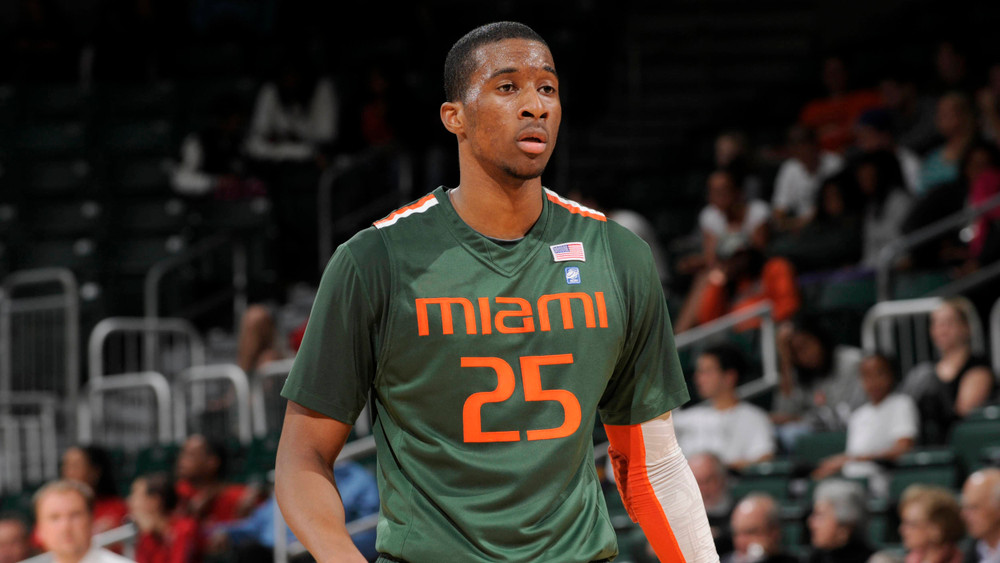 Despite his initial preference to pursue a career off the hardwood after being around the game his whole life, Adams ended up right back on it.
"I kind of wanted to do something away from it once I stopped playing, but you find out that when it's something you love, it just kind of draws you to it," Adams said. "All the people that you know are involved in it somehow, so I would ask people for connections to business-type things and everything was leading back to basketball."
Although he took several Skype interviews throughout his final season in Europe, Adams returned home to Apex, N.C., without a job, something he now looks back on with a laugh after the way things eventually worked out.
After spending some time coaching AAU basketball and developing an interest in teaching the game, Adams decided to move once again, this time to Los Angeles. While he had no specific job in mind when he went west, Adams felt there would be more opportunities there.
His intuition proved right, in part because of a prime suggestion delivered to him by Jim Larrañaga, his coach at Miami for the last three of his five years there.
"My main piece of advice to him is the same that I give to all the players, in that the most important thing is networking," Larrañaga said. "Make as many friends as you can, learn as much as you can along the way from everybody you can learn from."
Adams did just that dating back to college and, after working various basketball-related jobs for a year in the Golden State, he caught quite the break, in part due to someone he met in Coral Gables.
That break was a coaching associate position with the Los Angeles Lakers, who hired him August 2018, just one month after signing LeBron James.
"My connection that helped me get the Lakers job was Miles Simon. He is the assistant coach for the Lakers now," Adams said. "He would come and work out Chris Bosh during the summers [when] he was on the Heat. Chris would work out with us [at UM] during the summer, lifting and playing pick-up. Most people don't know that. I connected with Miles then and reconnected almost five years later. He's been a big factor helping me get my foot in the door and teaching me things along the way."
Adams described his role with Los Angeles as "intern-like," but he got considerable hands-on experience in the NBA at a young age. His duties included player development work on the court and aiding with video scouting.
"It wasn't really something too planned out, but it was obviously in a field I love, so I just kind of ran with it."
Following the season, the Lakers dismissed Luke Walton as head coach and made changes to their lineup of assistants, but did not have enough replacements yet to complete their staff for the 2019 NBA Summer League.
Adams was then presented with not only an incredible opportunity for July, but one that helped him land his next job.
"They asked me and another coaching associate to kind of step in the role of assistant coaches. So, I did that for a summer, which was a great experience," Adams said. "[That was] my first time actually putting together scouting reports, talking and giving teaching pointers in video scouting reports and all that stuff for the team before the games and . . . sitting on the bench. That was one of the best things I've done so far.
"And then, out there, I met a lot of people from the Hornets," Adams continued. "Obviously, being from Raleigh, Charlotte's not that far and I just kind of made some connections and just [dotted] some I's and the position ended up being open. I kind of just talked to a few people and ended up getting it."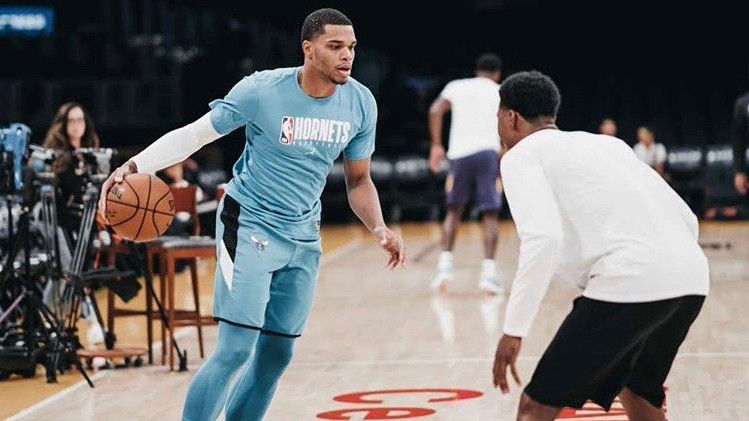 Adams working with Miles Bridges, a 2018 NBA lottery pick
That position is an assistant video coordinator, one of just two employed by the Hornets. With only 30 teams in the NBA and limited opportunities available, any spot in the NBA is a special one.
However, for Adams, who already spent time with one organization he loves, the chance to work for his home-state franchise, only about 150 miles from where he grew up makes it even more rewarding.
"If I had to take a pick to work for any team in the NBA, it would be Charlotte and the Lakers, and I ended up working for both. So, Charlotte's obviously special because it's so close to home and it's a team that I've always seen on TV growing up," Adams said. "Even though they changed names a couple times and they left for a little bit and came back, even that, it's still special. The only NBA game I ever went to growing up was a Charlotte Hornets game, so it definitely means a lot. Not only to me, but my family, as well."
While some in the coaching world bounce around quite a bit, Adams is looking forward to entering his second year with Charlotte and is enjoying his time with the Hornets.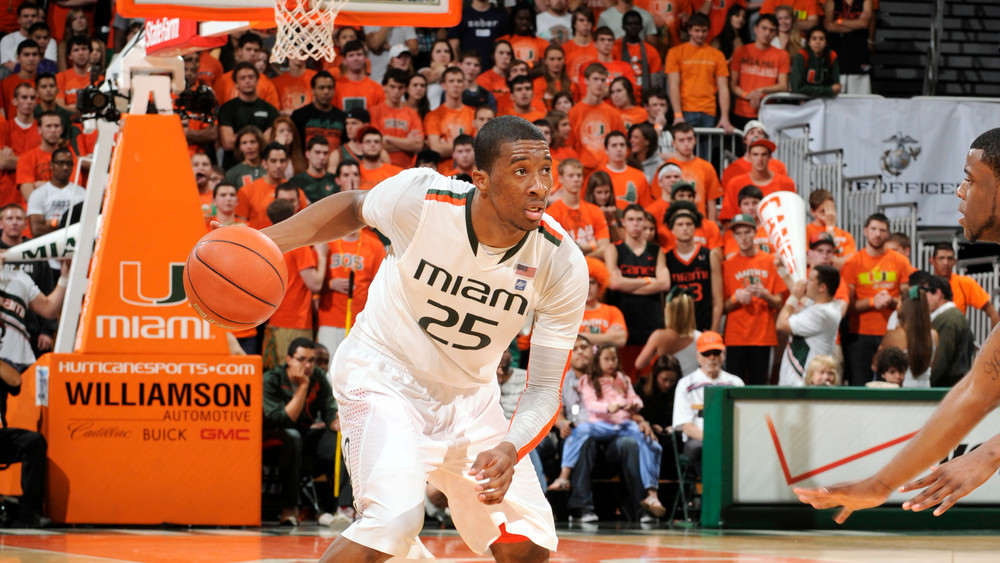 Larrañaga, who has worked at just six schools in 48 years as a college coach, sees his former player as someone who could benefit and excel by staying with the same franchise.
"I think personality has an awful lot to do with the direction your career goes in. There are some guys that are very, very aggressive and constantly looking to move," Larrañaga explained. "They're really never satisfied with the position that they have; they're very, very ambitious. I think there are other guys who fit in so well in the team concept and I think that's where Garrius is. He probably will have greater success in just moving up the ladder within one organization than [he would] to bounce from job to job, different cities and different places."
No matter what job, city or place it ends up being, Adams knows he wants continuing pursuing his new career. He is open to a transition to the college ranks, but as of now, his plan is to stay at the NBA level.
As much as he likes scouting reports and player development, his favorite part of working at the highest level of professional basketball is road trips because of the relationship-building opportunities they present.
"If I had to take a pick to work for any team in the NBA, it would be Charlotte and the Lakers, and I ended up working for both."
Adams goes to about 70 percent of the team's road games and it is then that he gets the chance to form bonds and connect with people, just as he learned from his college coach.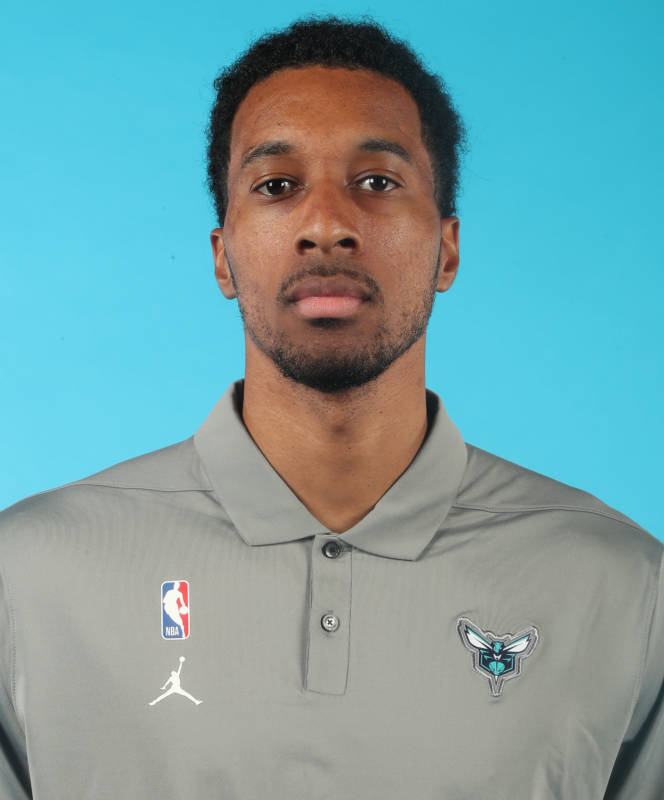 "I get a different appreciation for what the players go through, I get to talk to them more," Adams said of traveling with the team. "I get to talk to the coaches more on the road and . . . go to dinners and be able to kind of just talk basketball and kind of like step away from the actual job just for a second, and I really appreciate those times."
Although Adams did not know during his time at Miami that he wanted to be a coach, some of his success in his new industry can be traced back to what he learned his days as a Hurricane. The 2012-13 season was of particular importance to Adams' growth, as he spent that one on the sidelines, albeit in a different capacity.
As his team turned in arguably the best season in program history, sweeping the ACC titles, reaching a No. 2 national ranking and advancing to the NCAA Sweet 16, Adams redshirted due to an offseason knee injury.
While his name may not appear in any box scores from that year, there is no doubt Adams helped Miami achieve those impressive feats.
"I think the thing I learned the most was, obviously, to be patient, but I think a big takeaway from that whole year was finding ways to help the team in different ways," Adams said. "I was usually designated as the best player on the scout team and [in our] practice. So, just not taking any practices off and in that sense, to really try to give a game-like look to what our opponent runs and how the best player plays.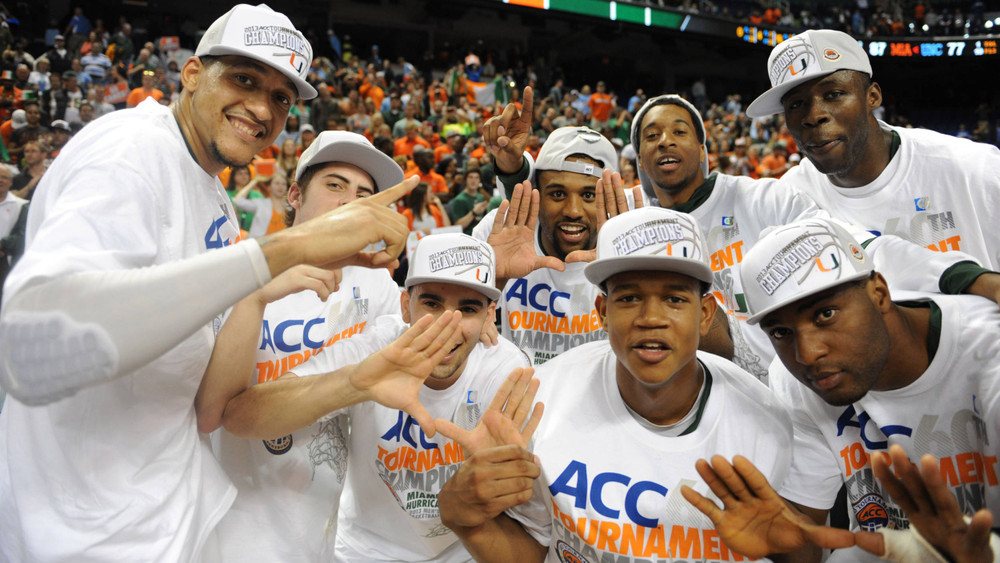 "I also used to talk a lot on the bench during games. There's even a couple games where my roommate, Durand Scott, and I would just be talking throughout the game," Adams continued. "So, in all, I had to learn how to play many roles. I also owe a lot of that to Coach L. I [don't know] how the rules are now, but at that time, most redshirt players [did not] travel, but Coach L knew with me being a senior that year, it would be valuable for me to always be there. So, he gave me that opportunity to be heavily involved and I always appreciated that."
While sitting on the bench, Adams helped lead his team to incredible heights. He then followed that up with a superb redshirt senior campaign in which he averaged 10.2 points and 4.8 rebounds per game.
To this day, Adams continues to stay in touch with his former Miami coaches, specifically Larrañaga, Chris Caputo and Adam Fisher, all of whom he spoke to prior to accepting his job with Los Angeles and then again before doing so with Charlotte.
"Before the Lakers job, I talked to Coach L for a long time and he gave me some very good words of advice to continue and to take that job. And I was also after him about coaching in general, like how did he get into it, would this be a good fit for me," Adams shared. "Also, Caputo gave me really good advice about this Hornets job, as well. So, they've kind of been there every step of the way for me. I'm glad I kind of have them to lean on, as they're still continuing to coach and they can give me a couple pointers here and there, whenever I ask. They're always there for me."
Larrañaga saw multiple attributes in Adams during his playing days in the orange and green that he thinks could make his former player a successful coach.
"I think the thing I learned the most was, obviously, to be patient, but I think a big takeaway from that whole year was finding ways to help the team in different ways."
One of those was the way Adams had to face so many challenges as a player, from his injury, to his redshirt year to his time as a reserve after previously serving as a starter. Another, though, is simply the type of player Adams was.
"He played the one, the two, the three and, I think, even the four at times. When you're a player and you have a lot of knowledge about different skill positions, I think that converts very, very well into coaching because you can really identify and relate to all the various players and the struggles that they go through," Larrañaga said.
"What's it like for a point guard when you're throwing really good passes, but guys are missing the shots and you're not getting the assists, the frustration that goes along with that? Or a shooter who can't make a shot, goes through a shooting slump? When you've been in that position before, you can really relate to those guys . . . All of your personal experiences play a major role in how you would deal with it if you're now on the other side of the equation, being the coach."
Adams' college coaches certainly played a role in getting him where he is now, but other aspects of his time at Miami did so, as well.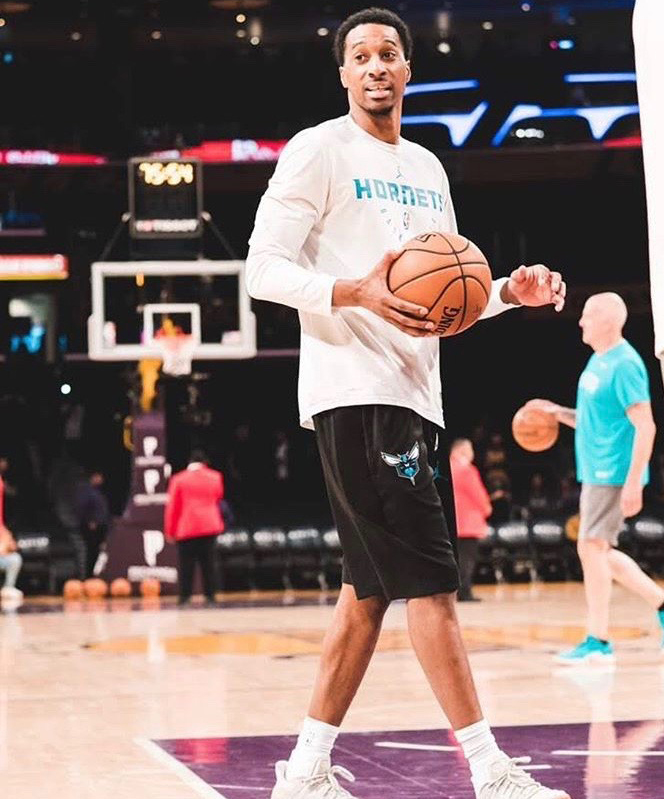 "I was surrounded by a lot good people. I had a lot of great teammates. If it wasn't for my teammates, I don't think I would have had as much fun or learned as much as I did at Miami. So, shout-out to all my teammates, for sure," Adams said. "And then second, I think just Miami in general is a very diverse city. So, [I had] to be able to adapt to different things; I think that helped me a lot because I had to learn how to fit into different places. Me and my buddy who works for the Warriors, we always joke around about how when you're in different places, you have to wear different hats."
After an unexpected path that led him back to his home state working in the game he loves, the hat Adams wears now is that of the Charlotte Hornets. Not just as a fan, but as member of its coaching staff.