From Coral Gables to Canton
Darrin Smith wasn't quite sure what to expect when he saw his head coach approaching.
They were on the practice field, one of the places where Jimmy Johnson expected nothing less than perfection and Smith, a linebacker trying to stay in his coach's good graces, was worried.
Finally, the occasionally gruff, always exacting coach spoke – and the unexpected happened.
"He knew my mom and dad were originally from the Bahamas and he just came up to me and started talking about that," recalled Smith, who won two national championships with the Hurricanes before winning a pair of Super Bowls with the Dallas Cowboys. "He was really interested in me and my family. You expect football coaches to focus on football, talk about football and want to tell you what you can do better. But he was talking to me about family."
Their conversation ended in the most Jimmy Johnson way possible.
"He even said, 'I love to fish. I might go fish in the Bahamas. If you have family there that can help me out, let me know,'" Smith laughed. "That was one side of him. He could be tough, but I think he really tried to get to know his players."
Spend enough time chatting with Johnson's former players – at the University of Miami and later in the NFL – and there will be dozens, if not hundreds of similar, smile-inducing stories about the coach who is set to soon be inducted into the Pro Football Hall of Fame.
Russell Maryland chuckles when he recalls how Johnson would good-naturedly tease him as Maryland ran sprints. Bennie Blades can't help but smile when he talks about the time he and his brother were called into Johnson's office after the coach learned the two had brawled before practice. And Michael Irvin, in South Florida before the Super Bowl was played at Hard Rock Stadium earlier this year, emotionally thanked his former coach before the game for always allowing his players to be who they were, regardless of what others expected of them.
"I tell people all the time, when Jimmy Johnson came to Miami, he changed my whole world," Blades said. "It wasn't only as a football player, but as an adult, a young African-American male. He believed in my abilities before I could accept my abilities. … My career took off because he showed me that confidence that I could be the player he needed me to be. I owe it all to him."
It's that confidence, that willingness to stand behind them, support them and believe in them that has endeared Johnson to so many of his former players. Today, those players are reveling nearly as much as the coach himself in his pending Pro Football Hall of Fame induction.
When that induction finally takes place, it will cap an incredible resume of awards and honors for Johnson, who led the Hurricanes to a national title in 1987, helped shape them into one of the powerhouse programs of the 1980s and was recognized as the Walter Camp Coach of the Year in 1986.
And though there will likely be plenty of celebrating in Dallas, where Johnson turned a 1-15 Cowboys team into a two-time Super Bowl winner, there's no doubt that at Miami – the place Johnson says developed him into the NFL coach he'd become – there is plenty of pride, too.
"After he really got the program rolling, it just felt like he gave everybody around the University of Miami such confidence, that we could beat anybody at any time," said Hurricanes coach Manny Diaz, who grew up in Miami as Johnson's teams dominated college football. "Growing up, I remember having a chance to read his first book and I was always a sucker for the behind-the-scenes little tidbits and stories because you remember those games of his at Miami so well.
"To get to meet him today, and hear him talk about some story from some game, some event, some trade that he made in Dallas, his recall is remarkable. You can't help but just learn from his experience. … There are so many great coaches, but I look at Coach Johnson, not just as a great head coach, but an innovator of the game with his style of defense."
Added Smith, who played for Johnson in Dallas after playing for him at Miami, "I felt honored to be a part of his teams. … To actually be a part of two teams, two organizations where I was exposed to him, I saw what great coaching was. I'm so glad for him and so proud."
The love and respect the Hurricanes past and present have for Johnson goes both ways.
More than four decades after he stepped down as Miami's coach to head to the NFL, Johnson is still more than a passive observer of the program he helped put on the national landscape.
He's met with and mentored several of the coaches who've led the Hurricanes since his departure, including Diaz. He's stopped in at more than a few practices to not only watch how current players are doing, but to chat with them about the tradition they are tasked with upholding the moment they put on a helmet emblazoned with that "U."
Every weekend during the season, he and his former defensive coordinator Dave Wannstedt meet for coffee between the taping of their respective shows and discuss the Hurricanes' most recent game.
And Johnson's made South Florida his home, serving as an ambassador of sorts for the Florida Keys, where his restaurant – Jimmy Johnson's Big Chill – welcomes countless fans to Key Largo.
"I don't think it's any secret how much I love the University of Miami," Johnson said. "I coached for 35 years or so, throughout the country, and I don't know of any place I've ever coached or visited where the players and the students … anyone that goes to the University of Miami, especially with the athletic program, has such a love for the University. You look at the players, the great players that have been at Miami that come back and go on the sidelines and [you can see] how much they love their school. Everybody loves their school, don't get me wrong, but there's something special about Miami."
That's not to say Johnson had it easy during his Miami tenure.
When Sam Jankovich offered him the opportunity to coach the Hurricanes, Johnson accepted, without having ever set foot on Miami's campus. And there were more than a few struggles during his first year in Coral Gables, as the Hurricanes navigated an 8-5 season in 1984.
That year, Johnson grappled with tension on his first coaching staff, which featured more than a few assistants who'd been at Miami before his arrival and were hoping they'd have the opportunity to follow in former coach Howard Schnellenberger's footsteps. His new players had questions, too and were, Johnson conceded, a bit defensive early.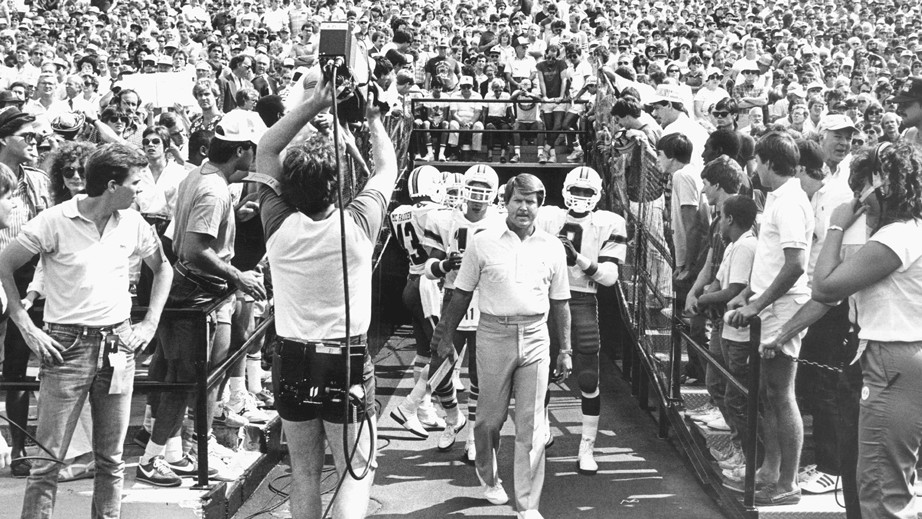 But, those issues were resolved in short order, with the Hurricanes posting a 10-2 record in Johnson's second season, an 11-1 mark his third season, and Miami winning its second national title four years into Johnson's tenure.
During that remarkable run, Johnson filled Miami's roster with a plethora of talented playmakers and the Hurricanes played a competitive schedule against a series of top-10 teams.
The coach says it was then that he learned to trust his instincts, especially when it came to evaluating players. But it was a disappointing showing against Penn State in the infamous 1987 Fiesta Bowl that forced Johnson to take a hard look at how he was approaching the game.
"In some ways, it was a little bit easy the first few years and I probably got a little bit overconfident that third year when we went through and had a chance to win the national championship and didn't do it," Johnson said. "We came up short in the Fiesta Bowl and it was probably the most devastating loss I'd ever had in my career, college or pro.
"It made me step back and realize I've got to take care of the small things. I can't overlook anything. We always have to be aggressive. No lead is safe. That's why people accused me of running up the score on teams, but I was never going to take a chance on losing a ball game. We played hard for 60 minutes in every game, regardless of the opponent, regardless of the score. It made me a better coach. It really prepared me for the NFL."
In the NFL, Johnson eventually posted an 80-64 record in nine seasons. He led the Cowboys to two Super Bowl titles and was recognized in 1990 as the Associated Press Coach of the Year.
"I don't think it's any secret how much I love the University of Miami."

Jimmy Johnson
He became the first of just three coaches to have led a team to both a Super Bowl win and a college national championship, with Barry Switzer and Pete Carroll later joining that elite fraternity.
For years, football fans – and Johnson's former players, too – wondered when he'd finally get the call from Canton.
It came in January when David Baker, the President of the Pro Football Hall of Fame, surprised Johnson and his NFL on Fox co-hosts during halftime of the NFC divisional round playoff game between the Seattle Seahawks and the Green Bay Packers.
The emotional moment left the charismatic and gregarious Johnson in tears. Now, five months later, with his induction ceremony postponed because of the COVID-19 pandemic, that day has become even more special.
"To be honest with you, I've had the moment," said Johnson, who is already a member of the University of Miami Sports Hall of Fame and the College Football Hall of Fame. "Just going into the Pro Football Hall of Fame, that was the moment. Anything else after that is more for the fans and for the people that helped me get to that point. It's really spending time with them and letting them enjoy it. But I've had my moment. My moment came when they said, 'You're in the Pro Football Hall of Fame.'"