Alonso's Journey to the Majors Runs Through The U
Yonder Alonso was woken up in the middle of the night. He was told to bring his baseball bat.
Instead of going to the field, Alonso and his family headed to a plane to fly to Miami.
Alonso was just nine years old and left everything he knew behind. His family defected from Cuba, searching for a life free of oppression and full of opportunity.
"It's something I'll never forget," he said. "I always know where I'm from. I always know the struggle we've been through."
The Alonso family arrived in South Florida with no place to stay, no jobs waiting for them and no knowledge of the English language. His father, Luis, worked three jobs and his mother, Damarys, had two.
For five years, the family of four lived in a one-room building that used to serve as an office.
While life was hard coming from the oppression of Cuba and starting from nothing in Miami, Alonso always had baseball as a source of happiness.
Baseball has always been in Alonso's blood. His father was a standout player for Industriales, a team widely considered the "New York Yankees" of Cuba's Serie Nacional, and went on to coach for the club after his playing career ended.
When he arrived at Coral Gables High School, the power-hitting infielder started to stand out on a bigger stage. Alonso set single-season school records for average (.530), runs batted in (33) and walks (33) in his senior year. He was named the Miami-Dade Offensive Player of the Year, earning his second all-state selection and his third All-Dade pick.
Garnering the attention of pro scouts, Alonso was picked by the Minnesota Twins in the 16th round of the 2005 Major League Baseball draft. He elected not to sign and instead honored his commitment with the University of Miami.
"I felt like I needed to develop myself as a person and as a student-athlete. Once I went to Miami, it took off for me," Alonso said. "It was the first time I was training every day. It felt like we were taking this craft at a professional level. The way they run things at Miami is five-star."
While most kids could relax after practices and games, Alonso helped his family any way he could, often cleaning office buildings with his dad to help pay rent.
Despite the pressures of helping his family make ends meet and being a student-athlete at Miami, Alonso had a strong first season. He led the team with 10 home runs and 69 RBI, becoming just the second freshman in program history to lead the Canes in home runs and RBI.
Miami reached the College World Series, but Alonso wasn't satisfied.
"I had a goal in mind. My goal was to stand out at Miami and help the team win," he said. "We had a chance to do something special. I always wanted to help our team win. If I can become the best Yonder Alonso, I'm going to give us the best chance to win. For me, it was about making sacrifices, doing extra lifting days, workouts and hitting."
In 2007, Alonso was named an All-American and an All-Atlantic Coast Conference Second Team Selection. His 18 home runs led the ACC while his .376 average and 74 RBI paced Miami.
Alonso went into his junior year on a mission. He wanted to get the Hurricanes back to Omaha.
Becoming one of the best players in the country, Alonso guided Miami to its first ACC Championship.
With the Hurricanes about to start the super regionals, the 6-foot-2, 215-pound slugging first baseman continued to climb draft boards.
Sitting at a TGI Friday's with his family and close friends, Alonso waited for a phone call that would change his life.
On the day before UM opened up the Coral Gables Super Regional, he was selected seventh overall in the 2008 MLB First-Year Player Draft by the Cincinnati Reds.
"It was such an incredible feeling. All the sacrifice, all the stuff I put into it," Alonso said. "I couldn't thank Miami enough for the opportunity they gave me. They gave me a chance to develop my craft and become the player and person [I wanted to grow into]."
For most people, being drafted is a dream come true. For Alonso, it was more than just about baseball.
"He worked hard and made it good. Him and his parents paid all the prices to get here," legendary head coach Jim Morris said. "It's one of those rag to riches stories. He was so proud."
"He worked hard and made it good. Him and his parents paid all the prices to get here,"

Head Coach Jim Morris
Despite the personal success, Alonso was still focused on getting the Hurricanes back to Omaha. He was named a consensus All-American, helping Miami claim its 23rd appearance in the College World Series.
Alonso, once again, led the team in batting average (.370), RBI (72) and home runs (24), posting the second-most home runs hit in a season by a Hurricane.
He wrapped up his time in orange and green with 52 home runs and 215 RBI, which both rank third in program history. Alonso also finished fourth in career walks with 172 and tied for fifth in slugging percentage at a .637 career clip.
"From day one, we just knew we had something very special," said Miami head coach Gino DiMare, who was the hitting coach and recruiting coordinator during Alonso's collegiate career. "Yonder is one of the best hitters in school history. He had an unbelievable career at Miami. He was just a great all-around player."
Just like he did when he was growing up, Alonso put his family before himself. Immediately after he signed his contract with the Reds, he bought his parents new cars and a house.
"That's the American dream. You want to own a house," he said. "They sacrificed everything for me. I just went out and played a game."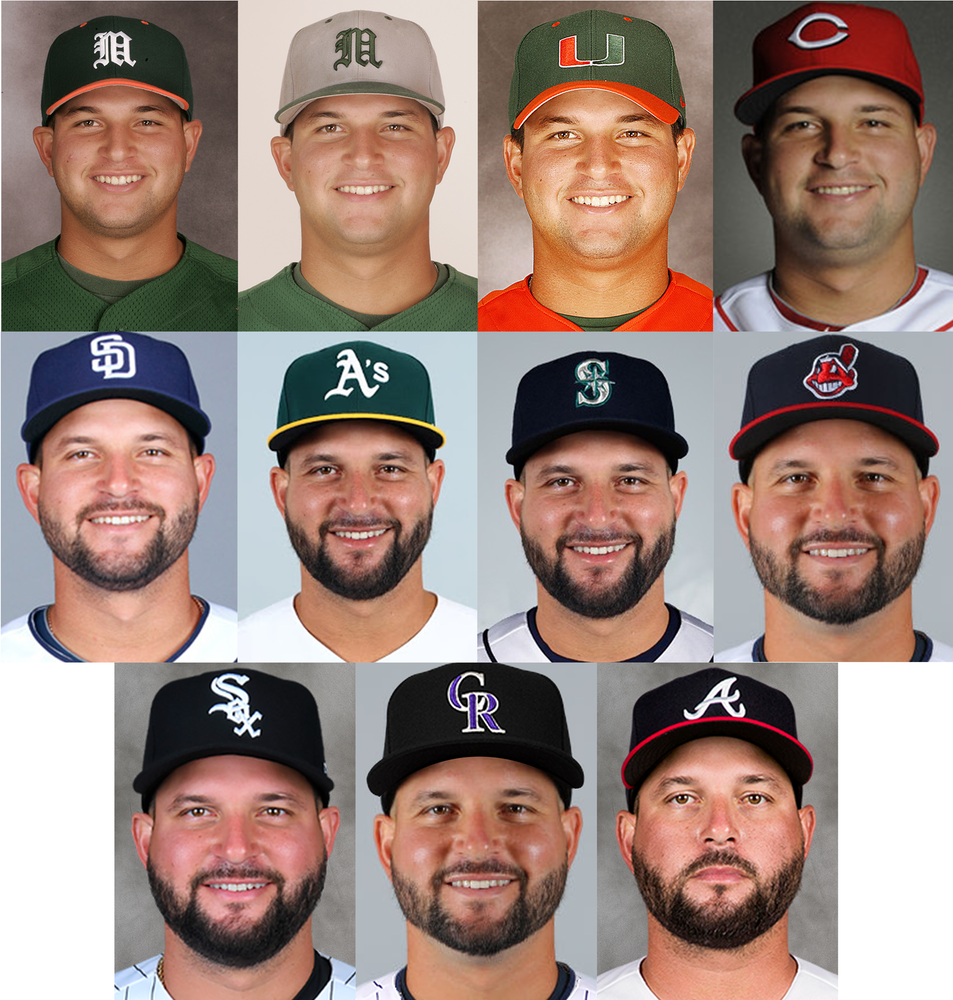 Alonso made his MLB debut on September 1, 2010 for the Cincinnati Reds. 10 years later, he has carved out a remarkable career in the big leagues, playing for seven different organizations.
In 2017, Alonso was named an All-Star, returning to Miami for the weekend festivities. Over his time in the MLB, he has hit 100 career home runs, including a season-best 28 homers in 2017.
Alonso signed a contract with the Atlanta Braves on Feb. 14. With the season on hold due to COVID-19, he is training and eager to play the game that has brought him so much joy in life.
Even after all of these years in the MLB, Alonso credits much of his success to his time at Miami.
"Jim Morris, Gino DiMare and the rest of the guys there did a tremendous job with me to develop my game," he said. "I'm just trying to be the best person and the best player I can be every day."