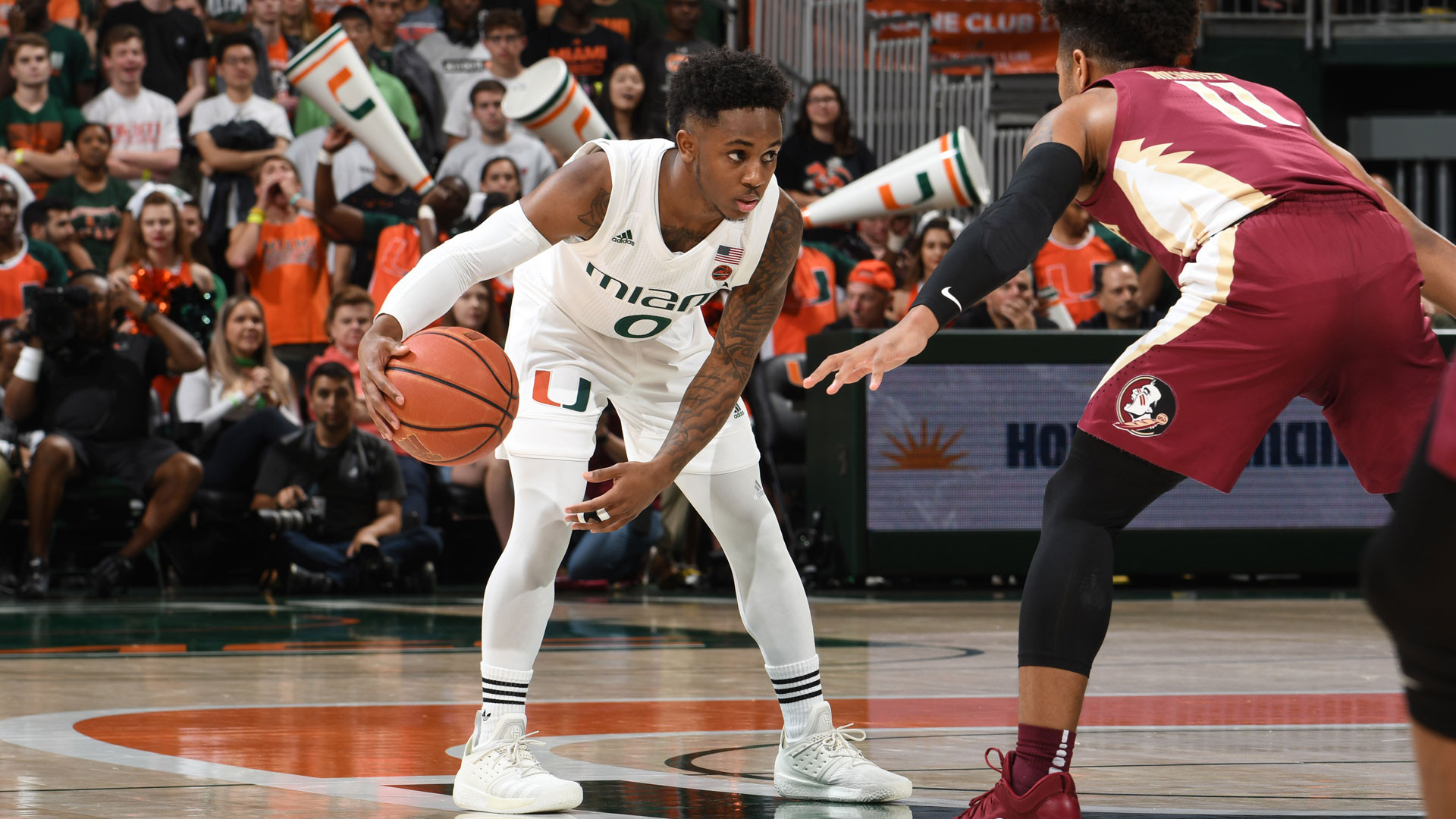 CORAL GABLES, Fla. – The University of Miami men's basketball suffered a 78-66 loss against No. 23 Florida State Sunday night at the Watsco Center.
 
The Hurricanes (9-10, 1-6 ACC) were led in scoring by Zach Johnson (20 points), his third 20-point outing as a Cane. The redshirt senior guard was joined by a trio of teammates in double figures, including redshirt sophomore forward Sam Waardenburg (13 points), junior guard Dejan Vasiljevic (12 points) and senior guard Anthony Lawrence II (11 points).
 
Overall, Miami shot just 23-of-55 (41.8 percent) from the field, while the Seminoles (15-5, 3-4 ACC) posted a 28-of-50 (56.0 percent) shooting performance. Shooting lights out from beyond the arc, FSU finished the night 60 percent (12-of-20) of its 3-point attempts, while Miami finished just 7-of-29 (24.1 percent) from long range.
 
Florida State was led in scoring by M.J. Walker, who finished the night with a game-high 22 points while also converting on 6-of-7 of his attempts from long range. Mfiondu Kabengele followed closely behind with 17 points, while Terance Mann posted a double-double (10 points, 10 rebounds).
 
Trailing 27-18 with 7:53 remaining in the opening frame, the Hurricanes brought the game back within two, following a 7-0 run led by Waardenburg and Vasiljevic. However, FSU countered with an 18-3 run of its own to close out the final 5:54 of action to take a commanding 45-28 lead into the locker room.
 
The Hurricanes will return to the Watsco Center on Wednesday, with a matchup against No. 10 Virginia Tech at 7 p.m. The game will be broadcast live on ESPN2.
Game Notes
• This marked just the third game this year in which Miami did not hold a lead at some point in the second half. The others were at Penn on Dec. 4 and at Syracuse Thursday.
• Miami's 17-point halftime deficit was its largest of the season.
• Sam Waardenburg scored 13 points, high career high in an ACC game. His previous high was 12 vs. Wake Forest (2/7/18). He also was one off his overall career high of 14, set earlier this season at Penn (12/4/18).
• Waardenburg scored in double figures for the first time since the Penn game and the fifth time in his career.
• DJ Vasiljevic hit one 3-pointers and has connected on at least one shot from long range in 32 straight games, the longest current streak among ACC players.
• Vasiljevic's streak is tied with Steven Edwards (1994-95) for the third longest in program history and the 23rd longest in ACC history.
• Vasiljevic moved into the UM career top 10 in 3-pointers made with 170. He tied Kevin Preston (170, 1985-89) for 10th in program history.
• Zach Johnson scored 20 points and has scored 1,604 career points (1,344 at Florida Gulf Coast, 260 at Miami).
Postgame Quotes
Miami Head Coach Jim Larrañaga
Opening statement…
"I thought Florida State played really well from start to finish. They shot the ball from three extremely well. 12 for 20 and 60 percent. That's extremely hard for us to overcome. We had a hard time defending their big guys, [Christ] Koumadje got them off to a great start, then [Mifondu] Kabengele is really tough inside. We tried to help out inside and take away some of the opportunities in the paint, opens it up to the three-point shot. They made and we didn't. We were seven of 29. That was the difference in the game."
On what was off with Chris Lykes…
"I can't explain it right now. He's had two back-to-back games that I think in the Syracuse game, the size bothered him. I think he missed some wide open looks early and I think he got a little discouraged from that."
On what he told the team after…
"I told them, 'hey, you're in the ACC' and asked them 'how many teams in our league have winning records and how many teams have losing records?' Seven have winning records with five being at the top of the league. There are eight teams with losing records, several with just one win. It's a very unforgiving league. If you don't play well, if you don't finish strong, the opponent is very good. This week, we are playing three Top 25 teams. It's possible our next two games are against Top 10 teams."
Florida State Head Coach Leonard Hamilton
Opening statement…
"Obviously our kids shot the ball really well today. I think that made a big difference in the game. Most people who have been playing us lately, I think we have four guys shooting over 30 percent from three. This team is the best shooting team in practice that I've ever had, but we haven't been able to translate that to our game. In the last couple of games we've shot the ball really well. I think that's given us a lot more energy on the defensive end. I thought in the first half, our defense was pretty good. I think we came into this game, Miami had our attention. Jim's doing probably one of the best jobs in the league because he's had obviously some, if you have two big 6'11" kids, you throw that in the system and their whole team becomes different. They have four kids that shoot the ball really well and I thought their schemes and systems are really good. You look at the five games they lost, four of them they were ahead and including our game late in the second half. We knew if we didn't come out and play with a lot of focus and play well, something bad could happen. I thought our energy was a direct reflection of the respect we have for their team. We've been in the same (position). This is the first game we've had everybody healthy the entire year. We're still building, still growing. I think our team has pretty good potential. The good thing about us is that we've found a bit of success while still growing and developing." 
 
On the balance of threes and points in the paint…
"In the last two games that we lost, we shot two for 22 in one game and three for 22 in another from three. So, my point to you is that we didn't get enough paint touches. That's what happens because of the other team. We have to become more consistent. No doubt about it. If we get that right balance of inside and outside, we're going to be pretty tough."
 
On Chris Lykes' off night…
"I think he's a sophomore and kids go through those periods where you lose a couple games and psychologically, it's part of growing and maturing. MJ Walker missed his last 12 shots, but today he shot the ball really well. He's growing and maturing as well. I have five new guys we try and work in our rotation and they're a bit inconsistent. I just think he'll relax and settle down and he'll get back to it because he's really, really good. He is exceptional. You really don't guard him.He might miss some shots, but he such quickness and speed and ability to score and create so many things for his teammates that sometimes when you're young like that, you have a bad game or two and it'll affect you. That's pretty much what he's going through is what our young kids are going through, too."
UM Senior Guard Anthony Lawrence II
On Florida State's size…
"Florida State is a very big team, just like Syracuse. They are one of the biggest teams in the ACC. As you can see they packed in, they packed it in the paint all game. They gave it to their big man [Mfiondu Kabengele]. He got both of our four and our five in foul trouble."
On Chris Lykes…
"Chris, he is going to be good. Teams are game planning for him right now, making everybody else score. So everybody else has to do what they have to do, then Chris can buy his shots and get an easy shot for himself, and get himself going. But right now, as you can see, they were trying to deny him the ball the whole night and off picks they were staying with him. He is going to be good though, he is going to get through this."
 
UM Sophomore Forward Sam Waardenburg
On the team mood…
"Obviously, after a loss, it is not easy to be positive and stuff. I think our recovery from this game is going to be huge. Our guys are always laughing in the locker room. We have got a good energy, especially in practice, everyone is up cheering for each other. Coach also brings a lot of energy for us, every practice for us, which is easy to feed off of. So, yes, we always bring energy into each game."
On if there is a sense of urgency now, with potentially a pair of top-10 teams on the schedule next week…
"No, we are going to do the same thing. Each practice we are going to prepare the same way. Coach always likes things the same."