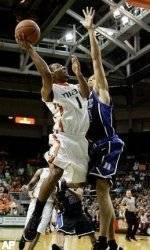 Feb. 20, 2008
Final Stats |  AP Gallery 
  | Postgame Notes & Quotes
CORAL GABLES, Fla. (AP) – Looking to bounce back from their first conference loss, the Duke Blue Devils instead stumbled again.
The Miami Hurricanes beat fifth-ranked Duke for the first time in 45 years Wednesday, scoring 15 consecutive points to build a big lead early in the second half and holding on to win 96-95.
Ranked No. 2 just last week, the Blue Devils (22-3 overall, 10-2 Atlantic Coast Conference) lost for the second time in four days.
"Our team – there's something missing this week," coach Mike Krzyzewski said. "We are not the same team these last two ballgames. It's almost like someone has come in and invaded their bodies."
Miami (18-7, 5-6) beat Duke for the first time since the first game in the series Dec. 21, 1962. The Blue Devils had won all 10 games since.
"I had a feeling," said Jack McClinton, who scored 22 points for the Hurricanes. "Something inside of me felt good about our team. I just felt something great was going to happen."
Miami made six of eight free throws in the final 41 seconds to preserve the upset. Duke's DeMarcus Nelson sank a layup with 2 seconds left to make the score 94-92, but McClinton sank two clinching free throws before Nelson hit a meaningless 3-pointer at the buzzer.
"We're going to turn this thing back around," Nelson said. "We've been too good all year to have whatever it is holding us back as a team. We're definitely going to find out what it is and address it. Our season is not going on a downward spiral."
| | |
| --- | --- |
| | "It's a special win, the atmosphere we had out there was terrific."Coach Haith |
Sophomore Dwayne Collins scored a career-high 26 points to help the Hurricanes win their third ACC game in a row. They beat a top-five team for the first time since a victory at No. 2 Connecticut on Feb. 20, 1999.
"It's a special win," Hurricanes coach Frank Haith said. "The atmosphere we had out there was terrific. But we can't stop. We're still trying to build a resume to make the NCAA tournament. There's no question this helps."
Sophomore Jon Scheyer scored a career-high 27 points for the Blue Devils, who nearly rallied from a 20-point second-half deficit.
The Blue Devils had a season-high turnover total for the second game in a row, losing the ball 23 times. They struggled shooting from the perimeter against Miami's zone, and when Duke tried to force the ball inside, the Hurricanes often tipped it away and repeatedly showed more hustle chasing loose balls.
"We did not play very well," Krzyzewski said. "Obviously they had a lot to do with that."
Miami's Jimmy Graham leaped out of bounds to make one save, hitting a teammate with a pass that bounced between a Duke player's legs.
The Blue Devils also gave up a season-high point total for the second successive game. They missed seven shots and committed four turnovers during the drought, which left them trailing 59-39.
Duke struggled from the start against Miami's zone, failing to score on eight consecutive possessions. The Blue Devils committed eight turnovers in the first 8 minutes, missed seven shots in a row and fell behind 17-11.
Duke twice tied the score later in the half, but the Hurricanes scored on their last four possessions, and Collins' reverse layup in the final seconds put them up 41-36 at halftime.
Collins sank a similar shot to start the second half, drew a foul and made the free throw for an eight-point lead. After Kyle Singler sank a 3-pointer for Duke, the Hurricanes made their 15-point run capped by McClinton's 3-pointer.
Miami maintained a double-digit lead until Scheyer made a 3-pointer to make the score 82-75 with 3:20 left.
Two free throws by Scheyer made it 90-86 with 1:29 to go, and Greg Paulus' layup with 19 seconds left cut the margin to 93-90. But McClinton and teammate Brian Asbury made three free throws each in the final 41 seconds.
"They came back so fast," McClinton said. "We stayed together and stayed positive and never put our head down and kept pushing and came up with the victory."
Asbury scored 15 points and Lance Hurdle 13 for the Hurricanes, who shot 57 percent.
Nelson had 19 points and 10 rebounds but also six turnovers. Singler and Paulus had 12 each, and Lance Thomas scored 10 for Duke.
"We definitely have to regroup," Scheyer said. "It's not about Xs and Os for us. It's about playing with heart. It's one thing if you lose and you put everything on the line, but it's another thing if you lose and you play passive and turn the ball over like crazy."