University of Miami Athletics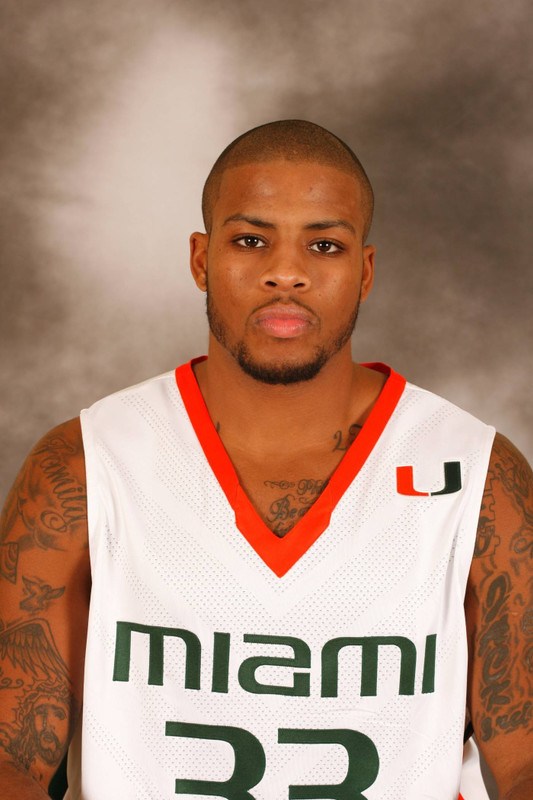 As a Junior (2007-08)
The first men's basketball player in Miami history to earn All-ACC First Team honors… The only ACC First Team pick to also earn 2008 All-ACC Academic Team accolades… Named the ACC's co-Most Valuable Player of the Year by CollegeInsider.com… Selected team's Most Valuable Player at year-end banquet… Posted an ACC-leading 91.9 percent free-throw percentage, which ranked third in the nation and is also the third-highest percentage in ACC history… Also led the league with 2.9 three-point field goals per game (44th in the nation), while ranking second with 42.7 percent three-point field goal accuracy (29th in the nation) and fourth in the ACC with a team-high 17.7 points per game (80th in the nation)… Also fourth in the ACC with an 18.8-point average in league contests… Scored in double figures in 28-of-32 games last season, including 11 20-plus point scoring efforts and three of at least 30 points… Scored a career-high 38 points in Miami's NCAA Tournament win over St. Mary's (3/21) — which ranked as the second-highest individual offensive output of the entire tournament… With 1,085 points in just two seasons with the Hurricanes, he is 24th among career scorers…. Hit the 1,000-point plateau with a 22-point performance in the regular-season finale at Florida State (3/8)… Carrying a streak of 37-straight free throws into next season, after finishing junior season as Miami's career leader with a 90.8 free throw percentage, while ranking second in the ACC in that category… Also the Hurricanes' single-season leader in three-point field goals made (94 in 2008) and free throw percentage (91.9 in 2008)… Fourth in UM history with 185 career three-pointers, hitting them at a Miami-best 43.3 percent — the third-best three-point field goal percentage in ACC history… Averaged 28.0 points per game in the NCAA Tournament on 51.5 percent shooting from the floor (17-33), 43.8 percent shooting from beyond the arc (7-16) and a perfect 100 percent from the line (15-15)… Contributed 20.0 points per game over the entire postseason, making all 24 of his free-throw attempts… Missed just five free throws in 71 attempts against ACC opposition (93.0)… Reached double-digit scoring in 25 of the last 26 games… Has sank at least three three-pointers 19 times, including in 13 of the last 19 games… Hit a trey in 30-straight games (1/2/07-1/2/08) — the second-longest streak in school history — and in 59-of-63 career games as a Hurricane… Had a career day in win over Virginia (3/1) with a then- career-high 34 points on a career-high seven three-pointers — including five in the second half — to tie the UM mark for the third-most treys in a game… Scored 14-straight points for UM, including three threes, during a 2:27 stretch of the second half… Versus the Cavaliers, tied a then- career-high with 11 made field goals… Sank six three-pointers on a career-high 14 attempts at Georgia Tech (2/17)… Sank four of his six threes against the Yellow Jackets in the final seven minutes, including the game-winner with 47 seconds left to break a 60-all tie… Averaged 25.6 points in UM's last three regular-season games… Hit on 3-of-4 made treys in a span of 1:21 late in the home win over Clemson (1/27), sparking a rally after trailing by six with 3:14 to play… Also keyed Miami's comeback win at Mississippi State (12/13), sinking five three-pointers — including three in the final 3:22 — en route to ACC Player of the Week honors… Named to the Puerto Rico Tip-Off All-Tournament Team after leading Miami to the title… Swiped a career-high five steals in win over NC State (3/13) in the first round of the ACC Tournament… Made 30-straight free throws from 1/2 to 2/9… Tied a career high with 42 minutes in an overtime effort at NC State (1/19), scoring 24 of his 26 points in the second half… Scored 30 points versus Winthrop — knocking down a career-high 11 free throws on a career-high 13 tries… Tied that mark, going 11-for-11 from the charity stripe in the NCAA Tournament win over St. Mary's (3/21).
As a Redshirt Sophomore (2006-07)
All-ACC Third Team selection… Started 22-of-32 games played, averaging a team-high 16.7 points per game… Shot an ACC-high 44.0 percent (91-207) from beyond the arc, which ranked as the fifth-best single-season three-point percentage in UM history… Also led the ACC with an 89.5 percent free throw percentage (102-114), setting a new Miami single-season record, while also breaking the school record for three-pointers made in a season with 91 treys… Also led the team in field goal attempts (403), field goals made (163) and minutes per game (31.5)… Scored 20-or-more points in 10 games, tying for eighth in the ACC, and sank 15-or-more points on 20 occassions… Averaged 15.6 points per game in league play… Contributed 21.0 points per game during his first nine outings as a Hurricane… Led the team in scoring 19 times… Hit at least half of his three-point attempts 15 times… Connected on all free-throw attempts in 18 games, including a 10-of-10 performance from the line against Georgia Tech (12/3)… Scored a then- career-high 31 points, including five three-pointers, against Florida State (3/3) in the regular-season finale… Recorded 21 points with a season-high six rebounds and six assists versus Alcorn State (11/14)… Named the ACC Player of the Week on Dec. 4, following a 23-point effort against Northwestern (11/28) and a 30-point performance in a win over Georgia Tech (12/3)… Averaged 21.3 points over the last four games of the season, including a 17-point effort in a win over Maryland in the first round of the ACC Tournament and a 16-point outing against Boston College in the quarterfinals… Hit a then- personal-best six three-pointers on the road against Wake Forest (1/6).
At Siena (2004-05)
Six-time MAAC Rookie of the Week…Started 23 of 30 games as a freshman… Averaged 13.6 points, 5.0 rebounds and 2.7 assists per game, and was the team's leader in points (408), assists (82), defensive rebounds (122), three-point field goals made (46), free throws made (88), field goals made (137), free throw percentage (.815), three-point field goal percentage (.357) and minutes played (32.3)… First Siena freshman in over a decade to score 30 points in a game (2/20)… Averaged 16.9 points, 6.0 rebounds and 3.2 assists over the final 21 games… Scored in double figures 18 times, including seven 20-plus point efforts… Recorded three double-doubles… Only player to average 30 minutes a game… Led all MAAC rookies in scoring with 16.4 points a game… Played a career-high 57 minutes in four-overtime win over Youngstown State (12/14)… Led team in scoring 15 times and was team leader eight times in assists and rebounding.
High School
Prepped at South Kent in Connecticut where he averaged 18.4 points per game as a senior, leading his team to a 28-10 record… Named All-MIAA and All-Catholic League… Ranked among the Top 60 Prep School players in the nation… Eastern Invitational MVP… As a senior at Calvert Hall (Md.), averaged 19.5 points, five rebounds, four assists, two steals and one block per game… Advanced to playoffs every year in high school… Coached by Mark Anatucci and Raphael Chillions.
Personal
A sports administration major… Nicknamed "J-Mac"… Likes to listen to his iPod before games.