University of Miami Athletics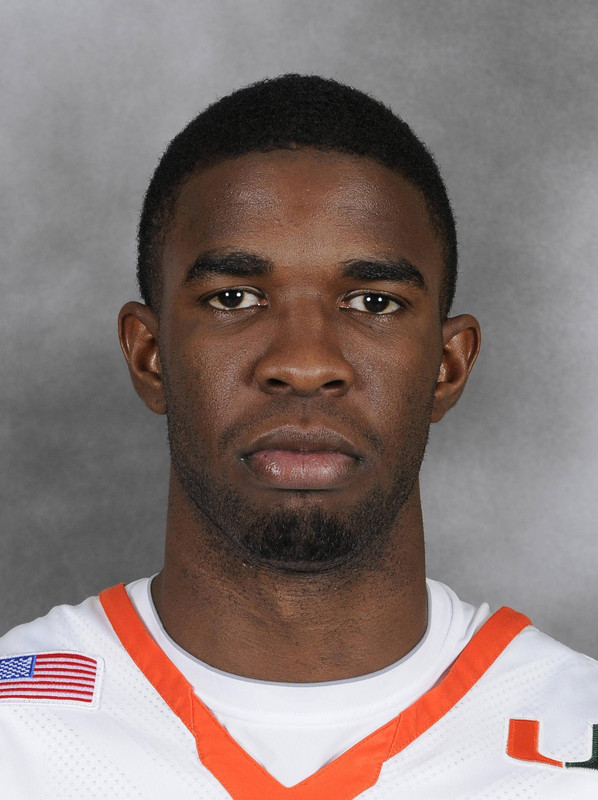 As a Junior (2007-08)
Saw action in all 34 games, making 16 starts… Scored in double figures in seven of the final 12 regular-season contests and 15 times overall during the season… Third on the team with 8.8 points per game… Scored a career-high 22 points — including a season-high tying three three-pointers — and registered a career-high tying four steals in the non-conference finale versus Penn (1/2)… Finished with 15 points in win over No. 4 Duke (2/20), his highest scoring total in ACC play… Shot 4-of-7 from the field, 2-of-2 from long range and 5-of-6 from the line in the victory over the Blue Devils… Nearly matched that performance with another 4-of-7 outing in the following win against Maryland (2/23), finishing with 12 points… Also scored 12 points in the regular-season finale at Florida State (3/8)… Logged a season-high 34 minutes at NC State (1/19) in his first game off the bench, snapping a streak of 32 straight starts dating back to the 2006-07 season… Still finished third on the team, averaging 24.5 minutes per game… Tallied 11 points versus Clemson (1/27), converting 7-of-8 from the line to tie a season high for free throws made and attempted… Dished out a career-high eight assists, also tying a team- season high, in win over North Carolina A&T (12/23)… Strong outing versus Stetson (12/17), compiling 18 points (6-7 FGs, 2-2 3FGs, 4-4 FTs), nine rebounds, four assists and three steals in just 24 minutes… Converted 84.5 percent from the line, and is among four returning players that hits better than 80 percent from the line… Converted 7-of-8 from the charity stripe versus Alabama State (11/28), finishing with 15 points… Scored 16 points in the Puerto Rico Tip-Off championship game victory over Providence — hitting on 3-of-4 three-point attempts… Third among returning players in rebounding, with 4.1 per game — including pulling down a season-high nine boards twice (at FIU (12/8) and vs. Stetson (12/17).
As a Sophomore (2006-07)
Started 31-of-32 games played… Led the team in steals (46), blocks (20) and defensive rebounding (3.7)… Ranked second on the team in scoring (11.7), rebounding (5.9), free throw percentage (.762) and average minutes played (30.5)… Ranked 12th in the ACC with 6.3 rebounds per game and was seventh in the league with 1.5 steals per game in conference play… Averaged 10.7 more points per game than the previous season to rank fourth in the ACC in scoring average improvement from the 2005-06 season to the 2006-07 season… Registered career highs in every statistical category… Scored in double figures in 19-of-32 games played… Recorded a then- personal-best 19 points on three separate occasions, including versus Duke (1/14)… Pulled down a career-high 14 rebounds at Clemson (2/28)… Scored 16 points with eight rebounds in a win over No. 21 Georgia Tech (12/3)… Grabbed 10 rebounds and added seven points in a win at No. 25 Maryland (1/10)… Posted 11 points with six rebounds to help UM knock off No. 19 Virginia (2/21)… Netted 12 points with seven rebounds in an upset over fifth-seeded and 21st-ranked Maryland (3/8) in the first round of the ACC Tournament.
As A Freshman (2005-06)
Saw action in 32 games, averaging 1.0 point and 1.4 rebounds in 7.8 minutes per game… Named to the 2006 ACC All-Academic Basketball Team… Posted a season-high nine points in a season-high 19 minutes of action against Morgan State (11/19)… Played 14 minutes against North Carolina A&T (11/22), recording two points, a season-high six rebounds and two steals… Made his collegiate debut against Texas-Arlington (11/13), playing 17 minutes and scoring seven points on 3-of-4 shooting from the field.
High School
Named Miami-Dade County Player of the Year, and received first team all-state honors after averaging 27.0 points and 9.0 rebounds per game as a senior at South Miami…. Also contributed 4.0 assists, 2.0 steals and 2.0 blocks per game, leading his team to the regional finals… Team MVP as a senior… Ranked 65th in the nation by Rivals.com and Scout.com… As a junior, averaged 20.0 points and 10.1 rebounds per game, leading his team to the state finals… Was selected the preseason No. 1 player in Miami-Dade and named to the first team at the state Final Four… Team captain as both a junior and senior… Saw varsity action as a sophomore, averaging 17.5 points and 8.0 rebounds en route to a regional playoff berth and team MVP honors… Scored a career-high 36 points, while grabbing 12 rebounds and dishing out seven assists against IMG Prep… Coached by Fred Jones.
Personal
Sports administration major… Nicknamed "B-Smooth" and "A.B."… Also ran cross country in high school… Off the court, enjoys reading and playing video games… On the honor roll as a senior in high school.