University of Miami Athletics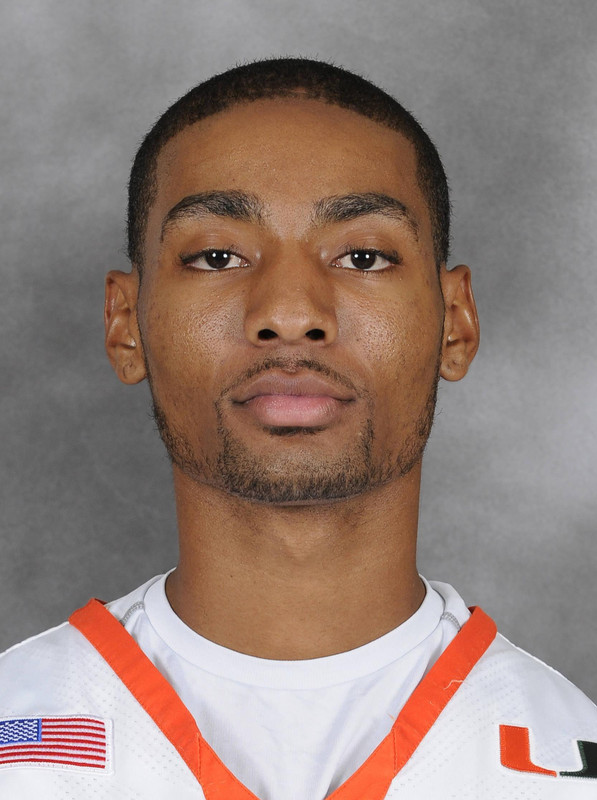 As a Junior (2007-08)
Saw action in all 34 games, starting 20… After starting just two games during the non-conference slate, moved into the starting lineup for the final 14 regular-season ACC contests and in UM's four postseason games… Ranked third in the ACC and 24th in the nation in free throw percentage, converting 86.5 percent from the line (96-111), third best on the squad… Tied for the team lead with 82 assists… Tied for third on the team with 9.3 points per game in ACC play, and averaged 8.0 points per game over the season… Averaged 9.0 points per game in the NCAA Tournament, second best on the team… Earned the team's "Hustlin' Cane" award at the year-end banquet… Posted double-figure scoring in 12 games, including a season-high 20 points versus North Carolina (1/23)… Converted 7-of-10 from the field and a career-high 3-of-4 from beyond the arc versus the Tar Heels… Also hit three treys versus Florida State (2/6) and Marist (11/15)… Sank key three-pointer with 9.2 seconds to go to put Miami up 94-90 and help secure win over Virginia (3/1)… Scored 19 points — his second-highest scoring output — in win over Boston College (3/5), converting a career-high 10 free throws on 10 attempts… Also set a career high with seven rebounds versus the Eagles… Contributed 11 points, including hitting 5-of-6 from the charity stripe, versus Texas (3/23) in the NCAA Tournament… Finished with 13 points in a season-high 33 minutes versus NC State (3/13) in the opening round of the ACC Tournament… Converted 9-of-10 free throws against Maryland (2/23)… Recorded 13 points, three assists and two boards in win over Duke (2/20)… Dished out a career-high six assists at Wake Forest (1/29)… Scored 14 points and grabbed a career-high three steals in win over Clemson (1/27)… Averaged 24.1 minutes per game in ACC play after an 18.8 average in the non-conference regular-season slate… Had 13 points, five rebounds and four assists vs. St. John's (12/2)… Had converted nine-straight free throws, including going 5-for-5 versus VCU (11/16), before missing first free throw of season six games in versus Alabama State (11/28)… Hit 27 of 30 free throw attempts in March (.900).
At San Bernardino Valley CC (2006-07)
Foothill Conference Player of the Year after averaging 16 points, four rebounds and six assists per game at San Bernardino… Also earned first-team all-state and San Diego Union Tribune All-Academic Team honors, while guiding San Bernardino to the Foothill Conference Championship.
At UC Santa Barbara (2005-06)
Appeared in 22-of-29 games as a true freshman at UCSB… Averaged 1.7 points, 0.9 assists and 0.9 rebounds an outing.
High School
Averaged 24.1 points, 7.1 rebounds, 4.8 assists and 2.7 steals per game as a senior at Helix High School… Led Helix to the CIF San Diego Section Division I Championship with a 25-6 record… As a senior, earned First Team All-San Diego County, First Team All-East County, First Team All-CIF, First Team All-Grossmont South League, First Team Division I All-State and third team all-state honors… Named the CIF San Diego Section Division I Player of the Year, Grossmont South League co-Player of the Year and East County co-Player of the Year… Averaged 13.0 points, 7.0 rebounds and 7.0 assists per game as a junior, helping Helix to a Grossmont South League title and an appearance in the CIF Playoffs… Coached by John Singer.
Personal
Majoring in entrepreneurship… Nickname is "L Boogie"… Off the court, enjoys listening to music and watching TV… Hopes to own his own business one day.