University of Miami Athletics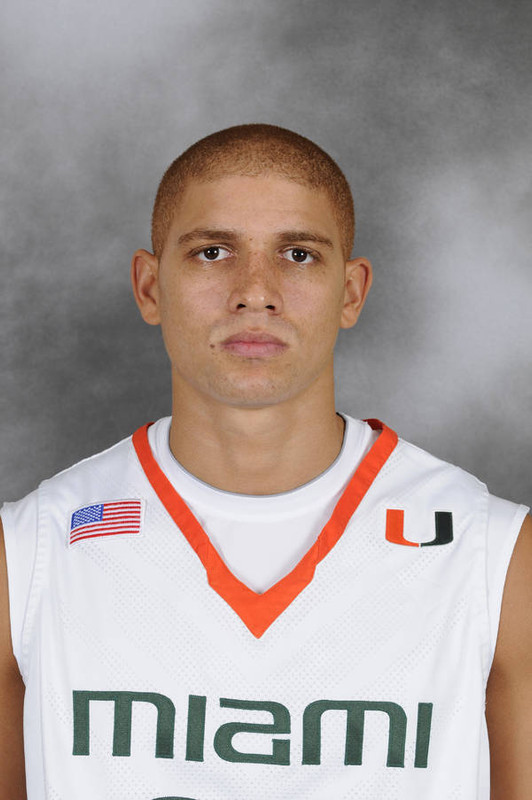 As a Junior (2007-08)
Played in 32 of Miami's 34 games, including starting the first 11 games of the season… Hit 52.6 percent from the field (71-135), the second-highest mark on the team… Shot 70.0 percent or better on eight occassions, including a 7-for-10 performance en route to a career-high 19 points in the win over Virginia (3/1)… Also set career highs in made field goals (7) and free throw attempts (9) versus the Cavaliers… Grabbed at least five rebounds 16 times and averaged 4.9 rebounds per game, second-best among returning players in 2008-09… Grabbed a season-high 12 boards against Florida State (2/6) and recorded 11 rebounds in season-opener versus Florida Southern (11/9)… His 37 blocked shots (1.2 per game) ranked second on the team and is tops among returning players, while his 68 career blocks is tied for fifth among returning ACC players… Tied his career high with five blocks in 17 minutes in win over Clemson (1/27)… Averaged 9.4 points per game over the last seven games of the season, including 7.5 points per game on 55.6-percent shooting from the field (5-9) and 1.000 shooting from the line (5-5) in the NCAA Tournament… Contributed 6.0 points per game over the season, including 6.4 points and 5.4 rebounds in ACC games… Solid outing in the first round of the NCAA Tournament versus St. Mary's (3/21), posting nine points (4-6 FGs, 1-1 FTs), seven rebounds and two blocks in 23 minutes… Had nine points, three rebounds, three blocks, two steals and two assists in win over Boston College (3/5)… Had 13 points in the ACC opener against Georgia Tech (1/12) before matching that total again at Duke (2/2) on 5-of-8 shooting from the field… Shot 5-of-6 from the field and 3-of-4 from the line in the home win versus the Yellow Jackets… With Miami down 22-10 to Georgia Tech with under eight minutes to play in the first half, scored six straight points to spark an 11-0 UM run, cutting the deficit to 22-21 with 5:23 to play in the period… Reached double-figure scoring in four ACC contests… Finished just one rebound shy of his first career double-double with 11 points and nine boards at NC State (1/19)… Averaged 18.2 minutes per game… Received "Man in Charge" and Outstanding Defender awards at team's year-end banquet.
As a Sophomore (2006-07)
Started 10-of-24 games played… Earned 2007 All-ACC Academic Team honors… Missed eight games after suffering a broken hand at Maryland (1/10)… Averaged 5.6 points and 4.0 rebounds per game… Second on the team in field goal percentage (53.8)… Scored in double figures in five games, including a then- career-high 13 points against Nebraska (12/30)… Went 6-of-7 from the floor versus the Cornhuskers… Averaged 9.3 points and 5.0 rebounds over the last four games, including a 12-point, four-rebound effort against Boston College (3/9) in the quarterfinals of the ACC Tournament… Pulled down a career-best 13 rebounds versus Stetson (12/16)… Recorded a career-high five blocks, while adding nine points and seven rebounds to help UM to an upset over fifth-seeded and 21st-ranked Maryland (3/8) in the first round of the ACC Tournament… Scored eight-or-more points in nine games and recorded at least four rebounds in 13 games.
As a Freshman (2005-06)
Played in all 34 games, starting 10… Averaged 1.8 points and 2.2 rebounds in 10.6 minutes per game… Named to the 2006 All-ACC Academic Team… Posted a then- career-high 10 rebounds versus Wofford (12/10)… Scored a season-high eight points and grabbed seven boards versus North Carolina A&T (11/22)… Added seven points, four rebounds, one block and one steal in 19 minutes against Birmingham-Southern (12/3)… Recorded a pair of blocks and three steals in 13 minutes against North Carolina (2/12)… Scored six points in 16 minutes, going 4-of-4 from the line against Morgan State (11/19)… First career start against Wisconsin-Green Bay (11/15), playing a season-high 24 minutes… Had four points, six rebounds and two blocks in 11 minutes versus Duke (3/10) in the ACC Tournament.
High School
Averaged 20.7 points, 13.8 rebounds and 4.6 blocks per game as a senior at Charis Prep… Street & Smith Honorable-Mention All-American… Rated the No. 60 overall prospect in the nation and the No. 16 power forward by Rivals.com… Rated 93rd in the nation by Scout.com… Averaged 18 points, 15 rebounds and eight blocks per game as a junior en route to team MVP, conference MVP and all-state honors… Also played tennis, baseball and football in high school… Coached in basketball by Carlos Peralta.
Personal
A double major in management and marketing… Off the court, enjoys going to church, going to the beach and hanging out with his friends and family.