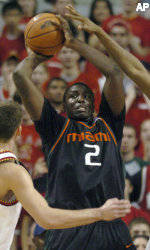 March 1, 2006
COLLEGE PARK, Md. (AP) – Nik Caner-Medley scored 18 points, and Maryland used a solid performance at the foul line to rally past Miami 65-61 Wednesday night.
The Terrapins made only nine baskets in the second half but went 16-for-20 at the foul line and finished 23-for-28. Miami, in contrast, made only eight free throws in 13 attempts.
Mike Jones made all six of his foul shots and scored 15 points, and Ekene Ibekwe had nine points and 11 rebounds for Maryland (17-11, 7-8 Atlantic Coast Conference). The Terrapins trailed by seven late in the second half before storming back for their third win in 10 games.
Robert Hite scored 18 points and Guillermo Diaz had 17 for the Hurricanes (15-13, 7-8), who have lost five of six.
After Caner-Medley made two free throws to tie it at 57 with 3:09 left, neither team scored again until Maryland's James Gist hit a fadeaway jumper in the lane with 50 seconds remaining. Anthony Harris then made one of two free throws for Miami, and the Hurricanes sent Sterling Ledbetter to the line with 28 seconds to go.
Ledbetter made the first and missed the second, but Miami couldn't control the rebound. D.J. Strawberry sank a free throw to put Maryland up by three, and Diaz had a 3-point try deflected before Ibekwe made the second of two free throws for a 62-58 lead with 13.9 seconds to go.
Hite followed with a 3-pointer, and after Ledbetter made two foul shots with 5.9 seconds left, Diaz was fouled before he had a chance to tie it. He missed both free throws, the second intentionally, but the Hurricanes couldn't get the rebound.
After blowing most of an early 12-point lead, the Terrapins used two free throws by Jones and a driving layup by Caner-Medley to go up 38-33 with 16:45 left. Hite then hit a 3-pointer and a layup to tie the game for the first time since it was 4-all.
Minutes later, Harris made a 3-pointer to give the Hurricanes their first lead, and Hite added a 15-foot jumper and an alley-oop dunk to cap a 13-2 run that made it 46-40.
It was 53-46 before Maryland used an 11-4 run to draw even.
The Terrapins never trailed in the first half and reached the break with a 30-29 lead.
Maryland coach Gary Williams started the squad's three seniors in their final regular season home game, and each contributed in the opening eight minutes. Caner-Medley scored 11 points on 4-for-4 shooting, and Travis Garrison and Ledbetter both had baskets to stake Maryland to a 21-13 lead.
The Hurricanes, meanwhile, went nearly seven minutes without scoring and trailed 25-13 before Gary Hamilton made a follow-shot, ending a run of seven straight missed field-goal tries. That started an 11-0 spurt that included a 3-pointer and a 15-foot jumper by Diaz.
After going 8-for-9 from the field at the outset, Maryland missed 16 of its next 18 shots.