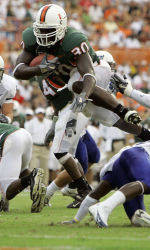 Oct. 8, 2005
 Two-Minute Drill
MIAMI (AP) – Kyle Wright threw for three touchdowns in a 5-minute span of the second quarter, helping No. 9 Miami shake off a slow start and overwhelm Duke 52-7 on Saturday.
Tyrone Moss ran for 82 yards and a pair of touchdowns – his third multi-score game in four weeks – for Miami, which established season-highs for points and yards. Ryan Moore made a career-high seven catches for 87 yards and a touchdown for Miami (4-1, 2-1 Atlantic Coast Conference), winners of four straight.
Wright completed 18 of 31 passes for 255 yards, with three touchdowns and two interceptions before being replaced midway through the third quarter by Kirby Freeman, who threw for 47 yards and the first two touchdowns of his career.
Ronnie Drummer had an 81-yard touchdown run – the sixth-longest carry in Duke history and the longest play from scrimmage allowed by Miami in 29 years – early in the third quarter for Duke (1-5, 0-3), which has lost 29 straight games against ranked opponents.
Other than that, highlights were slim for Duke, which was outgained 557-128. Freshman quarterback Zack Asack, making his second start, had 31 plays that managed only 14 yards. He was 4-of-15 for eight yards passing, and he carried the ball 16 times for 6 yards.
Chris Davis made two interceptions, one on a deep pass ending the first half, for Duke – which managed only five first downs, the fewest yielded by Miami since 1999.
The Hurricanes built a 31-0 halftime lead, their four touchdown drives totaling eight plays.
Tyrone Moss' 7-yard run opened the scoring one play after Kelly Jennings caused a fumble deep in Duke territory. Lance Leggett's 29-yard touchdown catch was three plays after Willie Williams tackled Duke's Marcus Jones on a fake-punt try, and Devin Hester had two big punt returns to set up a pair of two-play touchdown drives – Greg Olsen and Sinorice Moss making those catches.
By halftime, Duke had three more yards (34) than Miami had points. The Blue Devils' biggest gain of the first half was a 15-yard personal foul penalty called against Miami's Kareem Brown 10:00 before halftime.
The Hurricanes went three-and-out on their first possession, then marched 86 yards in a 14-play drive later in the opening quarter – but came away scoreless. Wright's pass bounced off Moore's hands and to Davis, who made the interception at the Blue Devils' 6.
But Duke quickly gave the turnover back; cornerback Kelly Jennings stripped the ball away from Ronnie Drummer, Eric Moncur recovered at the Blue Devils' 7, and Tyrone Moss ran in one play later for a 7-0 lead.
And in the second quarter, it turned into a rout.
Leggett's touchdown catch came 6:37 before halftime; in the next 4:23, Olsen and Sinorice Moss also made touchdown catches, eliminating all doubt.
Miami didn't get out of the game without some problems, though. Hester – the team's best kick returner and a key member of the secondary – remained in the locker room long after halftime, reportedly because of cramps. He eventually returned to the sideline in street clothes.