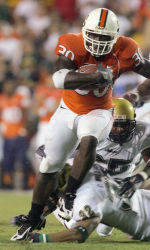 Oct. 1, 2005
Box Score | Photo Gallery | AP Photo Gallery
MIAMI (AP) – Tyrone Moss matched a career-high with three touchdowns and No. 9 Miami ended South Florida's hopes of springing a second straight upset with a sloppy 27-7 win on Saturday.
Moss ran for 89 yards and had scoring runs of 1 and 19 yards in the first quarter, when Miami (3-1) took advantage of three South Florida turnovers to build an early 17-0 lead.
Miami scored on four of its first five possessions, then didn't add to the total until Moss' 1-yard, fourth-down plunge with 8:25 left. South Florida avoided the shutout – which would have been the first in its 93-game history – with 5:56 left, when Johnny Peyton caught a 14-yard touchdown pass from Pat Julmiste.
The teams combined for nine turnovers, with South Florida having all five of its giveaways before halftime.
South Florida, which came in with soaring confidence from its 45-14 win over then-No. 9 Louisville last weekend, sputtered early and often against the Hurricanes. The Bulls (3-2) finished with a season-low 174 total yards, more than half of them in the fourth quarter with the outcome long decided.
In short, they looked nothing like the team that stunned the Cardinals.
Andre Hall, who came in averaging 117 yards per game and cracked the 138-yard plateau in six of his previous nine starts, managed 53 yards on 19 carries. Amarri Jackson, who ran for two scores and threw for another against Louisville, was a non-factor and finished with only 7 yards receiving.
Kyle Wright completed 13 of 26 for 173 yards for the Hurricanes. Lovon Ponder had two of Miami's four interceptions, with Devin Hester and Brandon Meriweather each picking off a pass.
Julmiste completed 8 of 25 passes for 47 yards and three interceptions for South Florida.
The entire first quarter – sans four Miami kickoffs and Ponder's first interception near the midfield stripe – was played in South Florida territory. The Bulls never penetrated their own 40, and fumbled the ball away on the one play they had taking them that far.
South Florida crossed midfield for the first time with 2:48 left in the half, when backup quarterback Courtney Denson evaded a sack and scrambled 10 yards to the Hurricanes' 48. By then, the margin was 20-0 – and could easily have been worse, if not for two Miami turnovers.
Late in the first quarter, Wright fumbled a snap on second-and-goal from the Bulls' 7, and South Florida recovered. And midway through the second, Wright hooked up with tight end Greg Olsen for a 63-yard catch-and-run play, but South Florida cornerback Mike Jenkins made a touchdown-saving play.
Jenkins – one of five Bulls chasing Olsen, who was sprinting down the center of the field – punched the ball from Olsen's arm at the 6, and it bounced out of the end zone for a touchback.
Miami is 12-1 in its last 13 meetings with in-state rivals.