University of Miami Athletics
Vinny Scavo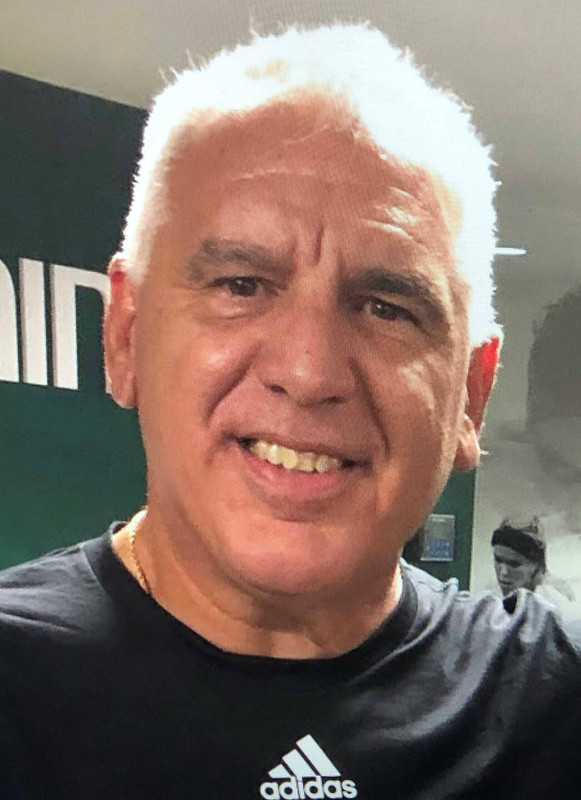 Vincent "Vinny" Scavo was promoted to Senior Associate AD in June 2023. Scavo oversees the healthcare of all the University's student-athletes and athletic teams.
Scavo rejoined the University of Miami's athletic training staff as its Associate Athletic Trainer and Head Football Athletic Trainer prior to the start of the 2011 season before his promotion to Associate AD.
Scavo  has extensive experience across his more than four decades as an athletic trainer and administrator at the professional, collegiate, and high school levels. Scavo is in his 21st  year overall at the University of Miami, encompassing three different assignments.
Vinny rejoined the University of Miami's athletic training staff as its Associate Athletic Trainer and Head Football Athletic Trainer prior to the start of the 2011 season,and was promoted to his current position in 2015.
During 2008-11, he worked as the Director of Sports Medicine Services and Head Athletic Trainer at the University of Miami School of Medicine. With the division serving as the official sports medicine provider for the Hurricanes, Scavo worked closely with the team doctors and student-athletes – relationships that continue in his current capacity within the athletics department.
And from 1983-87, Vinny began his career at The U as Head Baseball Athletic Trainer for legendary Coach Ron Fraser, helping the Hurricanes capture the 1985 College World Series National Championship. During those years he also served as an Assistant Athletic Trainer for the Hurricanes' football team and was a member of the 1983 Football National Championship Team's athletic training staff.
Scavo worked with both the New York Yankees (1981-83) and the Florida Marlins (1992-96) organizations, earning twin honors in 1994 as Minor League Athletic Trainer of the Year from the Professional Baseball Athletic Trainer Society, and as Florida State League Class A Baseball Athletic Trainer of the Year. During his time with the Marlins, he was the coordinator of Athletic Trainers and Rehabilitation Coordinator for both the Marlins' minor and major league teams.
Vinny was named Director of Sports Medicine at Health South Doctors Hospital and has served on the Athletic Trainers of Florida executive board for eight years. He spent 13 years in Miami-Dade County Public Schools (MDCPS) – as the Head Athletic Trainer at both Coral Gables High School from 1987-92, and 2006-08, and at Miami Southridge H.S. (1996-2001). Scavo also was Head Athletic Trainer at Chaminade-Madonna College Preparatory School (2001-06). During Scavo's high school tenure, he developed the curriculum for the MDCPS Coaches Certification Course and the MDCPS Injury Reporting System. In 2006, Vinny was named the State of Florida's High School Athletic Trainer of the Year.
Additionally, he has worked as a certified athletic trainer with the Florida High School Athletic Association (FHSAA) since 1988, and developed the FHSAA State Wrestling Sports Medicine Team that is now in its 22nd year. Scavo also worked with USA Baseball during the 1987 Pan American Games, 1991 Olympic Trials, and 1994 National Trials.
Vinny is an approved clinical instructor and has taught classes in sports medicine at both the high school and college levels since 1987. He has been a member of the Barry University Sports Medicine Advisory Committee since 2000, a representative on the MDCPS Athletic Advisory Committee for seven years and has lectured on baseball injuries in both the United States and Venezuela.
Scavo started his career in Athletic Training in 1979, working for the legendary Athletic Trainer Don Fauls at Florida State University, where he received his bachelor's degree in 1983. He is certified from the National Athletic Trainers Association and is a licensed athletic trainer.
In 2014, Vinny was initiated into the Iron Arrow Society, The Highest Honor Attained at the University of Miami.
In 2023 Scavo was inducted into the University of Miami Sports Hall of Fame and the Athletic Trainers Association of Florida Hall of fame.
Originally from Staten Island, NY, Scavo and his wife Tammy have three children – Alyssa, Alec, and Arielle. They also have two grandchildren, Adeline Rose Scavo and Zander James Posen.