University of Miami Athletics
Stephen Field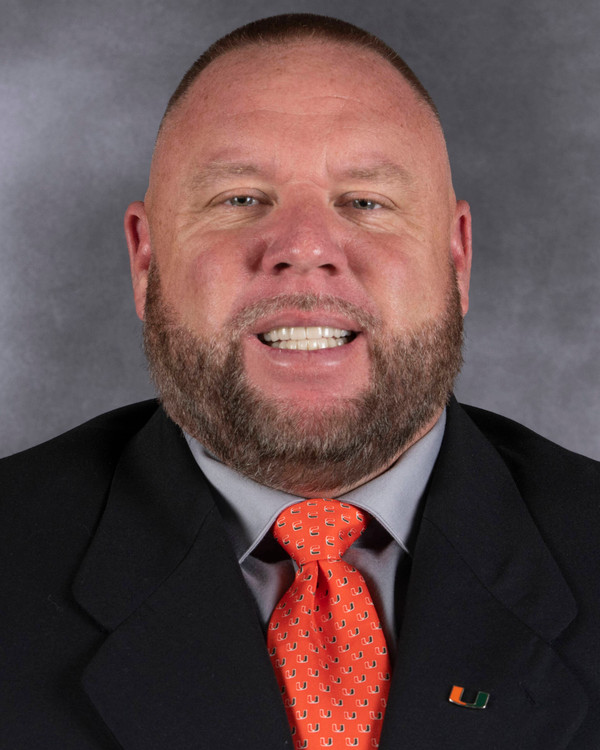 Stephen Field is in his fifth season as a member of the Miami Hurricanes Football coaching staff, where he serves as executive director of football recruiting.
Field joined the University of Miami staff prior to the 2019 season after spending the 2018 season with the Oregon Ducks. Field spent the 2019-2022 seasons at Miami as tight ends coach.
Under Field's watch, tight end Brevin Jordan enjoyed an impressive final year for the Hurricanes, finishing with 38 catches, 576 yards and seven touchdowns before his selection in the fifth round by the NFL's Houston Texans. Jordan earned All-ACC Second Team honors in his junior year. In Field's second season in Coral Gables, the Hurricanes moved up to No. 32 in FBS in total offense, No. 29 in passing offense, No. 26 in scoring offense, No. 17 in red zone offense and No. 20 in first downs gained offense.
In his first season at The U, Field helped guide Jordan to a dominant offensive season. Despite missing three games to injury, Jordan was named one of three finalists for the John Mackey Award, honoring the nation's tight end, after totaling 35 receptions, 495 yards and two touchdowns. Jordan was named to the All-ACC First Team.
Field spent the 2018 season as the director of recruiting at Oregon, where he helped the Ducks land the top-ranked class in school history. Oregon's 2019 class was ranked first in the Pacific-12 Conference and ninth nationally by 247 Sports.
In 2017, Field served as Louisville's Director of High School Relations and NFL Liaison, helping the Cardinals sign 19 student-athletes during the initial early signing period, eight of which enrolled in January. The 2018 signing class featured a school-best 11 four-star recruits and a pair of Under Armour All-Americans.
Field came to Louisville after serving one season as the tight ends coach and recruiting coordinator at Florida A&M. Prior to joining the staff at FAMU, Field was a highly decorated head football coach and offensive coordinator at North Marion Senior High in 2014-15.
Field was named the 2015 Florida Athletic Coaches Association (FACA) Coach of the Year, guiding North Marion to the regional quarterfinals, after his squad led the county in passing, rushing and scoring. Field was also selected as the offensive coordinator in the 2015 Offense-Defense All-American game in Orlando, Fla., and produced six players selected to play in the All-American game, a Marion County record.
Prior to his stint at North Marion, Field served as head coach and offensive coordinator at Miami Northwestern High (2012-14), where he restored the perennial prep power to prominence, guiding them to a regional appearance in his first season. During his tenure at Northwestern, 46 players earned scholarships, including future Hurricanes and Pittsburgh Steelers cornerback Artie Burns.
Field coached running backs for three seasons at Hampton University (2009-11), in addition to serving as recruiting coordinator, run game coordinator and director of operations. He helped the Pirates produce two top 10 MEAC rushers during that stretch.
Before his stint at Hampton, Field coached two years at UM (2007-08) on the defensive side of the ball, working with future NFL draft picks like Kenny Phillips, Tavares Gooden, Sean Spence, Darryl Sharpton, Brandon Harris and Allen Bailey.
In 2005-06, Field was the offensive run game coordinator, running backs coach and academic coach at Glades Central High in Belle Glade, Fla.While at Glades Central, he coached back-to-back 1,000 yard rushers in Aston Samuels and Damien Berry. In 2006, Glades Central won the Class 3A championship.
Field also spent a season at Deerfield Beach High, where he coached 1,000-yard rusher Roderick Ferguson, and four years at Miami Central High, where he coached the top two statistical ranking wide receivers in Dade County in 2002 (Willie Foster, Marcus Daniels).
Field was a two-time all-state selection at Palm Beach Lakes High, helping them to the only undefeated season in school history.He played tight end for two seasons at Tuskegee University. Field later earned a bachelor's degree in business management from University of Phoenix, and a master's degree in liberal studies from UM.
A native of West Palm Beach, Fla., Field has a daughter, Le'ah Skye Field.