University of Miami Athletics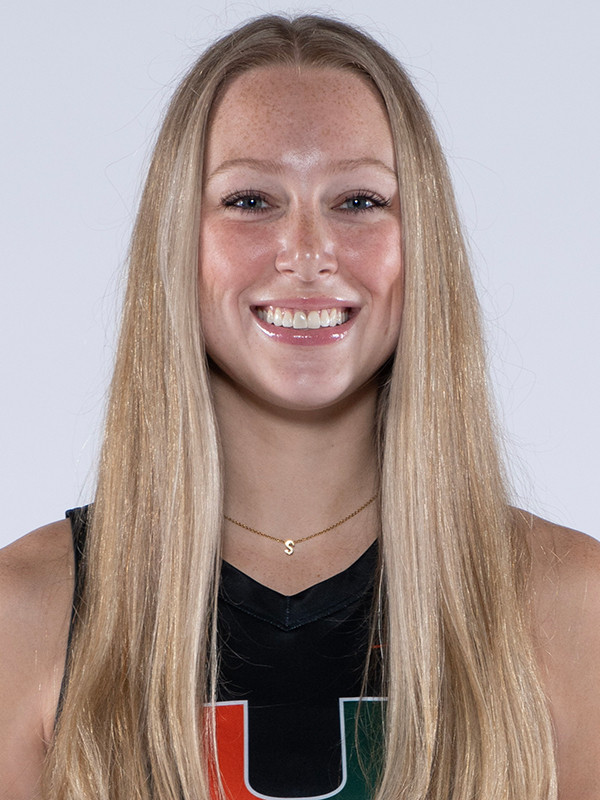 NIL Opportunities
Powered By

Engage with Savannah today!
Career Honors:
2019 ACC All-Freshman Team
ACC Freshman of the Week (9/30/19)
2019 Sunshine State Challenge All-Tournament Team
2021 AVCA East Coast All-Region (After COVID Spring)
2021 ACC All-Academic Team (After COVID Spring)
2021 All-ACC Second Team (After COVID Spring)
2021 AVCA East Coast All-Region
2021 All-ACC First Team
2021 Preseason All-ACC Team
2021 Bobcat Invitational MVP
2021 Sunshine State Classic All-Tournament Team
2022 All-ACC Second Team
2022 ACC All-Academic Team
2022 Preseason All-ACC Team
2022 AVCA East Coast All-Region
2023 Preseason All-ACC Team
2022 (Senior): Started in all 30 matches, played in every set 113/113… recorded 79.5 points for the season and 0.70 points per set, tallying a season high 6.5 points with five kills vs. Florida State (10/5)… led the team with a career-high 1,159 assists, averaging 10.26 assists per set… had 63 assists against UNLV (9/4) for a season high… served 21 aces for fifth on the team, averaged 0.19 per set… earned three aces vs. South Carolina (9/16)… posted 245 digs with 2.17 per set, ranked third most on the season… recorded a season high of 22 digs against Notre Dame (9/25)…claimed 24 kills and 65 blocks, including a season high of seven blocks against Kansas (12/1)… tallied 10 double-doubles in assists and digs… had 14 matches with 40+ assists… notched a career high in block assists with 61 to rank fourth on the team… boosted her blocks per set average to a career high 0.425… named to the All-ACC Second Team for her fourth career all-conference honor… started the year on the preseason All-ACC team… became the fourth Cane in program history to surpass 4,000 career assists.
2021 (Junior): Was one of two Hurricanes to start all 30 matches… played in 104 of 107 sets… moved to fourth in program history in both career assists (2,879) career assists per set (10.58)… finished the year second in program history with a .369 assist percentage… posted 10.98 assists per set, the seventh most in a season at Miami… her 10.98 assists per set was the 19th highest tally in the NCAA… ranked 45th in Division I with 1,142 assists… was one of 24 players in the NCAA with a triple-double, recording a career-high 16 kills, 28 assists and 11 digs against UCF (9/16)… tallied the first triple-double under head coach Jose "Keno" Gandara's tenure… ended the year 10th among active players with 10.58 career assists per set… finished the regular season second in the ACC with 10.93 assists per set and third with 1,093 assists… led the Canes in assists in all 30 matches, posting 50 or more in four contests… led Miami with career-highs of 1,142 assists, 10.98 assists per set, 29 aces and 0.28 aces per set… finished second on the team with career-bests 272 digs and 2.62 digs per set… recorded career-highs marks of 46 kills and 51 blocks… notched 10 double-doubles… tallied a career-high 30 attacks against UCF (9/16)… served a career-best five aces against UMBC (8/29)… had a career-high 21 digs at Florida State (11/19)… notched a career-best five blocks against NC State (10/3).
2020 (Sophomore): Started in the five-set opening win of the season against Georgia Tech, finishing with 56 assists, 11 digs, two aces, one block and one kill (9/24)… Set a new career high with 59 assists, which ranks tied for ninth for most assists in a match, and finished with two blocks and 10 digs in the second match against Georgia Tech (9/25)… Recorded another double-double with 39 assists, 10 digs and one block in the 3-1 win against Wake Forest on the road (10/2)… Finished with a season-high four kills, 38 assists, four blocks and eight digs in the 3-1 win over Wake (10/3)… Recorded her fourth double-double of the season with 51 assists, 10 digs and one ace in a 3-2 loss at Clemson (10/8)… Helped No. 12 Miami sweep Clemson on the road with 38 assists, three digs and three blocks (10/9)… Led the No. 11 Hurricanes with 55 assists, 11 digs and one ace against FSU (10/16)… Helped No. 11 Miami finish the fall 2020 season with a 3-0 sweep against FSU with 42 assists, nine digs and two blocks to finish the season 5-3 (10/17)…Finished the eight-match season with 378 assists, five aces, 19 total blocks and eight kills.
Spring 2021: Began the second-half of the season helping Miami defeat NC State, 3-1, with 41 assists and 12 digs, totaling her sixth double-double of the season (3/6)… In her seventh double-double of the season, Vach posted 25 assists and 11 digs in the 3-0 loss at Notre Dame (3/7)… Returned home to face Virginia in a 3-0 win with 34 kills and five digs (3/13)… In a non-conference match against the Cavaliers, she registered 37 assists and five digs in another sweep over Virginia (3/14)… Registered 44 assists, tied a season-high two service aces while adding nine digs in the five-set win at Duke (3/19)… Posted 35 assists and seven digs in the 3-1 loss to Pittsburgh (3/20)… Recorded a double-double (27 assists, 10 digs) in the 3-1 loss to Boston College (3/26)… Defeated Virginia Tech 3-1 in the final road match of the season with 30 assists and nine kills and digs (3/27)… Recorded 24 assists in the loss to No. 13 Louisville (4/1)… Ended the season helping Miami sweep North Carolina with 34 assists and nine digs at home (4/3).
* Entered the 2020 season ranked sixth in Miami history with 1,028 assists and 13th in assists per season* 
2019 (Freshman): Started in 15 of Miami's 16 matches… Recorded the sixth most assists in Miami history with 1,028 and led the team with eight double-doubles in her opening campaign with Miami… Started her first match with the Canes at the Hurricane Invitational, tallying 52 assists and an ace against GW and added 41 assists and an ace against USF… At the Add-Ran Cup against TCU and Auburn, finished with 27 assists against the Horned Frogs and 41 assists and a career-high 13 digs for her first double-double of the season against the Tigers (Sept. 14)… Finished with 28 assists against FGCU, 45 against FAU and set a career high with 58 against UCF at the Sunshine State Challenge… In her first ACC match, she finished with 35 assists and one block at Wake Forest (Sept. 27)… Went to Duke and registered 48 assists, one ace and three blocks (Sept. 29)… Earned one kill, 34 assists, and two blocks against then-No. 4 Pittsburgh (Oct. 4)… Tallied 46 assists, two aces and two blocks against Virginia (Oct. 6)… Traveled to North Carolina and added 35 assists against UNC and 32 against NC State… Faced Syracuse and recorded 47 assists and one ace ( Oct. 18)… Against Boston College (Oct. 20) broke the 50 mark and registered 51 assists, set a career high with four aces and 12 digs, for her second double-double of the season… At Clemson added 29 assists and three blocks ( Oct. 25)… At Georgia Tech added 29 more assists and 11 digs for her third double-double… Competed in her first rivalry match against FSU and boasted 45 assists, two aces, 12 digs and a career-high four blocks, registering her first back-to-back double-double of the season (Oct. 30)… Faced the Hokies and took down Virginia Tech with 56 assists, 11 digs and three blocks (Nov. 3)… Tied a career-high with three kills at home against Louisville, while adding 45 assists, one ace and three blocks (Nov. 8)… Against Notre Dame, added 52 assists and 11 digs (Nov. 10)… In the second match against NC State, tied her career-high with 58 assists and 10 digs (Nov. 15)… In the final road match of the season, Vach registered 37 assists and a block (Nov. 24)… Faced FSU again and added 29 assists, three aces and 10 digs for her final double-double of the season (Nov. 27)… Ended the season with 28 assists, four digs and one block against Georgia Tech (Nov. 29).
High School: Vach enters Coral Gables with a list of accolades from her high school campaign. To name a few, Vach was named the Florida Gatorade Player of the Year in 2018, the PrepVolleyball.com National High School Player of the Year, PrepVolleyball Florida Player of the Year and the Orlando Sentinel Central Florida Player of the Year. She was named an All American by countless organizations, including USA Today, PrepVolleyball High School, MaxPreps and AVCA's Under Armour. Vach was named the Florida Athletic Coaches Association District 9 Player of the Year in both 2017 and 18 and was Oviedo High School's Most Valuable Player three straight seasons from 2016-18.
In her senior season, Vach recorded a career-high 402 kills and a .406 hitting percentage and registered 29 assists and an eye-popping 363 aces, 51 blocks and a career-high 334 digs. Vach's a 2x USAV All-American and a 2018 Under Armour First Team All-American. The setter has a career record of 109-14 and helped lead Oviedo to a Class 9A State Championship. The Winter Springs, Fla., native recorded 318 kills, a .387 hitting percentage, 314 aces and 32 assists. Vach was named a Prep Volleyball All-American, named to the Senior Ace List and was a 2017 National Junior of the Year Finalist. In 2016, the sophomore was named a 2016 Max Preps Underclass All American, recording 267 kills, 343 aces, 262 digs and 52 blocks. Vach earned the same recognition in 2017, helping her earn 2018 Max Preps Preseason All American honors.
Personal: The right-handed setter is the daughter of Kimberly Vach who played volleyball at Stetson… Has one older sister, Sydney who played a season of volleyball at Harvard, and a young brother, Slater.