Miami Drops 3-2 Heartbreaker at Florida State
TALLAHASSEE, Fla. – The University of Miami volleyball team put forth a valiant comeback effort Wednesday night at Tully Gymnasium, but fell just short of an epic victory in the storied Sunshine State rivalry.
Miami (9-7, 2-3 ACC) dropped the first two sets in narrow fashion, won the third and then fought off three match points in the fourth, en route to forcing a fifth on the road against Florida State (11-5, 3-2). It built an early lead in the decisive set, but the homestanding Seminoles pulled out the win in front of their home fans.
"I am proud of the way we hung in there and fought back to get to the fifth set on the road," Miami head coach Jose "Keno" Gandara said. "We certainly had our chances to win the match. We will learn from this regroup and be ready for Duke on Sunday."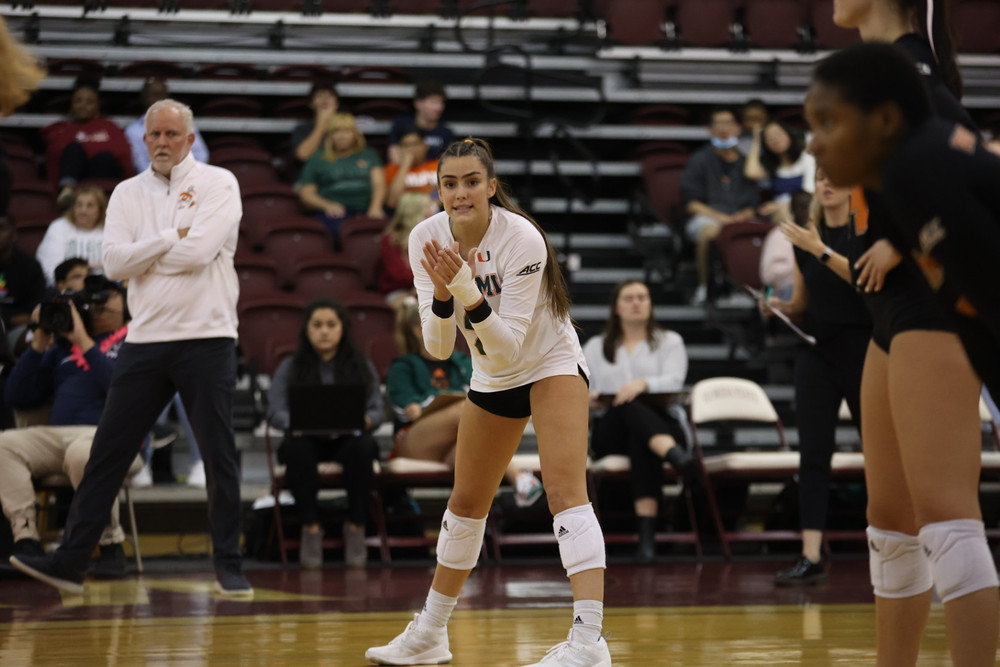 Florida State jumped out to a 7-0 lead in the opening set and built that into a 21-14 advantage. The Hurricanes then rattled off six points in a row to pull within one at 21-20, after which Florida State countered with a 3-1 burst to get to set points. Miami staved it off three times to draw even at 24, but the Seminoles took the final two points and won the set, 26-24.
In the second set, Miami took the first three points on its way to a 16-10 cushion. The lead continued to remain strong deeper into the set, with the Hurricanes in front, 21-16. The Seminoles, however, closed the frame on a 9-1 run, including scoring six straight points to end it, to take a 25-22 victory and go ahead, 2-0.
The two sides split the first 18 points after the intermission, after which Miami went on an 8-2 spurt to earn a 17-11 advantage. The Seminoles pulled within two, 22-20, but got no closer, as redshirt junior outside hitter Angela Grieve closed the session with back-to-back-to-back kills for a 25-20 decision.
Set four, like its predecessor, opened with even scoring, as the two rivals split the first 28 points. Florida State then took six of the next eight, capped with three in a row, to go up, 20-16. The home team eventually took a 24-21 lead and a triple-match-point opportunity.
Miami, though, fought back to keep its hopes alive. The Hurricanes not only won the next three points to pull level, but added two in a row after that to close the set on a 5-0 run and take it, 26-24. Two of the points came off the arm of Grieve, who finished with a match-high 25 kills, tied for the 10th-most in a single match in a program history and the top mark by any Miami player this season.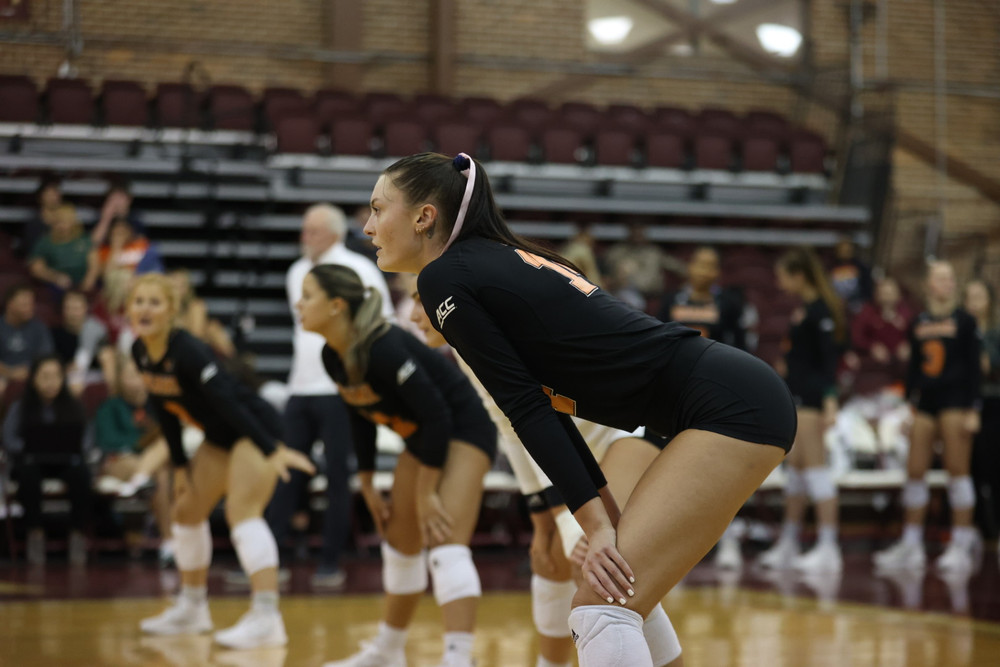 The Hurricanes took a 7-4 lead in the finale, but the Seminoles countered with four straight points to go in front by one. Miami tied it back up at 8-8, after which Florida State took a lead it would never relinquish. The Hurricanes did close to within 11-10, but each of the last four points went to the Seminoles, who took the set, 15-10, and won the match.
Along with her 25 kills, which came on a staggering 73 attacks to place fifth on Miami's all-time single-match leaderboard, Grieve added 11 digs for a double-double, as well as two aces and two blocks. She became just the sixth player in program history to post 25-plus kills in a match and the first since Olga Strantzali set the school record with 33 on Oct. 20, 2017, versus Louisville.
Janice Leao totaled 17 kills and hit .379, while fellow senior middle blocker Abby Casiano posted 12 kills on a .333 clip and added a team-leading four blocks. Freshman libero Naylani Feliciano paced Miami with 16 digs, while sophomore defensive specialist Yaidaliz Rosado added 13.
Senior setter Savannah Vach turned in a marvelous performance, notching a 50-assist, 11-dig double-double to go along with five kills, a .625 hitting percentage, a block and an ace. It marked the third time this season the Winter Springs, Fla., native has reached 50 assists in an outing.
Sophomore outside hitter Audrey Koenig led the way for the Seminoles, amassing 22 kills and 14 digs. Sophomore libero Emery Dupes had a match-best 21 digs for the home team, while senior setter Andjelija Draskovic posted 31 assists.
Miami is back in action on its home court Sunday at 1 p.m., when it hosts Duke at the James L. Knight Sports Complex.
To keep up with the University of Miami volleyball team on social media, follow @CanesVB on Twitter and Facebook, as well as @Canes_VB on Instagram.